New Routes of the Day – Americas (10 July 2023): Volaris' new routes from Leon/Guanajuato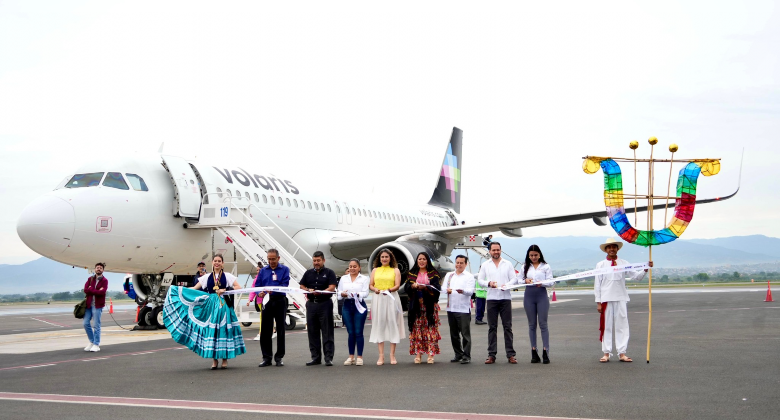 Volaris introduced twelve new domestic routes from Leon/Guanajuato in central Mexico during the second week of July for a total of 25 routes, 21 of which are domestic.
10 July: Hermosillo (2-weekly)
10 July: Ciudad Obregon (3-weekly)
10 July: Culiacan (3-weekly)
10 July: Torreon (3-weekly)
10 July: Tuxtla Gutierrez (3-weekly)
11 July: La Paz (2-weekly)
11 July: Los Mochis (2-weekly)
11 July: Oaxaca (2-weekly)
11 July: Veracruz (2-weekly)
13 July: Acapulco (2-weekly)
13 July: Mazatlan (2-weekly)
13 July: Zihuatanejo (2-weekly)
The ULCC will maintain all of the network additions from its Leon/Guanajuato hub with the A321neo aircraft and faces no competition on the twelve new routes.
What they said
Juan Jose Alvarez, the Tourism Minister for the State of Guanajuato, said: "The new routes, alongside the existing ones, now connect us to the rest of the country. Our state has gone from having nine domestic routes to 21 and for good reason. These 12 new routes have been added because Guanajuato is the centre of the country and because the international airport is the most important in the region. Local authorities and Volaris collaborated closely on establishing the new flights. The routes will help ensure Guanajuato's continued growth and ensure that the state remains one of Mexico's most popular tourist destinations."
Yazmin Quiroz Lopez, the Director General of Tourism and Hospitality of the City of Leon, added: "These new flights will not only benefit tourists and business travellers but also local residents, who will now be able to visit loved ones and explore new destinations."
Leon/Guanajuato is Mexico's ninth busiest airport
Leon is the largest city in the central Mexican state of Guanajuato, with a population of just over 1.7 million. Last year, the airport handled 2.6 million passengers, making it the country's ninth busiest. Besides Volaris, the airport is served by Aeromexico, American, United and Viva Aerobus, offering domestic flights, as well as services to the United States.
Volaris is by far Leon/Guanajuato's largest carrier. According to Cirium schedules information data, during the peak summer month of August, the ULCC will operate 573 departing flights from the airport, offering over 111,400 departing seats or 57% of the airport's total.
Volaris is Mexico's largest airline
Mexico ended 2022 with 107 million passengers, making it Latin America's biggest aviation market – even beating Brazil. It was helped by Volaris' fast growth, which had 31 million passengers last year (at a load factor of over 85%), according to the carrier's own figures. Traffic grew by six million year-on-year, smashing its previous record. Volaris had 29% of Mexico's total passengers in 2022, making it by far the country's biggest airline.
With 23 million of the country's 57 million domestic market (40%), Volaris is particularly dominant domestically. In contrast, it had six million of Mexico's 50 million international passengers, for a much more modest stake (12%). Volaris was the third biggest airline serving Mexico internationally, but it is fast catching up with Aeromexico and leader American Airlines.