New Routes of the Day – Americas (18 May 2023): Breeze's new routes from Richmond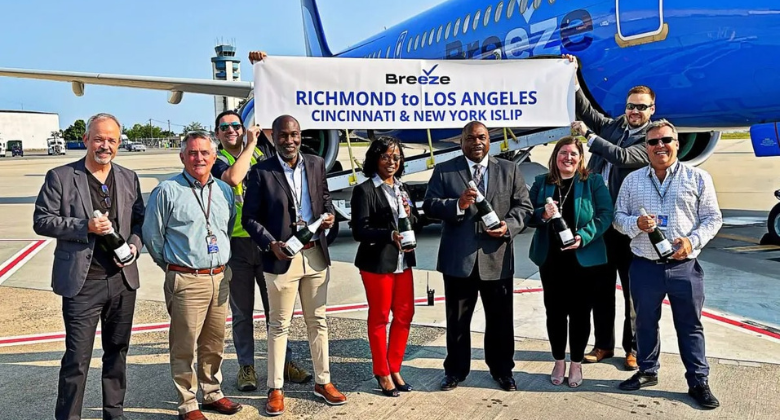 Breeze (IATA code MX) has expanded its operations out of Richmond with the addition of three new routes on Thursday 18 May and Friday 19 May.
18 May: Islip, 2-weekly on Thursdays and Sundays
18 May: Los Angeles, 3-weekly on Tuesdays, Thursdays and Sundays
19 May: Cincinnati, 2-weekly on Mondays and Fridays
The 515-kilometre service to Islip and the 665-kilometre route to Cincinnati will both be maintained on a seasonal basis utilising the E195 and E190 aircraft respectively. The 3,710-kilometre flight to Los Angeles will tun year-round with the A220-300 jet. Breeze faces no competition of any of its new Richmond routes.
What they said
Perry J. Miller, President and CEO of the Capital Region Airport Commission, said: "Breeze starting nonstop service to Los Angeles, Cincinnati, and New York-Islip from Richmond International Airport (RIC) represents an impressive expansion of easy-to-reach destinations for Richmond Region travellers. Ever since the new service announcements, we've heard quite a positive buzz in the community about all three. We wish Breeze tremendous success with these new routes from RIC."
David Neeleman, Founder and CEO of Breeze, added, "These new routes include great destinations like Los Angeles, giving our guests in the Richmond area a chance to take a summer vacation."
Breeze now serves 12 routes out of Richmond
Richmond is the capital of Virginia, located in the east coast of the United States with a population of just over 226,000 people. Richmond Airport handled over four million passengers last year. A total of twelve airlines serve the airport, all of which maintain only domestic flights.
Breeze first began operating out of Richmond in July 2021 and now serves 12 routes out of the city.  Of those, five are seasonal, including the newly added Islip and Cincinnati, as well as Hartford, Jacksonville and Providence. Its remaining seven destinations run on a year-round basis. They include the recently launched Los Angeles, as well as Charleston, Las Vegas, New Orleans, Phoenix, San Francisco and Tampa.