New Routes of the Day – Americas (2 March 2022): Allegiant returns to Akron-Canton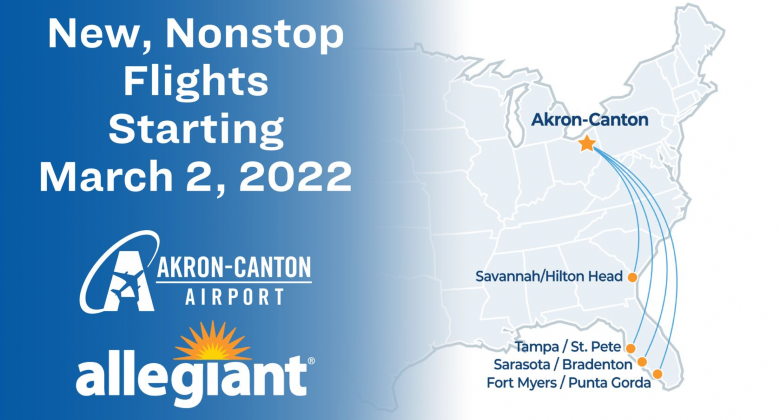 Allegiant on 2 March launched the first of four new, non-stop routes from Akron-Canton in Ohio. Punta Gorda was the first destination to launch, with Sarasota/Bradenton and Savannah following on 3 March. Finally, St. Pete/Clearwater service was launched on 4 March. All four routes will be flown 2-weekly and none face direct competition. This marks a return to Akron-Canton for Allegiant which had previously served the airport between May 2015 and February 2017, before moving its north-east Ohio operations to Cleveland (just 90 kilometres away) from February 2017 to January 2022. Back in August 2016, Allegiant was operating the same routes from Akron-Canton as it does now (apart from Sarasota/Bradenton) as well as Fort Lauderdale, Myrtle Beach and Orlando SFB.
Traffic at Akron-Canton fell by over 50% between 2012 and 2019
Traffic peaked at Akron-Canton in 2012 when the airport welcomed 1.84m passengers. Back then, AirTran was the airport's biggest airline followed by Delta, US Airways and Frontier. After 2012, demand fell each year and in 2019 just over 800,000 passengers used the airport. That year, American was the airport's largest customer with non-stop service to Charlotte, Chicago ORD, New York LGA, Philadelphia and Washington DCA.
American is still the airport's busiest airline in 2022 although it no longer serves New York LGA. Chicago ORD is also served by United, while Spirit offers service to Fort Myers, Myrtle Beach (launched in 2021), Orlando MCO and Tampa.
Last year, Akron-Canton welcomed the arrival of new carrier Breeze. Three routes were launched in 2021 to Tampa (26 June), Charleston (8 July) and New Orleans (15 July). This year has seen the addition of service to West Palm Beach (on 19 February).
Akron home to major tyre companies
Akron is strongly associated with the rubber industry, especially the Firestone and Goodyear tyre companies, and was once known as 'Rubber Capital of the World'. Goodyear built airships in the city which have been used for many years for promotional purposes, primarily at sports events. Akron-Canton Airport lies some 15 kilometres south-east of Akron next to I-77 which links Akron with the smaller city of Canton which is where the 25th US President William McKinley is buried. It is also home to the Pro Football Hall of Fame.
Close to Akron-Canton Airport lies the MAPS Air Museum, which has a significant collection of mostly military aircraft and artefacts covering the whole history of aviation. A short video introduction to the museum can be found here.