New Routes of the Day – Americas (20 October 2023): Vivaaerobus' new routes from Tijuana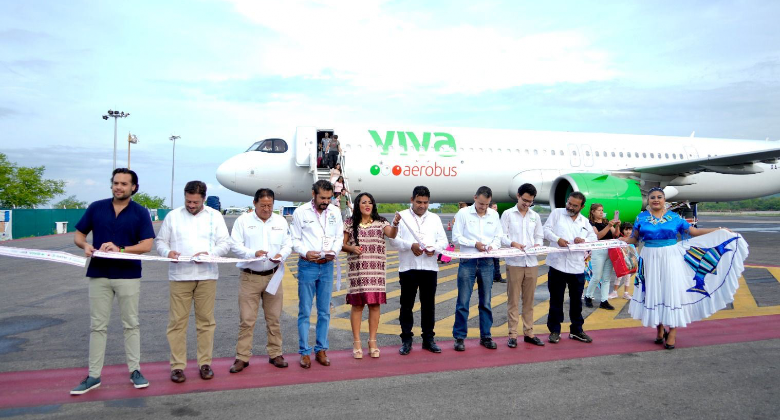 Mexico's Vivaaerobus launched two new domestic routes from Tijuana to Oaxaca and Puebla, on Friday 20 October. The 2,665-kilometre service to Oaxaca will be maintained daily, while the 2,375-kilometre flight to Puebla will run 12-weekly with a 2-daily service each day except on Tuesdays and Saturdays. Both will be operated by the A320-famly aircraft. The airline will compete against Volaris, Tijuana Airport's largest carrier, on the two routes. Volaris maintains 2-daily flights to Oaxaca and 10-weekly rotations to Puebla, respectively.
What they said
Juan Carlos Zuazua, the CEO of Vivaaerobus, said: "At Vivaaerobus, we are committed to providing affordable, reliable, and convenient air travel options, and our expansion from Tijuana into Oaxaca and Puebla underscores our dedication to making travel accessible to all. These two routes open up a world of opportunities for those seeking to explore the rich culture, traditions, and natural beauty of these incredible regions. With flights from Tijuana to Oaxaca and Puebla, you can now enjoy the ease of traveling while experiencing the warm hospitality and unique charm of these fantastic destinations. Whether you're a food enthusiast, history buff, or nature lover, Oaxaca and Puebla have something to offer everyone."
Vivaaerobus to add four million seats in Q4
Vivaaerobus will become one of North America's fastest-growing carriers during Q4. The airline will add an additional 4,221,389 seats on Q4 2019. It will be just behind Southwest and Frontier in terms of added capacity in North America, and ahead of rival Volaris, which plans to add an extra 2.5 million seats on the market.
Overall, Vivaaerobus plans to operate 38,455 flights during Q4, offering almost eight million seats, according to Cirium schedules data. The airline still lags behind Volaris and is Mexico's second-largest airline, with some two million fewer seats but is ahead of flag carrier Aeromexico by some 300,000 seats.