New Routes of the Day – Americas (25 July 2023): Silver Airways between Greensboro and Nashville, Orlando MCO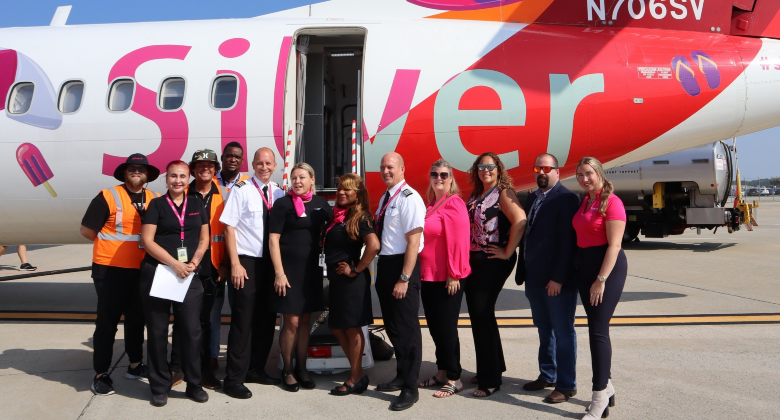 US regional carrier Silver Airways launched flights from Greensboro to Nashville and Orlando MCO on Tuesday 25 July. Both the 605-kilometre service to Nashville and the 860-kiloemtre route to Orlando MCO will be operated daily with the carrier's 72-seat ATR72-600 turboprop aircraft. The carrier faces no competition on either route, marking its first flights out of Piedmont Triad International Airport, which serves the Piedmont Triad metropolitan region in North Carolina.
What they said
Paulo Mesnik, Vice President for Commercial at Silver Airways, said:  "We are excited to bring our safe, reliable, and customer-friendly service to Greensboro. By connecting the Piedmont Triad to Orlando and Nashville, we aim to facilitate seamless travel experiences, whether it be for business or leisure. We look forward to serving the vibrant communities of the Piedmont Triad and showcasing the Silver Airways experience."
Kevin Baker, Executive Director of Piedmont Triad International, added: "We are pleased to welcome Silver as a new airline at PTI and to have direct service to Nashville and Orlando, which are both very important markets for us. We encourage the community to take advantage of this new service and visit these destinations."
Greensboro to get longest ATR flight in the US
Greensboro is the third largest city in North Carolina, while its airport, Piedmont Triad International, serves the 12-county Piedmont Triad region and the surrounding areas. The airport has three runways and is the third busiest in North Carolina, averaging 280 take-offs and landings each day. In 2022, the airport handled 1.57 million passengers. In addition to Silver Airways, it is also served by Allegiant Air, American Airlines and its regional subsidiary American Eagle, as well as Delta and United Express.
Apart from adding flights to Nashville and Orlando MCO, Silver Airways will also commence a weekly service between Greensboro and Tampa on 2 September. At 935km, it is more than double the distance of Silver Airways' average route length and becomes the USA's longest ATR airport pair. Blocked at 2h 40m with the ATR, it will only operate on Saturdays. It was last served by Spirit in 2019 using an A320.
Silver Airways now serves 31 airports
Cirium schedules data indicates that Silver Airways has 268 weekly one-way flights in August. Some 186 are domestic, mainly within and to/from Florida. They also include services between the US territories of Puerto Rico and the US Virgin Islands and within the US Virgin Islands, all of which are considered as domestic. Additionally, it has 82 weekly international flights, both from Florida and Puerto Rico. The regional carrier serves 31 airports in August.