New Routes of the Day Americas (27 April 2023): SAS between Aalborg, Gothenburg and New York EWR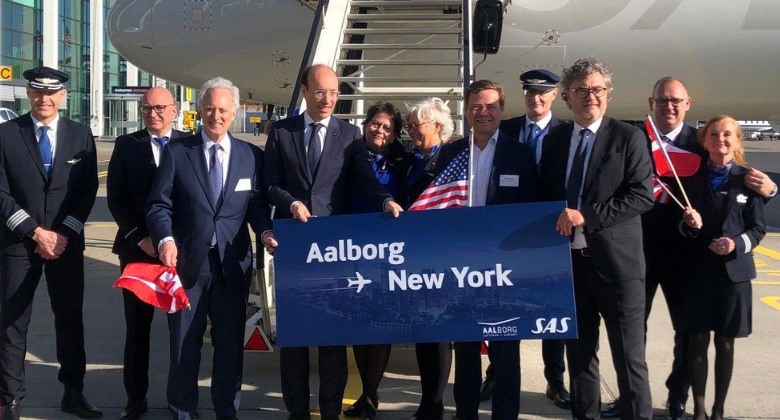 SAS introduced a pair of new seasonal long-haul routes on Thursday 27 April from Aalborg in northern Denmark, as well as Gothenburg in Sweden, to New York EWR.  Both the 6,000-kilometre service from Aalborg and the 6,115-kilometre route from Gothenburg are being maintained 3-weekly with the A321LR aircraft. The carrier faces no competition on either service.
The development marks the first time Aalborg has been linked to the United States with a nonstop air service, while Gothenburg sees the return of flights to New York for the first time since 1999.
What they said
 Joseba Garay Martinez, Senior Network Manager for International Markets at SAS, said: "This is massive, not only because we are opening two new unserved long-haul routes, but because we are doing so from places that not that long ago could only see this as a dream. I personally see this as a proof of concept for the A321LR. This is what the aircraft is supposed to be designed for. We now embark in an inspiring project that will offer long haul direct connectivity to regional communities."
 Anko van der Werff, President and CEO of SAS, added: "It's really great to see our first direct flight between Aalborg and New York taking off. Denmark is an important market for us, and we are incredibly happy to now offer even more connections from Denmark. We are also very happy to meet the increasing demand for travel to and from cities other than our main hubs. That is why we offer more connections to the world from Scandinavia - and bring the rest of the world to Scandinavia. We are also delighted that we can once again offer a direct line between Gothenburg and New York. Our A321LR allows us to make the world even more accessible to cities other than our capitals and offers an equally comfortable way of traveling as in our larger long-haul aircraft."
 SAS now operates fourteen US routes
 The addition of flights from Aalborg and Gothenburg to New York EWR, as well as the launch of its Copenhagen to New York JFK service on 9 February, has resulted in SAS offering up to 164 weekly departures on a total of 14 routes to the US during S23. The Star Alliance carrier is also making use of its partnership with United to offer transfer options via New York EWR.
Aalborg is Denmark's third largest municipality with a population of around 221,000 people. It is a major exporter of grain, cement and liquors. Aalborg Airport handled 1.3 million passengers last year, with the bulk of traffic generated during the summer months through numerous seasonal flights. Apart from SAS, other major carriers serving Aalborg include Eurowings, KLM, Norwegian and Ryanair.
 Gothenburg is Sweden's second largest city, located on the country's western coastline. It is home to a major university as well as the Swedish car-maker Volvo. Other key companies that call the city its home include Ericsson, SKF and AstraZeneca. Gothenburg Airport handled 4.4 million passengers in 2022, with Ryanair offering the most routes out of the city.