New Routes of the Day – Americas (28 April 2022): Frontier opens Chicago Midway base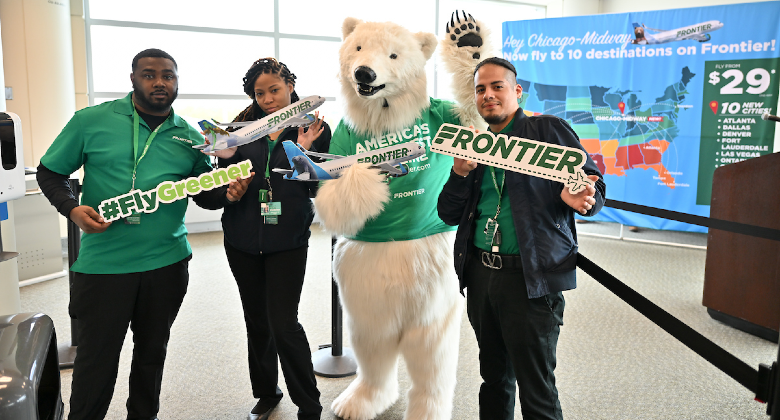 On Thursday 28 April Frontier returned to Chicago MDW after an absence of seven years. The ULCC launched seven routes that day, with another route added the following day. Frontier had last flown out of Chicago's second airport in April 2015, when it offered service to Trenton in New Jersey. In the summer of 2014, it had offered non-stop service to Denver, Harrisburg, Knoxville, Trenton and Wilmington.
The eight new routes already launched from Midway are Atlanta, Dallas/Fort Worth, Denver, Las Vegas, Ontario, Phoenix, Tampa and Trenton. All of these will be served daily, with the exception of Trenton, which will operate 4-weekly. Up until 27 April, Frontier had been operating the Denver, Las Vegas and Phoenix services from O'Hare. A further three new Midway routes will follow; Philadelphia from 26 May, and Fort Lauderdale and Orlando from 13 October.
The new routes to Dallas/Fort Worth, Ontario and Trenton face no direct competition. However, the other five routes are all served by Southwest with a minimum of four daily flights. In addition, Delta also offers 3-daily service on the route to Atlanta.
What they said
Joshua Rashkin, Marketing Director, Frontier Airlines, said: "We're excited to launch service from Chicago Midway today, serving a wide variety of popular destinations spanning the US from coast to coast. With this inaugural service, MDW becomes our primary Chicago Airport. We continue to offer service from O'Hare, as well, providing Chicago-area consumers an abundance of choice to enjoy Frontier's ultra-low fares and friendly service."
Jamie L. Rhee, City of Chicago Commissioner of Aviation, added: "On behalf of Mayor Lori E. Lightfoot and the entire Chicago Department of Aviation (CDA), I am thrilled to welcome Frontier Airlines back to Midway International Airport. Travellers now have two airport options – O'Hare and Midway – to fly Frontier to visit the 'Windy City,' voted Best Big City in the US by Conde Nast Traveler for the fifth year in a row."
Still operating four routes from O'Hare
Frontier will continue to operate four routes from O'Hare. These are to Cancun in Mexico, Orlando MCO in Florida, Punta Cana in the Dominican Republic and San Juan in Puerto Rico. All will continue to be served daily.