New Routes of the Day – Americas (30 June 2022): Avelo from Wilmington to three destinations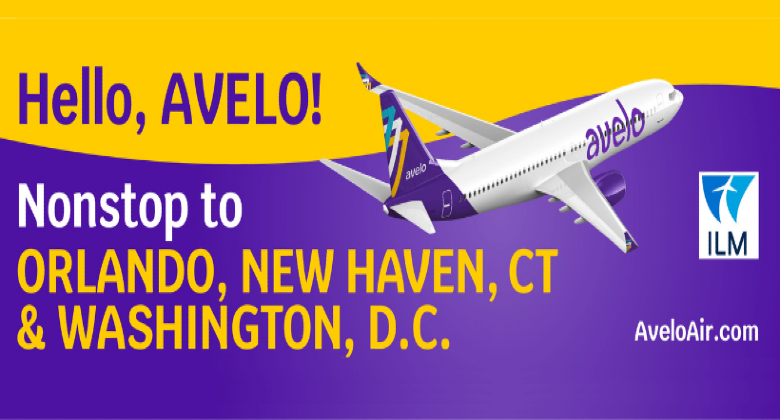 Avelo (IATA code XP) has added Wilmington in North Carolina to its route network. On 30 June it launched 3-weekly service on the 890-kilometre route from its base at Tweed New Haven in Connecticut. The following day it added 3-weekly service on the 555-kilometre route to Baltimore/Washington and the 720-kilometre route to Orlando. None of the three routes face direct competition. All will be operated using the airline's 147-seat 737-700s.
Wilmington International Airport (IATA code ILM) serves the port city of Wilmington which has a population of some 115,000 people. It is North Carolina's fifth busiest airport (based on weekly seat capacity in July 2022) after Charlotte, Raleigh-Durham, Asheville and Greensboro. In 2019, Wilmington handled 1.08 million passengers, up from 934,000 in 2018 and 836,000 in 2017.
What they said
Andrew Levy, Chairman & CEO, Avelo Airlines, said: "Wilmington – It's time to say hello to Avelo! We are thrilled to officially kick off service in Wilmington with our first route to New Haven. Orlando and D.C. begin tomorrow, and we know this is perfect timing for the summer and fall travel seasons. We look forward to welcoming our new Wilmington Customers aboard for their next vacation, weekend getaway, or reconnections with family and friends."
Jeffrey Bourk, Airport Director, said: "We're thankful Avelo Airlines selected Wilmington International Airport and are thrilled to be part of their network expansion. Avelo's three new nonstops and low fares offer additional travel choices and even more reasons to book a flight from, or to, ILM."
Donna Girardot, New Hanover County Airport Authority Chairman, added: "ILM's passenger numbers are setting records, with May being an all-time record month for enplanements. With Avelo Airlines' new flights, and the additional seats they bring to our market, we anticipate ILM will continue its growth trajectory. On behalf of the Airport Authority, we congratulate Avelo on a successful launch and thank all the passengers for choosing to Fly ILM."
Avelo joins the three US global carriers at Wilmington
Apart from Avelo, Wilmington offers flights with American, Delta and United. They offer the following non-stop services (weekly frequency in July 2022 in brackets):
American: Boston (7), Charlotte (54), Chicago ORD (8), Dallas/Fort Worth (8), New York LGA (20), Philadelphia (21), Washington DCA (20)
Delta: Atlanta (25), New York LGA (13)
United: New York EWR (14)