New Routes of the Day – Americas (4 August 2022): Breeze at Provo, San Bernardino and San Francisco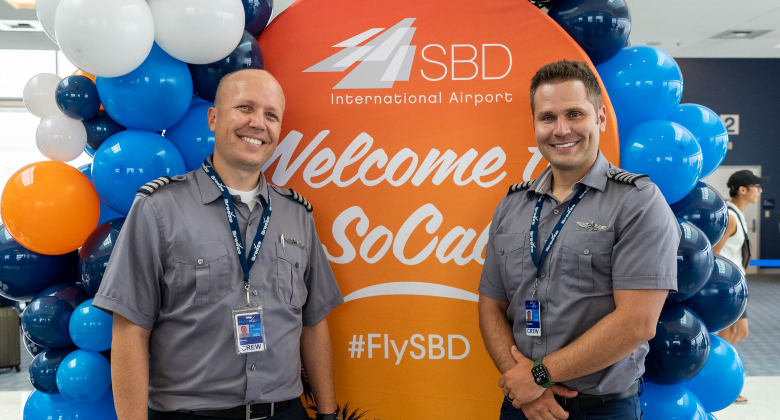 Breeze has started two new routes from San Francisco. On 4 August the carrier, which launched its first scheduled service on 27 May 2021, began connecting the Bay Area airport with Provo in Utah and San Bernardino in California. The routes are currently set to operate daily using the airline's E190 fleet.
San Francisco became a Breeze destination earlier this year. It launched 2-weekly service using its A220-300s from Richmond (Virginia) on 25 May, Charleston (South Carolina) on 26 May and Louisville (Kentucky) on 27 May. All three routes are still operating 2-weekly.
To facilitate these new daily services, Breeze appears to be dedicating a single E190 (currently N114BZ according to flightradar24.com) to operate just these four daily sectors; Provo-San Francisco-San Bernadino-San Francisco-Provo. As a result, the airline is offering one-stop, same plane service between Provo and San Bernardino.
Becomes second airline at Provo
Provo is located around 70 kilometres south of Salt Lake City and is Utah's fourth largest city. It is the home of Brigham Young University (BYU). The airport recently opened a new terminal which is capable of handling four aircraft at the same time. The new terminal was a major factor in attracting Breeze's new service.
Allegiant Air is the only other carrier currently serving Provo. This summer it is serving Austin (2-weekly, launched November 2021), Houston HOU (2-weekly, launched November 2021), Orange County (4-weekly, launched February 2021), Phoenix AZA (9-weekly) and Phoenix PHX (2-weekly, launched October 2021). Last winter, Allegiant also offered non-stop service from Provo to St. Pete-Clearwater in Florida (launched October 2021) and Palm Springs in California (launched November 2021). Looking ahead, Allegiant is planning to add further new routes from Provo to Las Vegas (later this month), Portland in Oregon (September) and Orlando SFB (December).
Breeze is set to launch additional services from Provo before the end of the year. On 5 October it will begin non-stop service to Las Vegas, followed on 2 November by flights to Los Angeles. These routes will both operate daily using A220-300s.
First scheduled service for San Bernardino
For San Bernardino International Airport (IATA code SBD) this is the airport's first ever scheduled service. Formerly Norton Air Force Base and opened in 1942, the military facility was decommissioned in 1994. It has since welcomed general aviation flights, cargo flights (including from FedEx and UPS) as well as specialising in aircraft recycling. Located around 100 kilometres east of downtown Los Angeles, San Bernadino is close to Big Bear Lake, Lake Arrowhead and San Bernardino National Forest.