New Routes of the Day – Americas (4 February 2022): Sun Country arrives in Rochester, Minnesota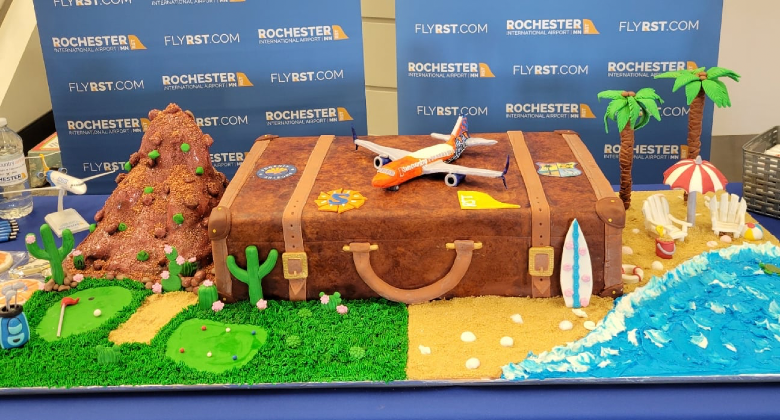 Sun Country has added Rochester International Airport (IATA code RST) in Minnesota (not to be confused with Frederick Douglass Greater Rochester International Airport in the state of New York – IATA code ROC) to its network, when it began 2-weekly (Thursdays and Sundays) service to Fort Myers in Florida on 3 February and 2-weekly (Mondays and Fridays) service to Phoenix in Arizona the following day. Neither route faces direct competition and both routes will be flown by the airline's 737-800s, but only until mid-April.
Rochester in south-east Minnesota is best known as the home of the Mayo Clinic, a private health care company, that employs over 30,000 people in the city. It is also where IBM has one of its major R&D centres. The airport's only other scheduled services at present are with American to Chicago ORD (operating 13-weekly at present with a mix of CRJ 700s and ERJ-145s) and Delta to Minneapolis/St. Paul (operating 3-daily with 50-seat CRJs). The latter route has a sector length of just 122 kilometres. Pre-pandemic, Delta also offered daily flights to Atlanta while United competed with American on the Chicago ORD route. In 2020, United also began service from its Denver hub but this was suspended it late 2021.
In terms of leisure routes, Allegiant offered flights from Rochester to Las Vegas (between June 2007 and February 2010) and Phoenix AZA (between November 2012 and May 2014).
What they said
John Reed, Executive Director at the airport, said: "Today is a great day to celebrate at RST and welcome our new partner Sun Country Airlines to our region. Leisure travel continues to lead the way for efforts to return to travel, and we are thrilled that Sun Country has added travel options for our customers to warm and sunny vacation destinations. We look forward to a successful partnership."
Grant Whitney, Chief Revenue Officer, Sun Country Airlines, added: "Sun Country is thrilled to begin our new service from RST to sunny Fort Myers, Florida and Phoenix, Arizona this week. We know folks are eager to get away to warm destinations this time of year and we look forward to providing them convenient, local access to two exciting vacation destinations while enjoying our low fares, complimentary amenities, and familiar Midwest hospitality."