New Routes of the Day – Americas (4 May 2023): Frontier's seven new routes to Puerto Rico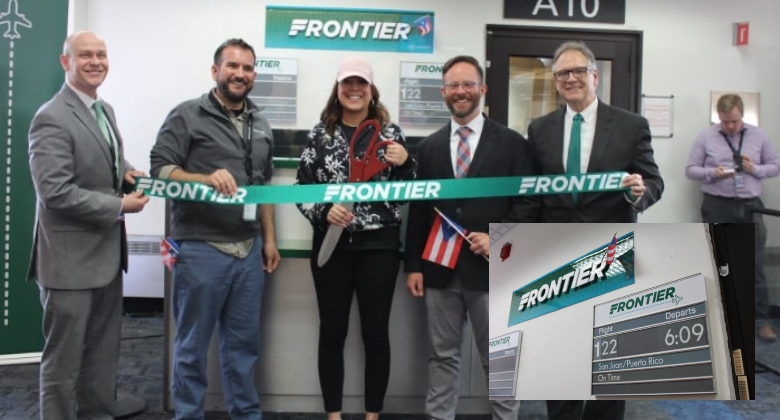 Frontier added seven new routes to the US territory of Puerto Rico during the first week of May.
4 May: Baltimore-San Juan (daily)
4 May: Chicago MDW-San Juan (6-weekly)
4 May: Cleveland-San Juan (4-weekly)
4 May: Dallas DFW-San Juan (daily)
4 May: Orlando MCO-Ponce (3-weekly)
4 May: Tampa-Aguadilla (3-weekly)
5 May: Detroit-San Juan (4-weekly)
Flights are being maintained by the ULCC's A320-famly fleet. Five of Frontier's seven new routes have direct competition with one and sometimes two other airlines. Only flights between Cleveland and San Juan, as well as between Tampa and Aguadilla are not contested. The latter represents a completely new route, having never been served in the past by any airline.
What they said
Daniel Shurz, Senior Vice President of Commercial at Frontier Airlines, said: "Our major expansion in Puerto Rico is connecting the island to some of the most popular destinations across the United States. In addition to bringing increased tourism to the island, Puerto Ricans now have more access to Frontier's 'Low Fares Done Right' to visit friends and family across the U.S."
Jorge Hernandez, CEO of airport operator Aerostar Puerto Rico, added: "We are pleased to know that the largest expansion of the airline in its history takes place in Puerto Rico, with new nonstop routes to seven U.S. cities. We congratulate Frontier Airlines on expanding its operations. This growth will translate into more flight options for travellers and, therefore, more jobs and commercial activity at the airport, for the benefit of Puerto Rico."
Frontier boasts biggest Puerto Rico network out of US
The addition of seven new routes from continental US to Puerto Rico brings Frontier's total count between the two markets to 16. Out of the eight airlines that operate nonstop flights between the US and the territory, Frontier now boasts the largest number of routes, surpassing JetBlue and Spirit. The remaining airlines flying between the two include Southwest, American, United, Delta and Sun Country. However, Frontier is still behind both JetBlue and Spirit in terms of the number of total flights offered.
Three airports in Puerto Rico have flights to continental US: Aguadilla, Ponce and San Juan. On the other hand, a total of eighteen states will offer services to the territory during S23, the largest amount since 2017.