New Routes of the Day – Americas (4 November 2023): JetBlue's new routes from Orlando MCO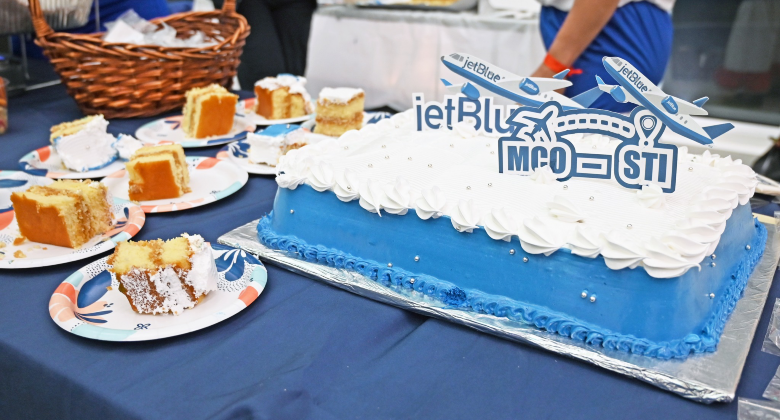 JetBlue inaugurated two new routes from Orlando MCO on Saturday 4 November, including to Punta Cana and Santiago, both in the Dominican Republic. The 1,710-kilometre service to Punta Cana and the 1,465-kilometre route to Santiago will be maintained daily. While JetBlue faces no competition on the latter, it will go head-to-head against daily Frontier Airlines and Spirit Airlines flights on the Punta Cana operation, although JetBlue and Spirit plan to merge.
Flight B61077 takes off from Orlando MCO at 08:35 local time, arriving in Punta Cana at 12:05 local time. The return service, operating as flight B61078, takes off from resort city at 13:10 local time, touching back down at the Florida airport at 15:00 local time.
On the other hand, flight B61265 departs Orlando MCO at 13:00 local time, touching down in Santiago at 16:20 local time. The inbound service, operating as flight B61266, takes off from the second-largest city in the Dominican Republic at 17:30 local time, arriving back in the US at 19:00 local time.
What they said
David Jehn, Vice President of Network Planning and Partnerships at JetBlue, said: "Punta Cana and Santiago are both major Caribbean destinations, but limited options exist for customers to get there from Orlando. These new routes, along with those that will be enabled by our combination with Spirit, will position us to deliver even more growth and connectivity to popular destinations for customers in Central Florida."
Kevin Thibault, CEO of the Greater Orlando Aviation Authority, added: "JetBlue's new daily service to the Dominican Republic is a welcome addition to Orlando International Airport. As an anchor in our innovative Terminal C, JetBlue continues to provide travellers with options to experience desirable destinations, including Orlando, recognised as one of the most visited cities in the US. These expanded routes help Orlando International deliver connectivity and strengthen our position as a major economic generator in the region."
JetBlue plans Orlando growth through Spirit Airlines
Orlando MCO has been a focus city for JetBlue over the past 15 years but is also a Spirit Airlines base. The planned JetBlue - Spirit merger, which is awaiting regulatory approval, is expected to result in JetBlue offering flights to approximately 20 markets that are unserved by either of the two from Orlando MCO and would increase flight frequencies on approximately 25 additional routes.
JetBlue is Orlando MCO's fifth-largest carrier based on available capacity and the number of operated flights, while Spirit comes second. JetBlue maintains operations to 27 destinations out of the Florida airport.