New Routes of the Day – Americas (5 April 2023): Spirit's new routes from Charleston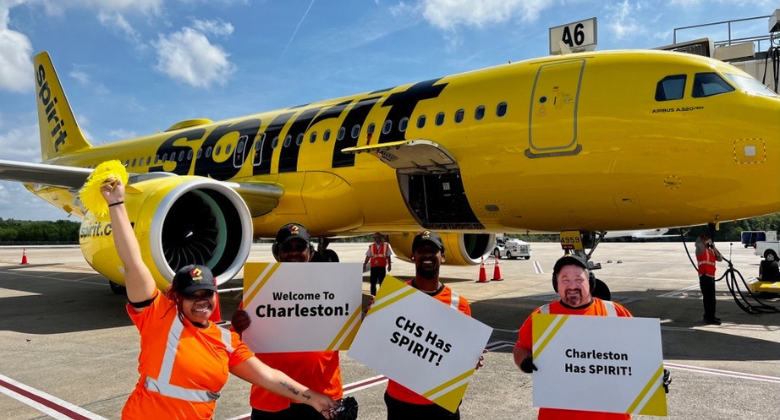 Spirit added another airport to its network by commencing operations from Charleston in South Carolina on Wednesday 5 April. The airline is introducing four routes.
5 April: Fort Lauderdale (daily)
5 April: Philadelphia (daily)
6 April: New York EWR (daily)
7 September: Las Vegas (6-weekly)
The ULCC faces no competition on its flights to Las Vegas and is one of three serving FLL.  On the other hand, its new Philadelphia service goes head-to-head against American's 20-weekly rotations, as well as Frontier's 3-weekly flights. Furthermore, Spirit will compete against United's 35-weekly service between Charleston and New York EWR.
What they said
John Kirby, Vice President of Network Planning at Spirit, said: ""We're pleased to offer More Go for our Guests, and Charleston is one of those unique destinations that attract travellers year-round. These new, nonstop flights provide easy access to three major metro cities on the East Coast and make the city's rich history and coastal culture just a quick and affordable flight away. It's also exciting to announce new service to Las Vegas, which is unserved from Charleston today and in addition to being a popular destination provides a gateway to many other Western destinations in our Network."
Elliott Summey, Executive Director and Chief Executive Officer of the Charleston County Aviation Authority, added: ""It's an exciting time at Charleston International Airport. We are pleased to have Spirit Airlines join us and even happier to have them announce more destinations on their first day of service for Charleston and the Lowcountry to enjoy. Lowcountry travellers have long been asking for a route to Las Vegas and we are thrilled to have Spirit offer a new nonstop flight to the Entertainment Capital of the World."
Spirit now has seventeen daily flights from South Carolina
Spirit's new Charleston flights add to the airline's long history in South Carolina. The ULCC first entered the state more than 25 years ago with services from Myrtle Beach. The airline currently offers seventeen daily departures in South Carolina. In addition to the new flights  from Charleston, Spirit is launching seasonal services from Myrtle Beach to Chicago ORD, Cleveland, and Rochester this May.