New Routes of the Day – Americas (7 March 2023): Spirit arrives in Norfolk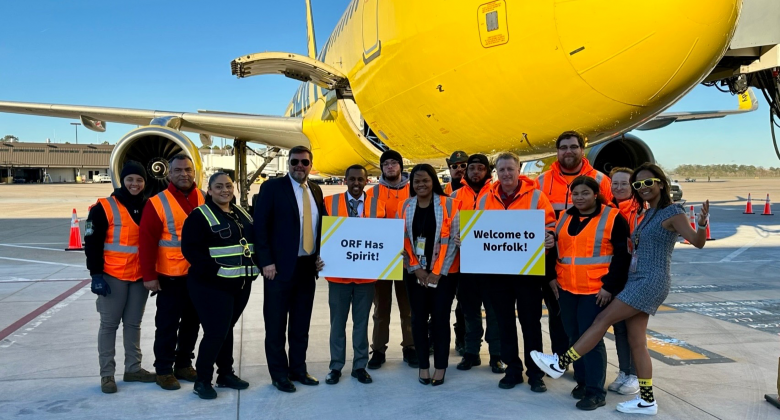 Norfolk in Virginia is the latest US airport to welcome Spirit (IATA code NK). On Tuesday 7 March the ULCC launched daily flights from Orlando MCO, followed by a daily service from Fort Lauderdale on 8 March. The first service from Norfolk to Orlando MCO took place on 8 March.
Competition on the 1,055-kilometre route to Orlando is provided by Frontier (3-weekly) and Southwest (2-weekly). On the 1,260-kilometre Fort Lauderdale route, there is less competition, with Allegiant (2-weekly) offering passengers an alternative.
What they said
Bobby Schroeter, SVP and Chief Marketing Officer at Spirit, said: "Spirit has launched with Orlando and Fort Lauderdale as nonstops because we know there's demand in the Norfolk area for travel to those destinations, but beyond that, you'll be able to fly to a variety of other destinations through a connection and we are excited to bring that service to Norfolk."
Mark Perryman, President and CEO of the Norfolk Airport Authority, added: "Spirit Airlines' decision to enter south-eastern Virginia via Norfolk International Airport is a sign of confidence in our region. Spirit's new service from Norfolk to Orlando and Fort Lauderdale, two of our largest markets, will be very well received within the community and we anticipate robust growth."
Norfolk traffic sees full recovery
Norfolk International Airport welcomed 4,1 million passengers in 2022, its busiest year on record. Despite the airport's name, its scheduled services are currently only to US destinations. The latest passenger figures show that the airport has fully recovered and exceeded its pre-pandemic results when it handled almost four million passengers in 2019.
According to Cirium data Spirit becomes Norfolk's eighth scheduled airlines. Last year the airport's biggest airline was American (with 32% of seats), followed by Delta (26%), Southwest (17%), United (15%), Breeze, Frontier and Allegiant. Compared with 2019, Breeze was a new entrant while American, Southwest and Frontier had added capacity. In contrast, Allegiant, Delta and United were still below their 2019 seat capacities.
Norfolk is a coastal city in south-east Virginia with a population of around 240,000. It is best known as the location of the world's largest naval base, Naval Station Norfolk, on Chesapeake Bay.