New Routes of the Day – Americas (7 October 2023): Southwest's new routes from Kansas City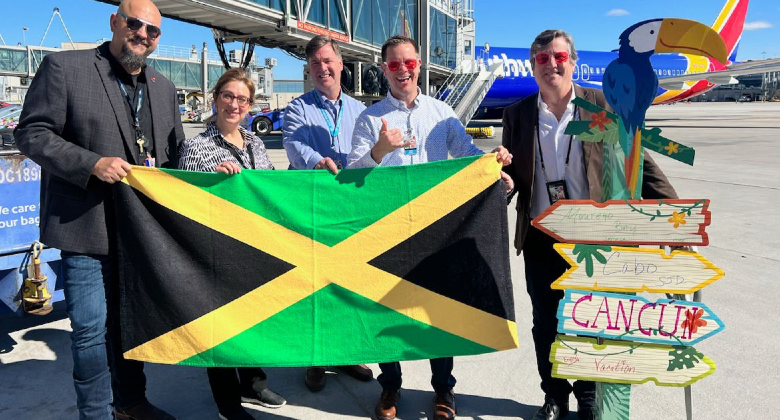 Southwest introduced two international services from Kansas City, including to Montego Bay in Jamaica and San Jose del Cabo in Mexico. Both the 2,815-kilometre route to Montego Bay and the 2,285-kilometre flight to San Jose del Cabo were launched on Saturday 7 October and will be maintained weekly, with the 737 MAX 8 and the 737-700 aircraft respectively. Southwest faces no competition on either of the two.
What they said
Steve Sisneros, Vice President of Airport Affairs at Southwest, said: "We're proud to serve as the hometown carrier of Kansas Citians for more than 40 years and we're excited to grow our international service at MCI. The new MCI is a shining jewel in our network and provides tremendous support to our customers and employees."
Quinton Lucas, Mayor of Kansas City, added: "We are proud to work with Southwest Airlines to expand domestic and international service out of Kansas City and expect more exciting new flight announcements ahead. Kansas Citians are excited to travel to beautiful destinations including Cabo, Jamaica, and so many more. I am thrilled to see this announcement and thank Southwest for its continued investment in Kansas City."
Daryl Vax, Transport Minister in the Jamaican Government, noted: "I extend a warm and heartfelt welcome to the passengers on this Southwest Airlines inaugural flight from Kansas City to Sangster International Airport, Montego Bay. This flight marks a significant step forward in bolstering air connectivity, convenience, and opportunities for visitors, near and far, to travel to Jamaica. The introduction of this flight is poised to strengthen our tourism bonds, stimulate economic growth, and enhance the aviation sector in this ever-evolving global landscape. The ministry looks forward to witnessing the positive impact Southwest Airlines will undoubtedly have on our nation's aviation industry."
Southwest dominates in Kansas City
Southwest Airlines is the largest carrier at Missouri's busiest airport and is more than double the size of its next nearest competitor. In October alone, Southwest boasts 350,514 departing seats from Kansas City Airport, ahead of second-placed Delta with 109,219 seats. Furthermore, Southwest operates 2,254 outbound flights during the month, according to Cirium schedules data.
Southwest accounts for some 53% of Kansas City Airport's total capacity and just over 50% of all flights.
Kansas City has a new billion-dollar airport terminal
Kansas City Airport opened its new terminal building in late February, a little more than 50 years after the airport and its three terminals began serving Kansas City. At just over 92.000 square metres and a budget of 1.5 billion dollars, the new terminal is the largest single infrastructure project in the city's history. It features 40 gates and the ability to expand up to 50 gates in the future, as well as 50 local and national food and beverage stores.