New Routes of the Day – Americas (8 February 2023): Breeze between Cincinnati and Charleston, SFO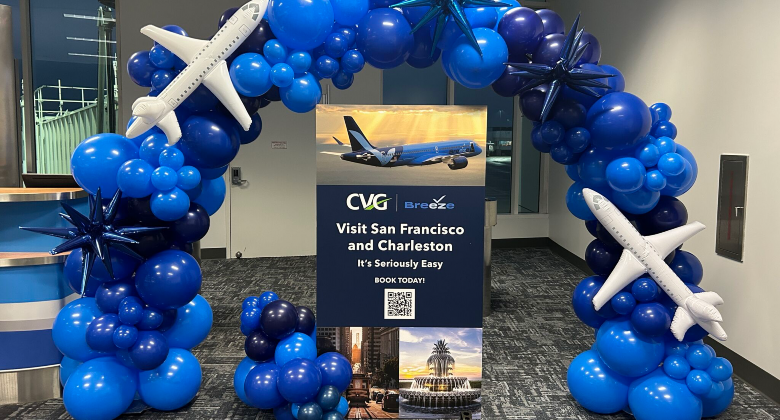 Breeze began operating out of Cincinnati on 8 February by inaugurating flights to Charleston in South Carolina and San Francisco in California. Both routes are being maintained 2-weekly, on Wednesdays and Saturdays, with the A220-300 aircraft. Breeze competes directly against Allegiant on the 800-kilometre service to Charleston, while it is the sole operator on the 3,280-kilometre San Francisco route.
What they said
Gareth Edmondson-Jones, Director of Public Communications, Breeze, said: "In the old days, Cincinnati had a bit of a reputation as being a very expensive airport. Those days are behind. Our mission, I guess, is to fly routes that no one else does. And so we don't have any competition. If 50 people are doing this slog, and connecting, and paying more for it, if we do it non-stop and bring the fares down, we can turn those 50 people into 250 people a day. And so that's how we grow the market. It's not looking to steal pie, it's to grow the pie. We can create a brand new market."
Breeze to expand Cincinnati operations
Breeze will further grow out of Cincinnati with the introduction of 3-weekly flights to John Wayne Airport Orange County (IATA code SNA) serving Santa Ana in California, as well as a 3-weekly service to Providence in Rhode Island. Both routes will be inaugurated on 30 March. The airline faces no competition on either of the two routes.
Breeze is quickly growing its presence in Cincinnati due in part to the way it organises its operations. For all its Cincinnati flights so far, Breeze commences the journey in an Eastern seaboard city, flying to Cincinnati and picking up passengers, then proceeding onto the West Coast without deboarding the passengers flying from the East. That's true of its Charleston-Cincinnati-San Francisco route and will also be the case when its Providence-Cincinnati-Orange Country service launches.