Newcastle has welcomed four airlines since 2021; Jet2 #1 carrier; S23 capacity nearly at S19 level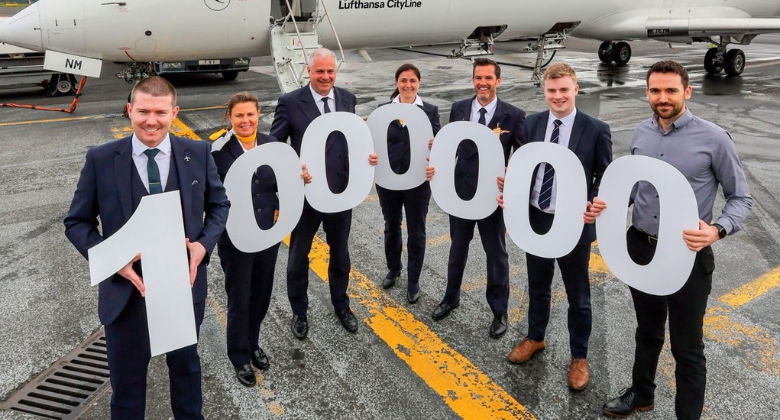 Serving England's Northeast, Newcastle welcomed its one millionth passenger of the year in early May. The airport has seen multiple new carriers and other developments in the past two years. Lufthansa arrived in July 2021, while Ryanair opened a two aircraft base in March 2022. Corendon started in April 2022, while the second iteration of Flybe materialised in November of that year. SunExpress was welcomed on 28 March 2023, while Aegean launches on 14 June.
They all contribute to Newcastle having 2.05 million one-way seats in S23, as shown in the following figure. The airport's capacity is now just 1% below S19, although that was not its previous summer record. According to Cirium schedules information, Newcastle is now the UK's 11th-largest airport, up by one place versus S19 due to London LCY's slow recovery.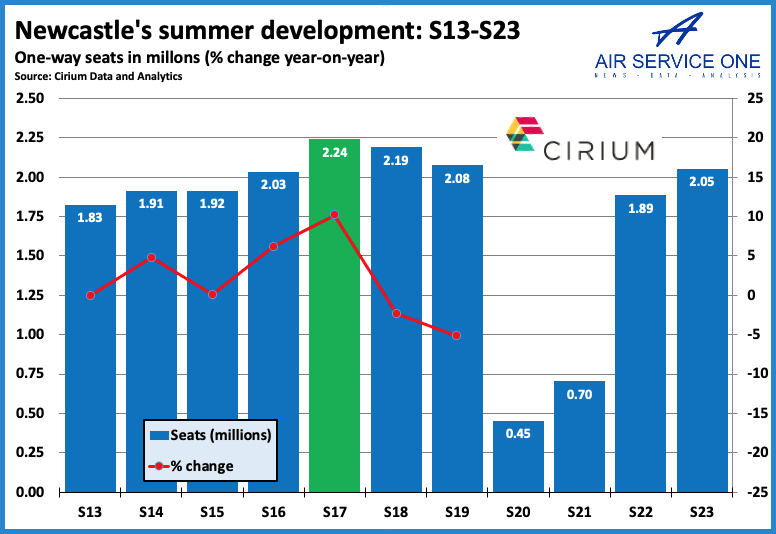 Jet2 is #1 with 30% of capacity
With 611,000 available seats, Jet2 remains Newcastle's largest airline. It was top in the pre-pandemic S19 too, but capacity has risen by more than a fifth since then and is also nearly 2% above its record held last year. With eight aircraft and 37 routes in S23, Jet2 now has a 30% share of Newcastle's capacity.
While easyJet no longer has a Newcastle base (it opened in 2003 and closed 17 years later partly because of the pandemic), it still serves the airport with non-based aircraft and has three routes this summer. It is Newcastle's fifth-largest operator, down by three places versus S19. Thanks to Ryanair's base and consequent considerable growth (now 20 routes and capacity +62%), the ULCC ranks second. TUI has grown decently too and will base a fifth aircraft at Newcastle next summer.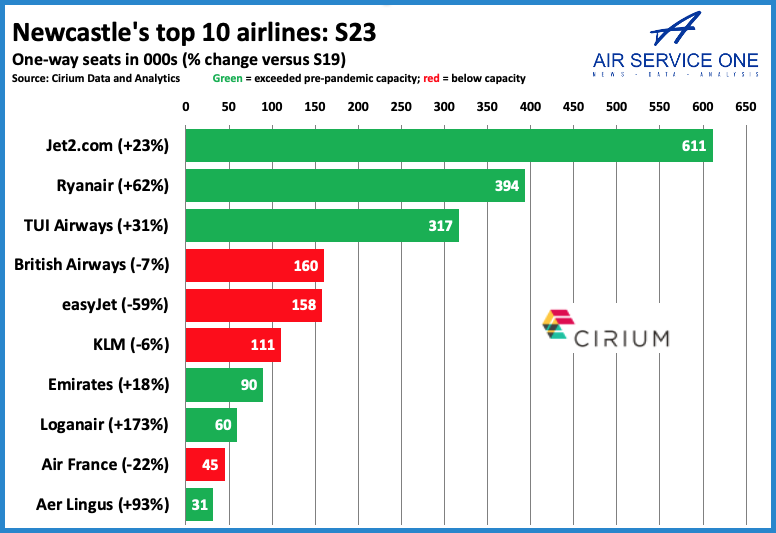 68 destinations in S23; London LHR leads
Newcastle's S23 network involves 68 destinations in 25 countries. Given the time of year, it is not surprising that Spain is the top country with 638,000 one-way seats and nearly a third of the airport's total (31%). Newcastle has flights to 12 Spanish destinations, of which only three – Palma, Alicante and Tenerife TFS – make the top 10, as shown below.
Of Newcastle's four largest markets, two have lower capacity than in S19: Spain (-8%) and the UK (-14%). In contrast, two have grown strongly: Greece (+39%) and Türkiye (+21%). Antalya stands out. Ranking 17th in S19, it is now in the top 10. Capacity has nearly doubled, and it is now served by four airlines – Jet2, TUI, Corendon and SunExpress. In joins only Palma in having four operators.
Despite the importance of sun destinations, London LHR is Newcastle's leading destination. It is one of nine airports served across the UK. British Airways is the only operator and has 30-weekly departures in the first week of August. From November 2022 until February 2023, the 405 kilometre market also had Flybe Mk2. It had a 5-weekly offering using the Q400.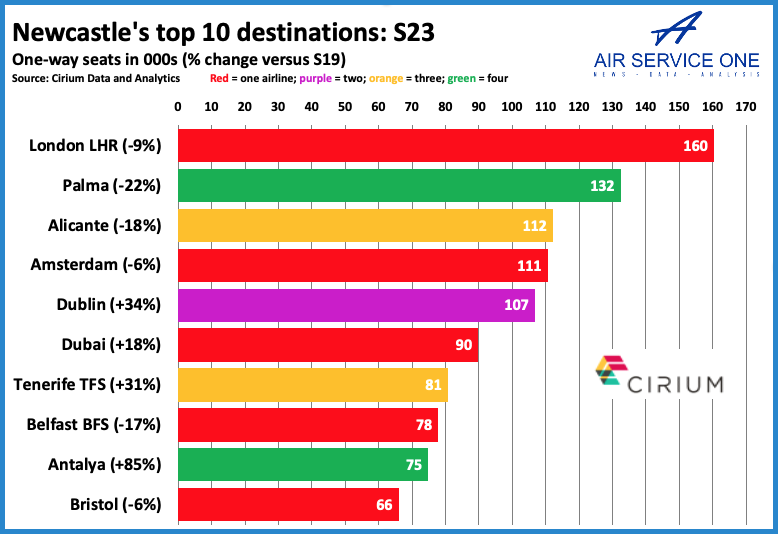 Seven new routes in 2023
As of early May, Newcastle is set to see seven new routes in 2023, as detailed below. Almost all have never been served by the stated carrier before. The exceptions are Ryanair to Shannon (last served in 2019), and TUI Airways to Sharm El Sheikh (until 2016). More than this, Cirium indicates that neither Athens nor Sal (Cape Verde) have had Newcastle flights in the past 20 years, if ever. Aer Lingus Regional replaces Flybe to Belfast BHD.
26 March 2023: Ryanair, Shannon (3-weekly)
28 March 2023: SunExpress, Antalya (up to 3-weekly)
28 April 2023: Aer Lingus Regional, Belfast BHD (daily)
10 May 2023: Jet2, Verona (weekly)
14 June 2023: Aegean, Athens (2-weekly)
1 November 2023: TUI Airways, Sharm El Sheikh (weekly)
7 November 2023: TUI Airways, Sal (weekly)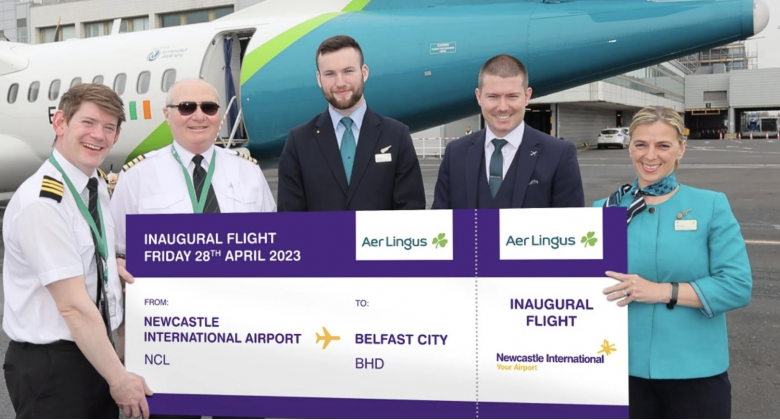 Newcastle's long-haul routes
Newcastle's long-haul network comprises Emirates from Dubai (daily) and TUI Airways to Orlando MLB (up to 3-weekly; replaced Sanford) and Cancun (2-weekly). TUI Airways also has irregular service elsewhere, like Barbados.
Using Cirium to examine Newcastle's previous long-haul US/Canadian markets shows that Jet2 had many Christmas flights to Newark from 2010-2019, while United served Newark on a regular basis in 2015/2016. Air Transat served Toronto YYZ for years until 2012, while FlyGlobespan linked Toronto YHM in 2007.