Norse Atlantic passes first year; has carried 500,000+ passengers; now has 15 summer routes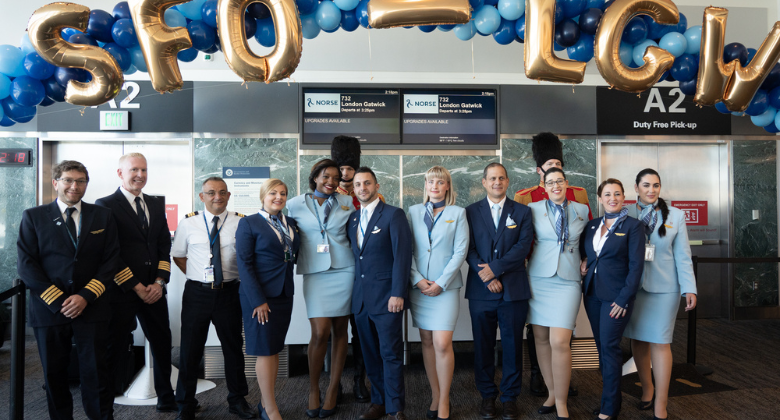 Norse Atlantic's first commercial flight was on 14 June 2022 from Oslo to New York JFK. Between then and May 2023, the long-haul operator transported approximately 512,000 scheduled passengers. Consisting of two units – the original Norwegian entity (IATA code N0) and the UK subsidiary (Z0) – they have 10 Boeing 787s. Five others are still leased out.
Norse Atlantic carried 59,000 passengers in May, with a 73% load factor, not especially high as the crucial peak summer approaches. However, LFs have been slowly increasing in the past few months and demand picks up. Clearly, they were undermined by very low winter performance when half of seats were filled. The higher passenger traffic last summer was driven by introductory fares and new entrant hype.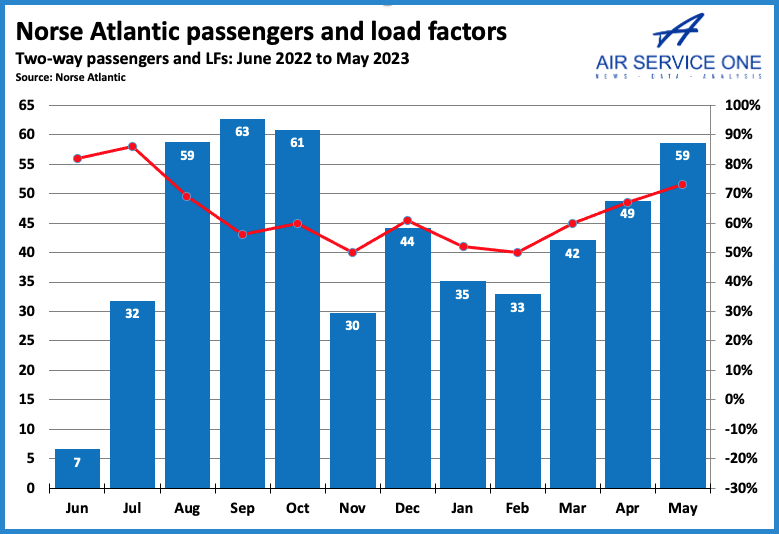 15 summer routes, although two end during the season
Norse Atlantic will operate 15 routes this summer, including two that end later in September. Some 13 were previously served by Norwegian, including Rome FCO to New York JFK (introduced by Norse Atlantic on 19 June 2023) and London LGW to Los Angeles (30 June) and San Francisco (1 July). The sole exceptions are London LGW to Washington IAD and Berlin to JFK. Neither IAD nor Berlin was in Norwegian's long-haul network.
Norse Atlantic's routes are from five European airports: Berlin, London LGW, Oslo, Paris CDG and Rome FCO. According to Cirium schedules data, London accounts for 54% of flights.
The carrier's summer network is entirely focused on the US, with eight airports served: Boston, Fort Lauderdale (ends 17 September), Los Angeles, Miami (begins 18 September), New York JFK, Orlando, San Francisco, Washington IAD. JFK accounts for almost half of flights (47%). The shift from Fort Lauderdale to Miami is to achieve higher yields and greater passenger awareness, although Miami is more costly to serve, together with more freight-carrying ability.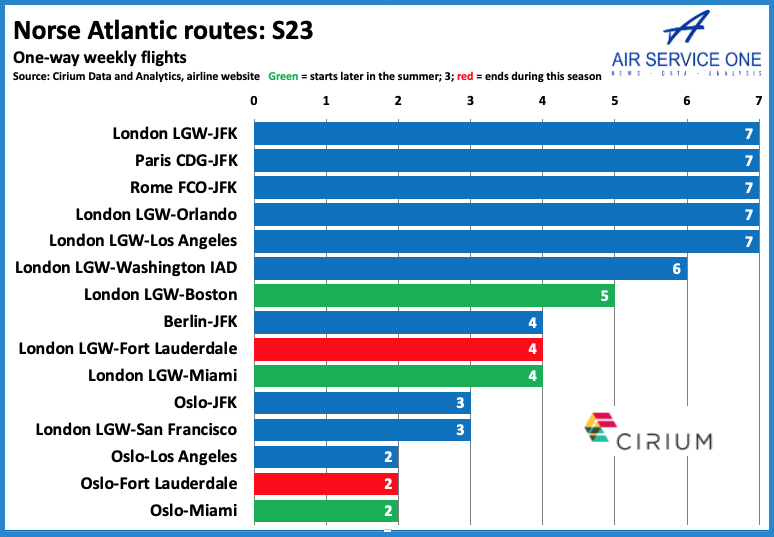 Eight routes have been cut or will end soon
They include Berlin to JFK, one of three routes from Germany's capital to have been tried, marking the carrier's exit from the country.
Ended 15 October 2022: Oslo to Orlando
Ended 16 October 2022: Berlin to Los Angeles
Ended 24 March 2023: Berlin to Fort Lauderdale
Ended 25 March 2023: Oslo to London LGW (only served for bilateral reasons until the UK unit came, routing Oslo-LGW-JFK)
Ends 15 September 2023: Oslo to Fort Lauderdale (to be replaced by Miami)
Ends 17 September 2023: London LGW to Fort Lauderdale (to be replaced by Miami)
Ends 28 October 2023: Oslo to Los Angeles
Ends 27 October 2023: Berlin to JFK
Winter will be different
For most airlines, it is significantly easier to perform well in summer than in winter, as demand and fares are much higher. Conventional thinking dictates that any summer profits help to offset winter losses.
Given very low winter load factors (see earlier), Norse Atlantic had to act beyond reducing winter frequencies in 'cold' markets, increasing them some in 'warm' markets and making particular routes summer-seasonal. After all, getting winter right will be crucial to its sustainability and success. This is even more important for a long-haul LCC, a concept which is renowned for being extremely hard to make work.
To this end, Norse Atlantic will add five new winter routes, as detailed below. They area driven by visiting friends and family demand and/or inbound tourism. Only one – Oslo to Bangkok – was served by Norwegian, with Thailand very popular among Scandinavians.
29 October 2023: London LGW to Barbados (daily)
29 October 2023: London LGW to Montego Bay (4-weekly)
31 October 2023: London LGW to Kingston (3-weekly)
2 November 2023: Oslo to Bangkok (2-weekly)