Norse Atlantic starts Paris-NYC, one of eight carriers this summer – more than any other European airport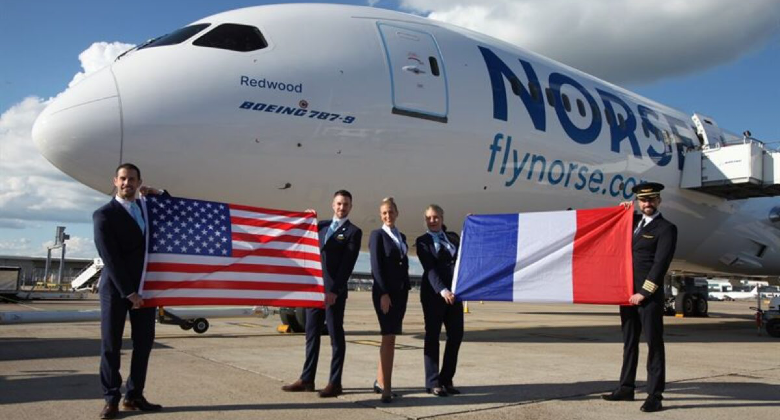 Some 47 European airports have non-stop flights to New York JFK and/or Newark this summer. Between them, they have 8.8 million one-way seats for sale, according to Cirium schedules information data. That is 14.0% more than in S22 and 1.3% more than in S19. Of the 47 airports, Paris CDG ranks second while Paris ORY is 27th. On 26 March, CDG welcomed Norse Atlantic to JFK, while JetBlue takes off in June. When JetBlue launches, Paris will have eight airlines to JFK/Newark – even more than from London.
Paris is the second-largest Europe-NYC market
Paris CDG-New York JFK is Europe's second-largest NYC airport pair by non-stop capacity this summer, behind only London LHR-JFK. At city level, Paris-NYC is second, as shown in the following figure. (Of the ten cities shown below, only Paris/London have more than one airport with NYC flights.)
When CDG and Orly are combined, the French capital has 948,000 one-way seats: 847,000 from CDG and 101,000 from Orly. With 89% of Paris' capacity, CDG is even more dominant than Heathrow is from London (88%). This is because Orly has 'just' two daily flights to Newark – JFK has ended. In all, Paris provides 10.8% of Europe's non-stop NYC seats, about half as much as London but over three quarters more than number three, Rome.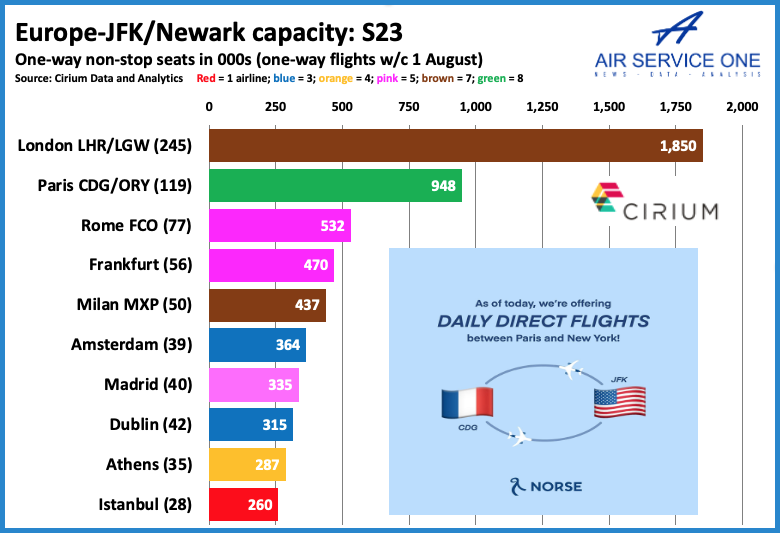 Paris-NYC has eight airlines this summer
With eight airlines, Paris has more carriers serving NYC than any other European airport – including London (seven). In contrast, Istanbul – the 10th largest market – has just Turkish Airlines.
Examining Cirium data indicates that Air France has 444,000 seats and almost half of the market (46.9%), as shown in the following bullet points and figure. It has three times as many seats as the number two carrier, Delta Air Lines (14.4%). As you would expect, SkyTeam is heavily dominant from Paris to NYC (61.3%) – even more so than oneworld from London (48.8%).
Air France: 46.9% of city-level seats; serves Paris CDG to JFK and Newark (Newark returned on 12 December 2022 after a 10-year absence)
Delta Air Lines: 14.4%; Paris CDG to JFK
United Airlines: 12.3%; Paris CDG to Newark
French bee: 8.9%; Paris Orly-Newark
Norse Atlantic: 7.7%; Paris CDG-JFK (started 26 March 2023)
American Airlines: 6.3%; Paris CDG-JFK
JetBlue: 1.8%; Paris CDG-JFK (begins 30 June 2023)
La Compagnie: 1.7%; Paris Orly-Newark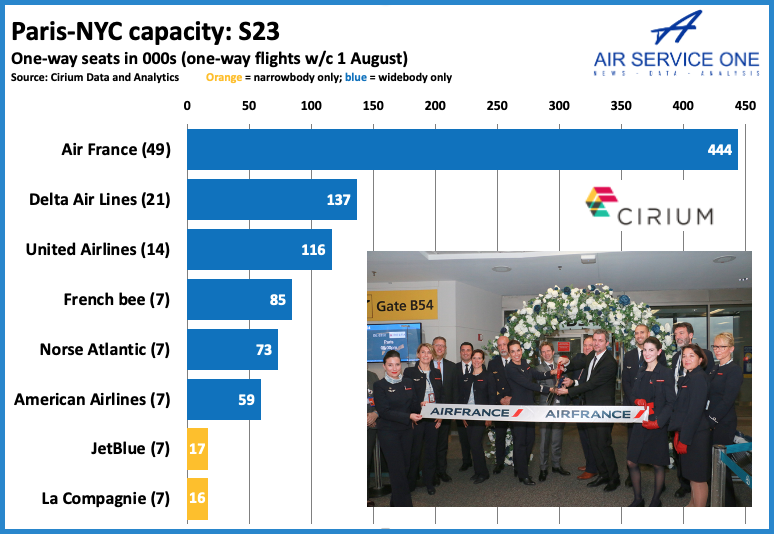 Seven airlines have stopped operating Paris-NYC since 2004
Despite the plethora of airlines, multiple others have come and gone. Using Cirium shows that, aside from Continental, which became United, all of the following operated since 2004:
Air Tahiti Nui (2006); JFK temporarily replaced the Los Angeles stop
Air India (until 2008)
L'Avion (2007-2009)
OpenSkies (2009-2013); formed from L'Avion
Primera (2018)
Norwegian (2016-2020)
Level (2018-2021)