North America celebrates over 300 new route launches during the last four weeks as US demand reaches >70% of pre-pandemic level
The last four weeks have seen a further steady improvement in US demand relative to the same period in 2019. Having passed 60% of the level from two years ago on 31 March and then passing the 65% mark on 12 May, the 70% level was passed for the first time on Thursday 27 May, just before the start of the Memorial Day weekend. According to TSA data, over two million passengers flew on Friday 11 June, a milestone not achieved since 8 March 2020.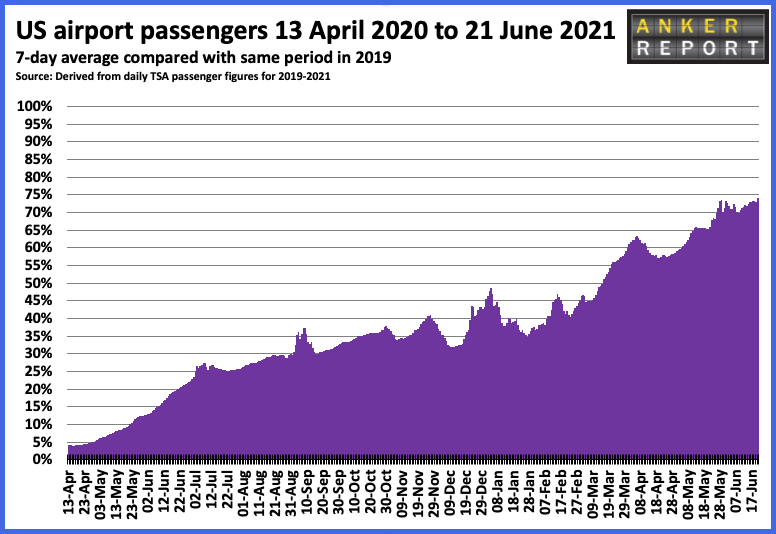 Airlines launch over 300 new routes in last four week
During the last four weeks (15 May to 11 June) The ANKER Report has identified 315 new routes launched by airlines across North America, the vast majority (268) being US domestic routes. There were 15 Canadian domestic routes and 10 between the US and Mexico. The leading carriers for new routes were American (55), Southwest (50), Allegiant (49), United (37), Frontier (24), Spirit (19), Delta (16), Alaska Airlines (10) and Sun Country (10).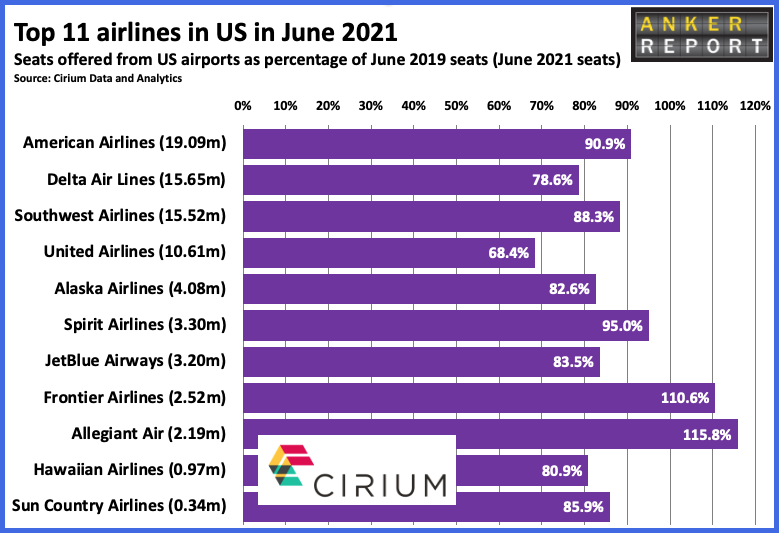 Some 180 airports welcomed a new service
A total of 182 airports welcomed at least one of the 315 new routes launched in the last four weeks. Several airports managed to celebrate at least 10 new airline services.
18: Los Angeles
17: Myrtle Beach
16: Dallas/Fort Worth
15: Chicago ORD
13: Austin, Bozeman, Orlando, St. Louis
12: Charleston, Pensacola
11: Boston, Indianapolis
10: Nashville
The busiest US states celebrating the most new airline services were:
73: Florida
51: California
44: Texas
36: South Carolina
26: Montana
23: Missouri
22: Illinois, Ohio
21: New York
The performances of South Carolina and Montana are noteworthy as these are not normally the busiest states for air travel. South Carolina has seen multiple new services at Myrtle Beach (17), Charleston (12) and Hilton Head Island (seven), while Montana's leading airports for new services have been Bozeman (13 new routes), Kalispell (eight) and Missoula (three).
American still biggest US carrier by seats in June
Analysis of schedule data for June shows that American has a healthy lead over its nearest rivals, Delta and Southwest, in terms of seats offered from US airports. It is also beating its two closest rivals in terms of its capacity as a percentage of that offered in pre-pandemic June 2019. However, while American is offering 91% of seats compared with two years ago, other carriers are doing even better. Spirit is at 95% while both Frontier (111%) and Allegiant (116%) are actually offering more than 10% more seats in June than they did two years ago.
Miami and Salt Lake City seats up compared with 2019
Among the top 20 US airports (those offering the most seats in June 2021), two are already offering more seats than they did in May 2019. They are Salt Lake City (at 104.9%), where the airport's leading airline Delta has grown capacity by almost 4%, and Miami (at 104.1%), where the arrival of JetBlue and Southwest, as well as the growth of Frontier, has more than offset the drop in international capacity.
At the other end of the ranking comes San Francisco, where capacity is at only 43% of June 2019, with all the leading carriers there having cut capacity and international capacity to Asia and Europe down 76%.