North America is the best performing region; Q3 capacity is up by 3.9%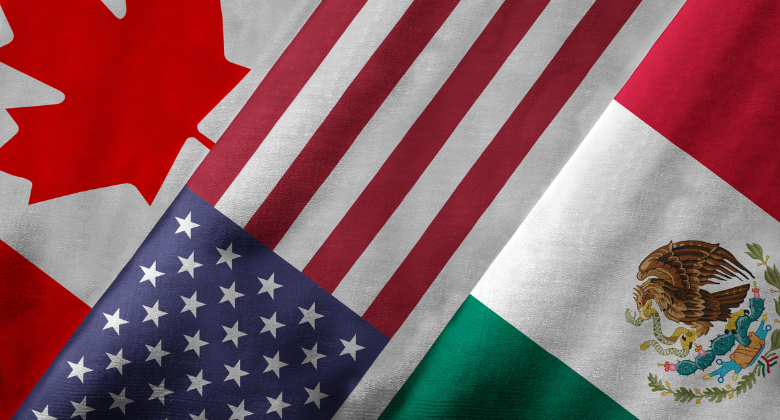 North America's seat capacity in Q3 (July-September) 2023 is up by 3.9% versus Q3 2019, according to data supplied by airlines to Cirium. This makes North America by far the best recovered of all world regions, both in percentage and absolute terms. A considerable 13.7 million seats have been added, cementing its position as the world's third-largest continental market. It has benefited from multiple new airlines, including Avelo, Breeze, Canada Jetlines and Lynx Air.
Mexico's capacity is +21.0%, the US is +5.8%, and Greenland – while tiny – is +4.8%. In contrast, Canada remains down (-4.7%). In keeping with the pandemic trend, domestic markets have been more resilient (+4.6%) than international (+0.2%). While the US and Canada remain below 2019 levels internationally, Mexico has grown (+18.2%). It is largely because of Cancun, one of eight Mexican airports in the top 15 fastest growing airports figure (see image).
71 of the top 100 airports have exceeded capacity
Some 71 of North America's top 100 airports by Q3 seats have more capacity than they did in 2019. The standout performer is Sarasota. It has more than doubled in size (+103.2%), partly due to the entry of Southwest, Avelo and Breeze. In contrast, the least-recovered, of the 100, is San Jose, California (-18.8%).
Some 12 airports with three million-plus seats have surpassed pre-pandemic capacity by 10% or more. Cancun is the best (+39.2%), then Austin (+38.3%), Nashville (+31.3%). The best-performing Canadian airport is Calgary (+9.3%), mainly because of WestJet's reorientation towards its core hub.
A different picture emerges if actual added seats is considered. Denver is top (+1.8 million), then Orlando MCO (+1.5m) and Las Vegas (+1.4m). The least recovered are Chicago ORD (-1.6m), Los Angeles (-1.5m) and San Francisco (-1.3m).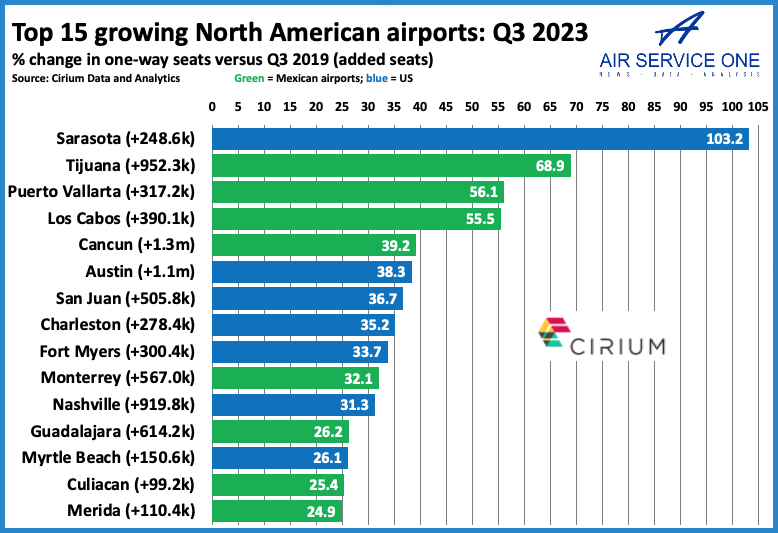 (U)LCCs have grown especially strongly
Not surprisingly, much of the growth has been by (U)LCCs, including Vivaaerobus (+97.0%), Volaris (54.8%), Spirit (+34.6%), Frontier (+27.8%), and Allegiant (10.2%). It is interesting that Southwest (+15.0%) exceeded Allegiant's development. Of other operators, Aeromexico is well above pre-pandemic levels (+27.2%), likewise Canada's Porter (+23.2%). Porter's growth is largely from its new Embraer jets and new transcontinental and Ottawa routes.