North America welcomes 184 new routes in last six weeks involving 155 airports as US demand reaches 80% of pre-pandemic level
Latest daily figures provided by the US TSA show that average weekly passenger numbers passing through US airports are now at around 80% of the level they were back in 2019. With Independence Day falling on a Sunday this year, passenger numbers peaked on 4 July at 85% of the level reported in 2019. However, while the US air travel recovery has apparently been relatively rapid compared with other parts of the world (helped by relatively few restrictions in the dominant domestic market), COVID case numbers are once again rising in many states.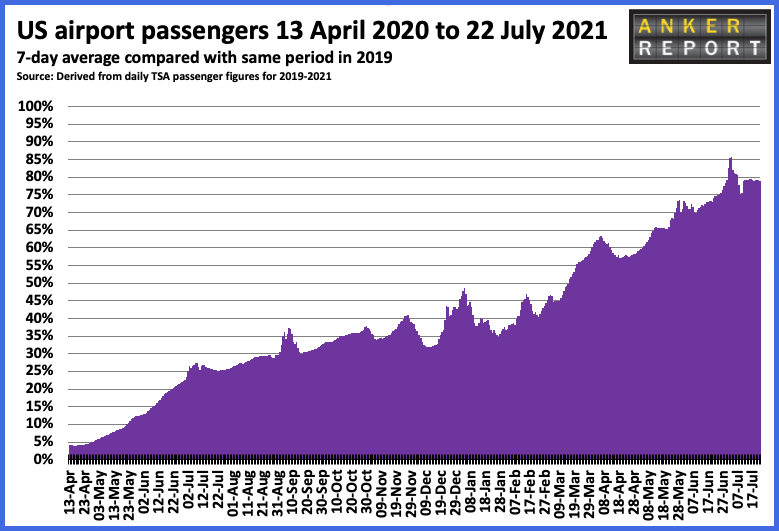 Airlines launch 184 new routes in last six weeks
During the last six weeks (12 June to 23 July) The ANKER Report has identified 184 new routes launched by airlines across North America, the majority (106) being US domestic routes. As the market in Canada started to recover, there were also 35 new Canadian domestic routes launched by airlines, 10 new Mexican domestic services and seven new services between the US and Mexico. There were also international routes from the US to Croatia, France, Greece and Iceland in Europe, as well as new services to Chile, Colombia, Costa Rica, the Dominican Republic and Honduras. The 184 routes were flown by a total of 29 airlines, of which 14 were US carriers, eight were Canadian and three were Mexican. The other four carriers were Air France, Avianca, Emirates and Iberia. Newcomer Breeze launched 25 routes, followed by Southwest with 23, JetBlue with 18 and Frontier with 16.
Competition exists on 79 routes
In terms of competition, 105 of the new routes do not, at present, face direct competition. That means that 79 of the routes airlines have chosen to launch will face direct competition from at least one other carrier. On 43 of these routes competition comes from just one competitor, while a further 28 routes are already served by two other carriers. Four routes have three competitors and one route has four competitors. Three routes are already served by five carriers; Los Angeles to the Hawaiian airports of Kona and Lihue (with Southwest joining), as well as Los Angeles to San Jose Del Cabo in Mexico (with JetBlue joining).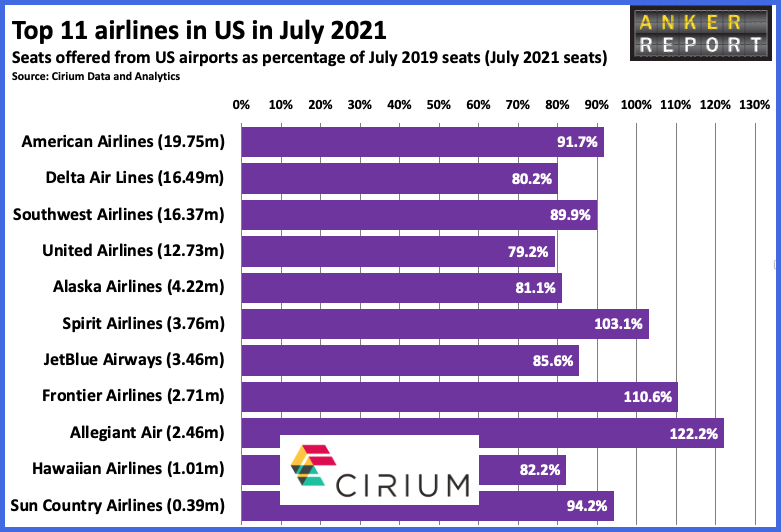 155 airports welcomed a new service
A total of 155 airports welcomed at least one of the 184 new routes launched in the last six weeks. Leading the way with 12 new routes was New Orleans, thanks primarily to 10 new routes from Breeze, as well as two new routes from Spirit. Then came Miami and New York EWR (each with 10), Charleston and Denver (each with nine), and Los Angeles and Montreal (each with eight). Looking at a state/province level, Florida came top this month with 30 new services, followed by California (24), British Columbia (22), Quebec (14) and Louisiana (13).
American biggest US carrier by seats in July
Analysis of schedule data for July shows that American has a healthy lead over its nearest rivals, Delta and Southwest, in terms of seats offered from US airports. It is also beating its two closest rivals in terms of its capacity as a percentage of that offered in pre-pandemic July 2019. However, while American is offering 92% of seats compared with two years ago, other carriers are doing even better. Sun Country is at just over 94% and Spirit is at 103%. Leading the way, by offering significantly more capacity in July 2021 than they did in July 2019, are Allegiant at 122% and Frontier at almost 111%.
Salt Lake City and Miami seats up compared with 2019
Among the top 20 US airports (those offering the most seats in July 2021), two are already offering more seats than they did in July 2019. They are Miami (at 105.2%), where the arrival of JetBlue and Southwest, as well as the growth of Frontier, has more than offset the drop in international capacity, and Salt Lake City (at 105.0%), where the airport's leading airline Delta has grown capacity by 3% and American has increased capacity by 31%. At the other end of the ranking comes San Francisco, where capacity is at only 49% of July 2019, with all the leading carriers there having cut capacity and international capacity to Asia and Europe down 70%.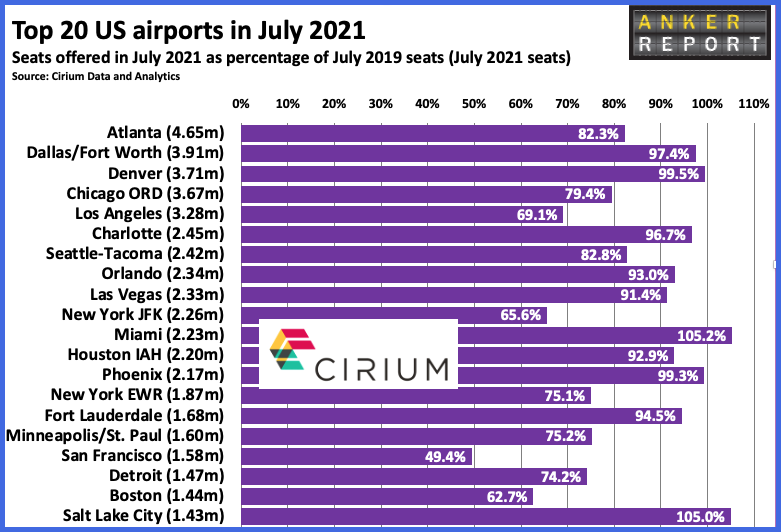 Florida airports see greatest flight gains
Analysis of Cirium Data and Analytics schedule information for July 2021 and July 2019 shows that six of the top eight airports with the biggest increase in the number of flights compared with two years ago are all in Florida. Fort Myers leads the way with over 250 additional weekly departures, ahead of Myrtle Beach in South Carolina with 234. Bozeman in Montana is the only other non-Florida airport in the top eight. Compared with the rankings in June, Boise, Kahului/Maui and Jackson Hole are new in the top 12, replacing Kalispell, Nantucket and Salt Lake City, though two of these still make the top 15. Jackson Hole had been in the top 12 in May.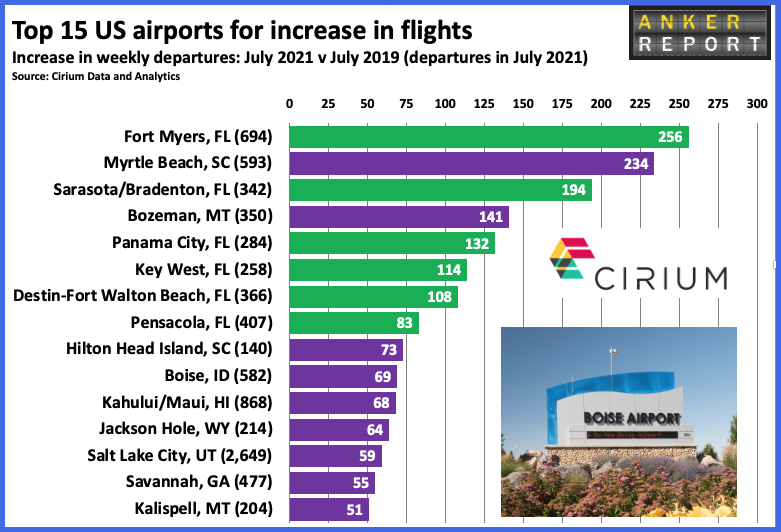 Boise in Idaho now in top 10 for growth
Boise Airport in Idaho is the western US state's busiest airport, handling 4.11 million passengers in 2019, an increase of 6% on its 2018 throughput. With 69 additional weekly flights in July 2021 compared with July 2019, the airport ranks 10th for greatest flight increases. Half of these additional flights have come from Alaska Airlines, which is also the airport's leading carrier. Six other carriers have also increased their flights at the airport, while none have reduced them. A significant development in 2020 was that Alaska Airlines began non-stop service from Boise to both Los Angeles and San Francisco, while Delta began daily service to its main hub in Atlanta in November. In 2021, JetBlue is a new carrier at the airport having launched flights from New York JFK on 2 July. Other new routes launched in 2021 include: Alaska Airlines to Austin and Chicago ORD; Allegiant to Nashville and Orange County; and Southwest to Orange County. Looking ahead, Alaska Airlines is adding more new routes starting with Pullman-Moscow in Idaho on 17 August, then Everett (aka Seattle Paine Field) on 8 September and Phoenix on 19 November.
Mexico domestic traffic now at 81% of 2019 figure
Analysis of the latest passenger figures from Mexico shows that the country's airlines carried 3.82 million passengers on domestic routes in May 2021. That figure represents a drop of 19% compared with pre-pandemic May 2019. Volaris continues to be the leading domestic airline with 1.60 million passengers in May, representing 42% of the total market. Next came Vivaaerobus with 28.0%, ahead of Aeromexico (14.2%) and Aeromexico Connect (12.9%). International passenger numbers were 3.11 million in May, which is down only 17.7% compared with two years earlier, a big improvement compared with April when traffic was down 39%. The leading carriers for international passengers in May were American (511k), United (411k) and Delta (346k) followed by Volaris (392k) and Aeromexico (306k).