North America welcomes 196 new routes in last five weeks involving 148 airports and 29 airlines
The latest daily figures provided by the US TSA show that average weekly passenger numbers passing through US airports have stabilised at just under 85% of the level they were back in 2019. Compared with this time last year, passenger numbers are virtually doubled at around two million per day.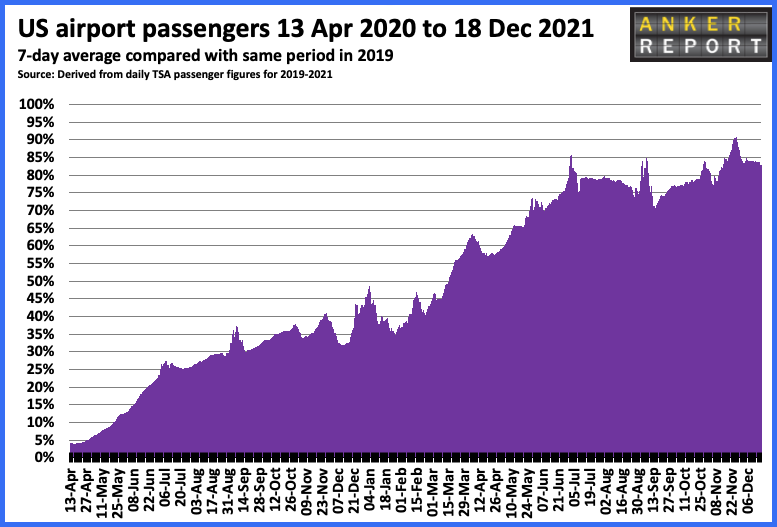 Airlines launch 196 new routes in last five weeks
During the last five weeks (13 November to 17 December) The ANKER Report has identified 196 new routes launched by airlines across North America. Of these 117 were US domestic routes, with a further 64 being international routes involving US airports. The remaining 15 routes comprised international routes from Mexico and Canada.
New international routes from the US have included services to the Azores, Barbados, Belize, Colombia, Costa Rica, the Dominican Republic, Ecuador, Germany, Guatemala, Honduras, Nigeria, Panama, Sweden and the UK.
29 airlines launch new services
The 196 new routes were flown by a total of 29 airlines, of which 13 were US carriers. Allegiant added 38 new routes followed by Spirit with 33, Southwest with 16, Flair Airlines with 15 and Frontier with 14. Among the foreign carriers launching new routes to North America were Aer Lingus, Aeroflot, Aeromexico, Air Canada, Air Transat, Avianca, British Airways, COPA Airlines, Eurowings Discover, Finnair and Swoop.
In terms of competition, 104 of the new routes do not, at present, face direct competition. That means that 92 of the routes airlines have chosen to launch will face direct competition from at least one other carrier. On 36 of these routes competition comes from just one competitor, while a further 38 routes are already served by two other carriers. A total of 13 routes have three competitors, while five routes were already served by four other carriers, and now have five: Miami-Boston, Miami-Denver, Milwaukee-Fort Myers, New York LGA- Tampa, and Toronto YYZ-Punta Cana.
148 airports welcomed a new service
A total of 148 airports welcomed at least one of the 196 new routes launched in the last five weeks. Leading the way by some distance with 28 new services was Miami, driven by 19 new routes from Spirit. Austin was second with 15 new services, of which nine came from Allegiant. Then came Tampa with 12 new routes, followed by a three-way tie involving Cancun, Fort Myers and Phoenix AZA, all with 11 new routes. For full details of all the new routes, see the NAMNERD file available to download from this website.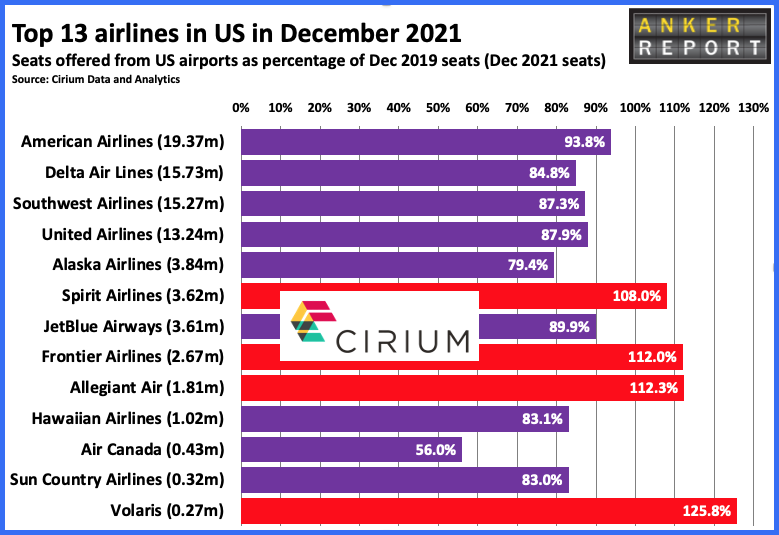 Allegiant, Frontier and Spirit all growing in December
As in previous months, analysis of schedule data for December shows that American still has a healthy lead over its nearest rivals, Delta and Southwest, in terms of seats offered from US airports. Among the three US global carriers, American has the highest percentage recovery with capacity now at 94% of its December 2019 figure, while United is at just under 88% and Delta at just under 85%. Leading the way for seat recovery among US carriers are the country's three ULCCs; Allegiant and Frontier seats are both up 12%, while Spirit seats are up 8%. Across all carrier in the US market, seat recovery is currently at 88% in December.
Miami seats up 19% in December versus 2019
Among the top 20 US airports (those offering the most seats in December 2021), only one is offering more seats than they did in December 2019. That is Miami, where capacity is up 19.2%. They are Miami (+18.2%), and Phoenix (+3.6%). At the other end of the ranking comes San Francisco, where capacity is still at only 65% of December 2019. All of the other top 20 airports have now recovered at least 75% of their 2019 seat capacity.
Looking at a US state level, reveals that eight states are showing capacity growth versus 2019 in December though for six of them that growth is less than 2%. Leading the way with growth of 11.5% is Wyoming. This is primarily down to 24% growth in seats at the state's busiest airport at Jackson Hole (IATA code JAC), which accounts for around two-thirds of the state's airport seat capacity. Mississippi's capacity growth of just over 9% is thanks to 37% growth at that state's busiest airport of Jackson (IATA code JAN), driven by Southwest's arrival.