Norway set to see capacity at 97% of 2019 levels this summer
Norway's distinctive topography and terrain mean that air travel is far more important in keeping communities connected than in most other countries. Travelling by land between the major towns and communities, scattered mostly up Norway's west coast, can be a time-consuming business. Sea journeys, although more direct, are also relatively slow. Norway is therefore heavily reliant on air services to enable people and goods to travel efficiently around the country.
Oslo accounts for half of all Norwegian traffic
Passenger numbers across the country's 40-plus commercial airports reached a total of 50 million for the first time in 2012. Just two years later demand had risen to almost 55 million. However, in the following five years (to 2019) average growth was just 1% per annum. As a result, total traffic reached 57.4 million in 2019, with almost half of that being handled at Oslo's main airport, up from 43% in 2013. In fact, most of the growth across Norway's airports between 2012 and 2019 came from increased passenger numbers at the airport serving the country's capital.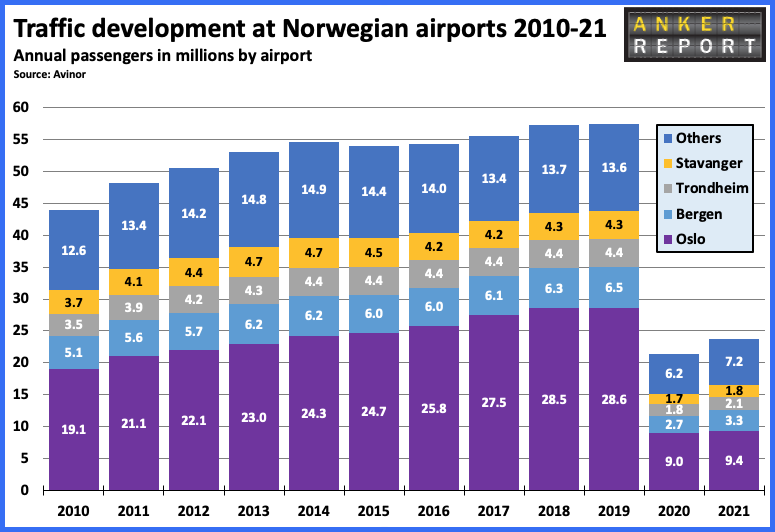 Norway's second busiest airport is Bergen, which welcomed 6.5 million passengers in 2019. Then come Trondheim and Stavanger with over four million passengers each in 2019. These four airports account for just over three-quarters of all Norwegian airport traffic as measured by passengers. Other airports with over one million passengers that year were Tromsø (2.37m), Sandefjord Torp (2.07m), Bodø (1.87m), Ålesund (1.12m) and Kristiansand (1.06m).
Widerøe accounts for half of all domestic flights this summer
The Norwegian domestic market currently features four major players. In terms of seat capacity, SAS leads the way with 38% ahead of Norwegian (31%), Widerøe (25%) and Flyr (5%). However, if measured by flights, Widerøe is now top with 51% of flights, ahead of SAS (26%), Norwegian (18%) and Flyr (3%). Compared with S19, capacity this summer is set to be up 3% based on analysis of the latest schedule data from Cirium.
Flyr is a new entrant, having launched flights at the end of June 2021, while Widerøe has increased capacity by 21%. In contrast Norwegian's domestic capacity is down 2%, while SAS is offering 14% fewer seats this summer than it did in S19. One airline not mentioned in this analysis is Wizz Air. The carrier entered the Norwegian domestic market in November 2020, having planned to operate 15 routes. However, within a matter of months it had completely withdrawn from the market.
Norwegian offering most international seats
Looking at international services, some 40 airlines are expected to offer scheduled service to/from destinations in Norway this summer (April to October). Leading the way is Norwegian with 2.72 million seats, well ahead of SAS (1.91m), Wizz Air (776k), KLM (516k), Ryanair (500k), Flyr (411k) and Lufthansa (386k). Overall, international seat capacity is currently expected to be some 11% below the level of summer 2019. When combined with domestic capacity, it is estimated that Norway's seat capacity will be down around 3% this summer.
Apart from Flyr, other airlines serving the Norwegian market this summer that were not present in 2019 include Aegean Airlines, Air Serbia, Eurowings, PLAY and United Airlines. Joining them soon will be Norse Atlantic Airways, the low-cost, long-haul carrier which is finally set to begin operations on 14 June from Oslo to four destinations in the US – Fort Lauderdale, Los Angeles, New York and Orlando – using Boeing 787-9s.
Poland closing on Denmark as #1 country market
No single country market dominates for international travel from Norway, with four countries in the running to be number one. Denmark, which was the clear leader in 2019 Q3, has seen capacity fall by 10%, while second ranked Poland has narrowed the gap significantly thanks to a 14% increase in seats versus three years ago. Poland had ranked fourth behind Spain and the UK. Among the top 15 country markets, four have seen capacity growth. Apart from Poland, there has also been growth in seats to Lithuania (+29%), Latvia (+10%) and Spain (+4%). Country markets currently completely missing in Q3, and which were served in 2019 Q3, include China, Russia and Thailand.