Norwegian 2.0: 45% of flights in July operated on Norwegian domestic routes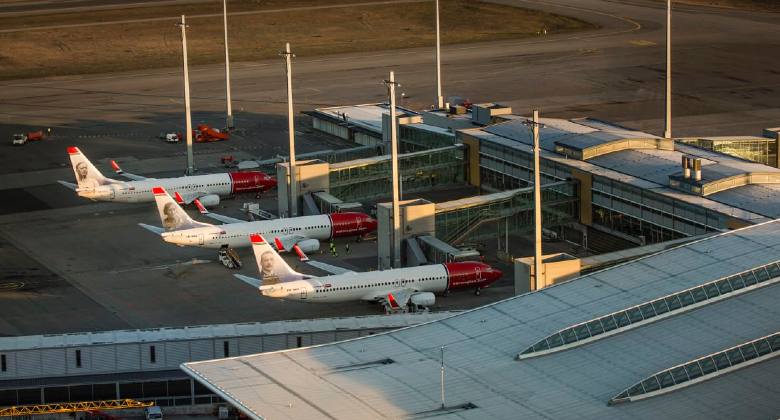 In 2018, Norwegian carried 37.3 million passengers (with a load factor of 86%), making it one of Europe's biggest airlines. However, the airline was struggling financially, having grown rapidly and also taken on the challenge of offering low-cost, long-haul flights, primarily to the US, from various countries in Europe. Even before the pandemic hit, the airline had been downsizing and focussing on profitability rather than growth. The pandemic saw the airline completely reorganise itself and decide to focus on short-haul services and abandon all long-haul operations, at least for the foreseeable future.
2.5 million passengers carried in last 12 months
Operational statistics published by the airline reveal that during the last 12 months (August 2020 to July 2021) Norwegian has carried 2.5 million passengers at a load factor of 59%. Over a quarter of those were carried last month, when almost 700,000 customers were transported by the airline, twice as many as in any other month since the pandemic started. Passenger load factor, which had been below 50% for the first four months of 2021, reached 75% in July. The airline also reported that whereas in June it had flown on average just 15 aircraft, in July this had risen to 33.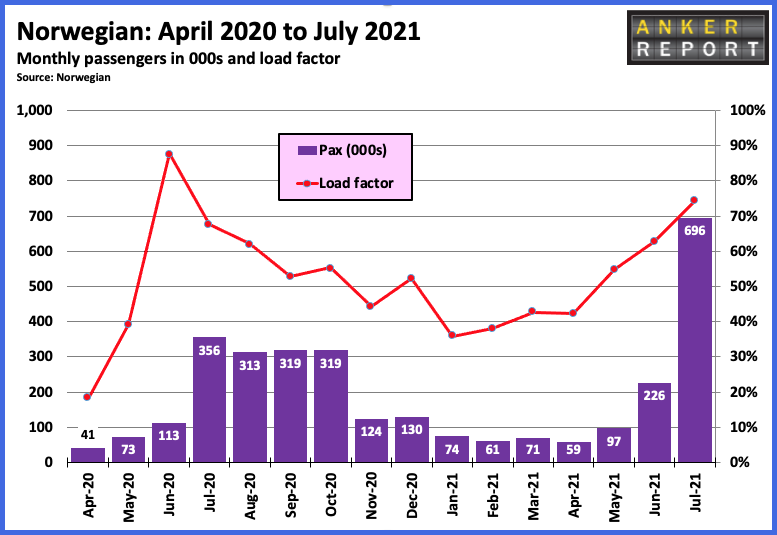 Oslo is leading airport
Analysis of Cirium Data and Analytics schedule information for a week in July shows that, not surprisingly, Oslo is the airline's busiest airport by far, with over 360 weekly departures. That is three times more than at either Copenhagen or Stockholm ARN, the airline's other two major bases. Six of Norwegian's top 10 airports in July were in Norway. The other two airports making the top 10 were Alicante and Malaga in Spain. Among the other airports in the top 20 were airports in Croatia (Split), Finland (Helsinki), France (Nice) and Greece (Chania).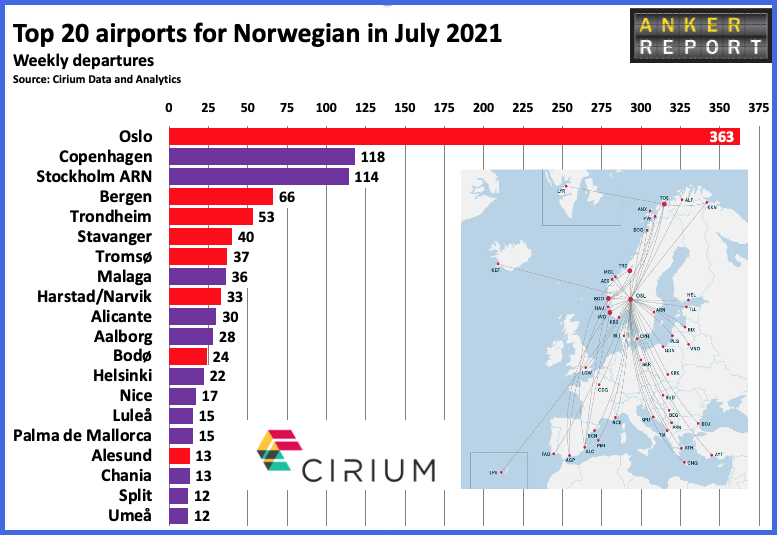 Norwegian domestic flights dominate
Looking at individual routes shows that the top five routes by weekly frequency (and seven of the top 10) were Norwegian domestic routes, with the 325-kilometre Oslo-Bergen sector leading the way with 52 weekly flights. A Danish domestic route ranks sixth, while Swedish domestic routes rank eighth and 11th. As a result, the only international route in the top 10 is Copenhagen to Malaga, which was being served 12-weekly. In total 20 routes were being operated with at least daily service. While
Wizz Air's presence in the Norwegian domestic market was relatively short-lived
, Norwegian continues to face competition on these routes from Scandinavia's biggest airline, SAS. In addition, newcomer Flyr has recently launched services from Oslo to Bodø,
Tromsø
and Harstad/Narvik, with service to Bergen and Trondheim set to start on 16 August. For now, Flyr has decided to avoid the Oslo-Stavanger market.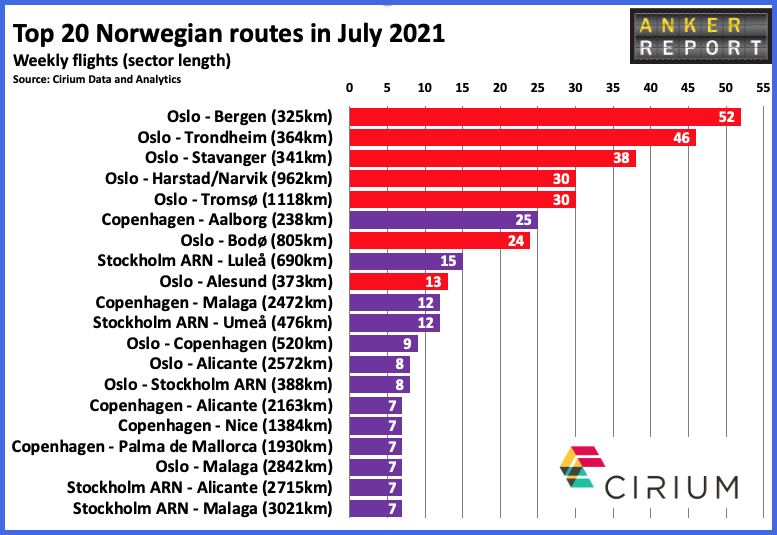 Flights set to increase 19% in August
According to Cirium figures, Norwegian's flights are set to grow by just under 20% in August compared with July. Given how much the airline has reduced its network it is not surprising that new routes have not really been a focus for the airline. However, next week the airline appears to be planning two new routes from its Stockholm base to Gdansk in Poland and Palanga in Lithuania. Both of these routes were supposed to have started last summer. In addition, the airline has recently transferred its Copenhagen to Paris service from Orly to CDG.