Norwegian celebrates 20 years at Stockholm ARN and is the second-largest airline in Sweden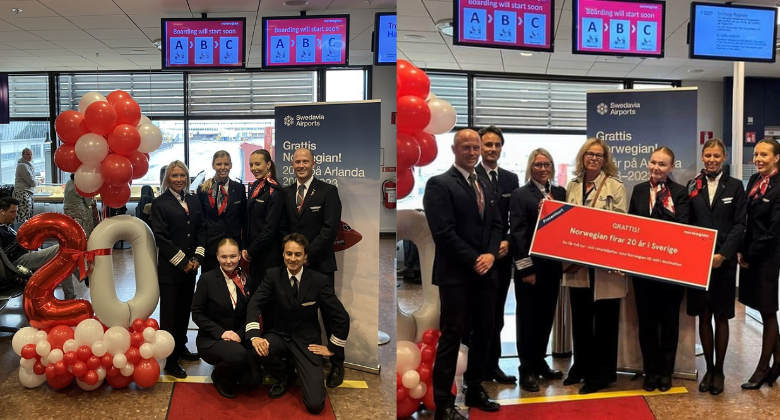 Norwegian's first service to Sweden began 20 years ago on 1 September 2003, when it commenced Oslo OSL to Stockholm ARN. Since then, ARN – and Sweden generally – has become an important part of the LCC's network, with domestic, international – and for a while – long-haul flights.
In July-September 2023 (Q3), Norwegian has 878,000 departing seats from Sweden, based on Cirium schedules data. This makes it the second-largest operator serving the country. Partly because of Norwegian's network-wide reorganisation and rationalisation, capacity is down by 39% versus Q3 2019 and 44% over the peak of 2018, greatly narrowing the gap with Sweden's third-largest operator, Ryanair. More surprising, Norwegian's capacity is 1% lower than the same three summer months in 2022.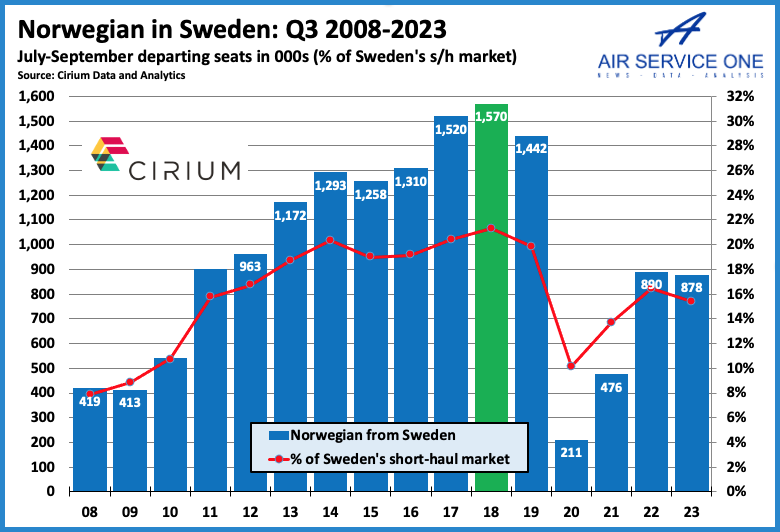 Norwegian in Sweden: Q3 2023
Norwegian serves eight airports in Sweden in this July-September. Inevitably, Stockholm ARN is number one with 722,000 departing seats. However, if the LCC's full network is considered, ARN only ranks as its third-most-served airport, behind OSL (1.95 million one-way seats) and Copenhagen (889,000).
Some 82% of the airline's operation is from ARN, up by five percentage points versus 2019. Aside from the size and significance of Stockholm, this concentration makes sense when its network is considered. Luleå, Umeå, Visby and Kiruna only have one route from ARN, while Växjö has a link to Malaga. Stockholm NYO has routes to Alicante and Malaga.
Gothenburg – Sweden's second most populous city – is interesting. Norwegian only has service to Alicante, Barcelona and Malaga. The LCC's Gothenburg network has reduced from 12 routes in Q3 2019, with end of the domestic link to ARN – replaced by Ryanair – the most notable. Norwegian's Gothenburg capacity is 71% lower than it was – considerably more than Sweden generally (-39%).
About half of seats are deployed within the Nordics
A quarter of Norwegian's Q3 capacity is deployed within Sweden, with the same amount within the rest of the Nordics (Denmark, Finland, Norway) and 52% across wider Europe and the Middle East. Almost half of the carrier's Sweden seats are within the Nordics, roughly unchanged versus Q3 2019.
What is notable is that capacity allocated to the domestic market has reduced by 55% for multiple reasons. This means that, while Norwegian remains the Sweden's third-largest domestic operator behind SAS and BRA, its share of the market has fallen by six percentage points since 2019 to just 13%. Norwegian used to have a higher proportion of its seats deployed domestically in Sweden, but it now has a greater share of the international market (15%).
54 routes this July-September
Norwegian's Sweden network comprises 54 routes in 24 countries. Just four routes are domestic (counted in one direction to avoid duplication) yet this market has nearly one in four seats, showing how much more served they are (as domestic markets tend to be). All its top 10 routes are from ARN, with all but LGW having direct competition. Its first non-ARN service ranks 13th (Gothenburg-Malaga). Perhaps surprisingly, only one ARN route (to OSL) makes the top 10 across the carrier's entire network.