Norwegian celebrates 20 years of service on 1 September; has carried over 300 million passengers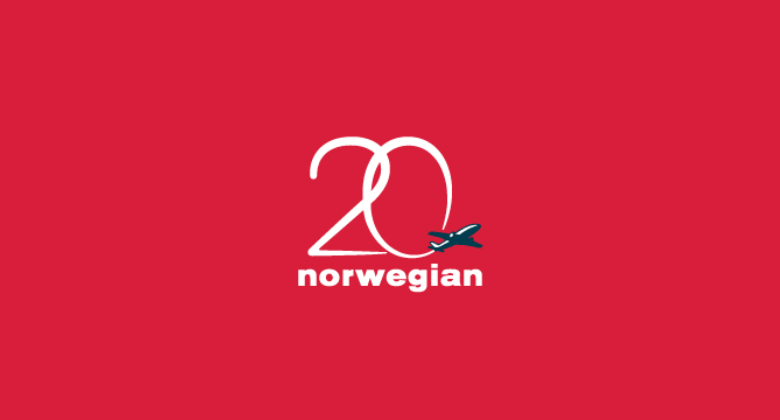 Last week, on 1 September 2022, Norwegian celebrated its 20th anniversary as a scheduled airline. In those 20 years it has carried over 300 million passengers, developed and abandoned a long-haul, low-cost network from various European airports, set up operations in Argentina and come close to collapse as a result of COVID. However, latest traffic data from the airline shows that in the last 12 months (to August 2022) it carried 15.5 million passengers at a load factor of 85.5% and its fleet is back up to around 70 aircraft.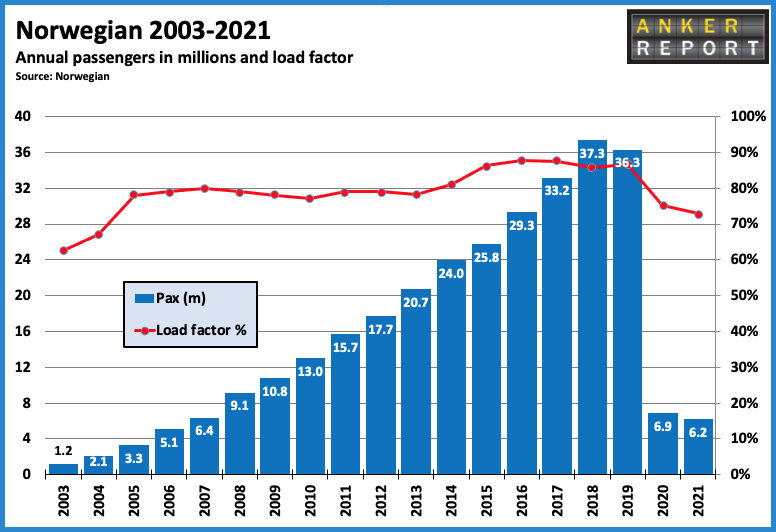 It is worth recalling that Norwegian acquired local Swedish rival FlyNordic (owned at the time by Finnair) in 2007 which gave it a traffic boost in 2008. Long-haul services began in May 2013 with flights from Oslo and Stockholm to New York, with Bangkok becoming the airline's second long-haul destination the following month. Due to issues with the then new 787s, many of the initial long-haul services were flown using an A330 and two A340s owned by HiFly. By the summer of 2018, Norwegian's long-haul network encompassed almost 60 routes and was generating around 220 weekly departures from European airports. A good aviation quiz question would be to name the 18 European airports from which the airline operated flights to the US.
Two million passengers per month this summer
Even before the pandemic, there had been concerns about Norwegian's financial position. It had been unprofitable in 2017, 2018 and 2019. The airline had already embarked on a major restructuring programme in 2019 aimed at focussing on profitability rather than growth. When COVID struck there were concerns for the airline's future. Fortunately, the airline has survived but no longer has a long-haul network.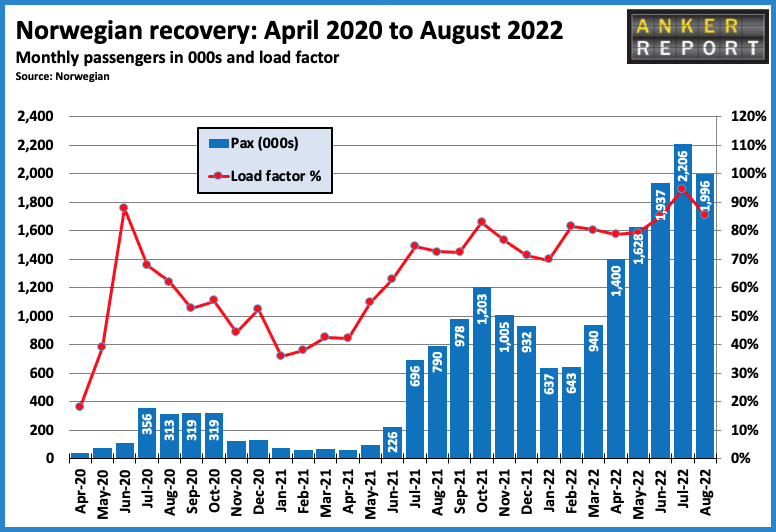 Passenger numbers have grown rapidly and in July the airline welcomed over 2.2 million passengers at a load factor of more than 90%. Compared with the peak summer period in 2019, the 'new' Norwegian's passenger numbers are between 55% and 60% of what it was carrying three years ago.
Almost 90 airports served in August
Norwegian now operates with just two IATA codes. 'DY' is used for its Norwegian operations, while 'D8' is used for all others. According to Cirium schedule data, Norwegian was operating flights from 86 airports in August. Of these only two, Marrakech and Tel Aviv, were outside of Europe. In terms of weekly flights, Oslo was by far the airline's busiest airport, with more than twice as many flights as both Copenhagen and Stockholm. Then come three more airports in Norway (shown in red). The leading non-Nordic airports for flights in August were London LGW, Malaga and Alicante.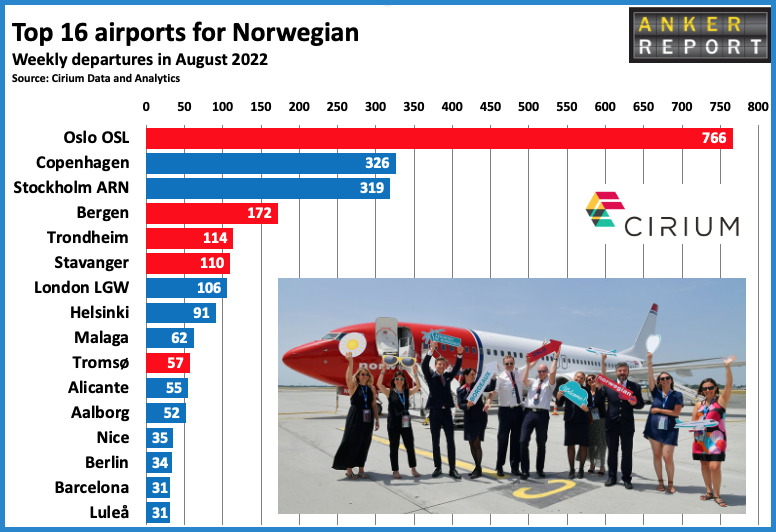 As the airline has rebuilt its network, the vast majority of routes operating were services it previously operated. However, a few airports are served in 2022 that were not served in 2019. These are Bornholm (Denmark), Mykonos, Thessaloniki and Wroclaw. Of these, only Mykonos is genuinely new as the others were served by Norwegian more than a decade ago. In addition, Norwegian also operated some flights to Rotterdam from Copenhagen in July, as an alternative to Amsterdam.
Malaga and Gatwick are important markets this summer
While Norwegian's routes with the highest frequencies are its domestic routes from Oslo, if we look at the top routes as measured by ASKs (Available Seat Kilometres), a different pattern emerges. No route is dominant and only two of the top 10 routes are Norwegian domestics. Four of the top 10 routes in August are to Malaga (shown in orange), while three are to London LGW (shown in green), highlighting the importance of these markets from a revenue perspective.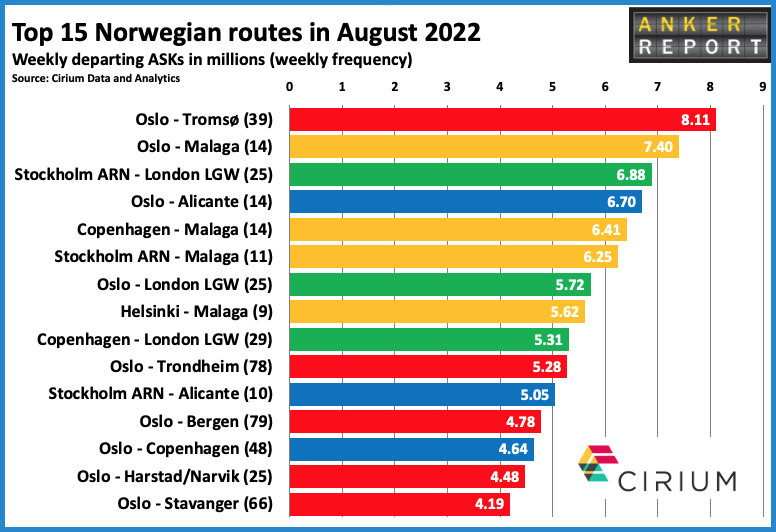 Despite Norwegian focussing on rebuilding its previous European network, a number of new routes (not served in 2019) have also been added by the carrier this summer. These are:
Bergen to Paris CDG, Vilnius
Copenhagen to Bornholm, Palanga, Trondheim
Oslo OSL to Düsseldorf, Wroclaw
Stavanger to Paris CDG
Stockholm ARN to Antalya, Gdansk, Mykonos, Pristina, Thessaloniki
Trondheim to Berlin, Copenhagen, Manchester
Looking ahead, there appear to be no new routes currently planned for this winter, though a number of seasonal ski routes are likely to resume.