Nuremberg welcomes return of Ryanair base and 13 new routes in 2022; Corendon #1 in 2021 Q3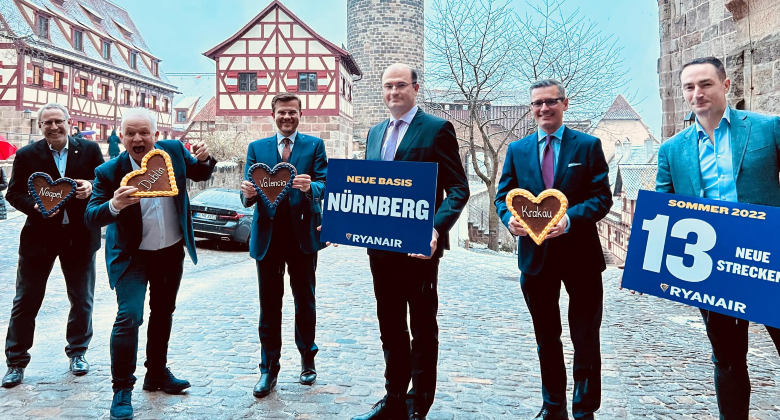 Ryanair announced this week that it would re-open its base at Nuremberg in Bavaria next summer with two aircraft to be stationed there. The carrier had first opened a single aircraft base at the German airport in the W16 season, but this was closed in 2019. A total of 13 new routes will be launched next summer while a further 14 destinations will be served that were previously operated. In the second half of 2021, Ryanair has served eight destinations from Nuremberg; Alicante (summer only), Bologna, Budapest, Corfu (summer only), London STN, Palermo, Palma de Mallorca and Thessaloniki.
For many years, airberlin was the dominant carrier at Nuremberg, accounting for almost 60% of passengers in 2008, 2009 and 2010. However, the airline's market share started to fall thereafter, and the airline ran into major financial difficulties before ceasing all operations in October 2017. By then, Nuremberg had been successful in doubling its non-airberlin passengers from 1.7 million in 2012 to 3.6m in 2017.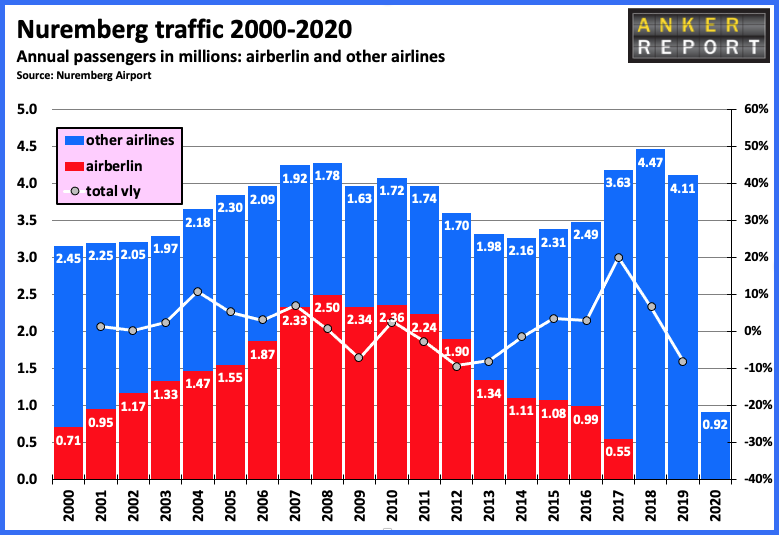 Last year, the airport's busiest post-pandemic month was August, when just over 90,000 passengers used the airport. This summer the August peak welcomed almost 215,000 passengers, but this was still down 55% compared with 2019. The latest figures for October show traffic still down 53% versus 2019, but up 264% compared with 2020.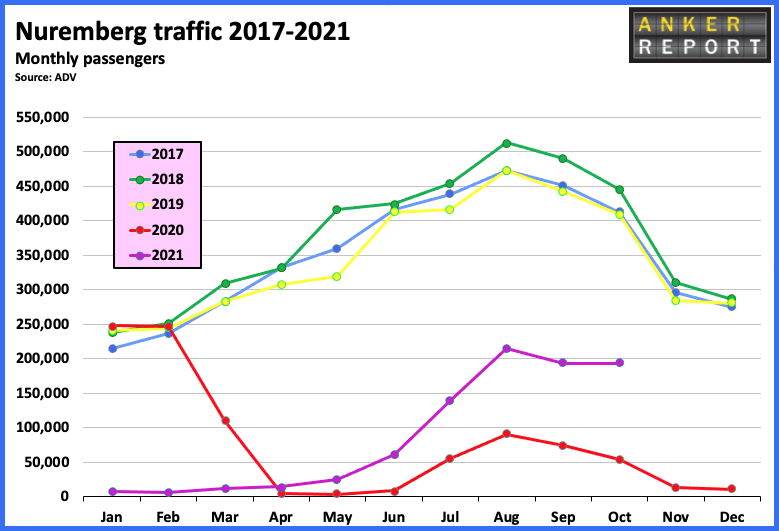 Corendon was leading airline this summer
This summer has seen Corendon offer the most seats from Nuremberg. The Turkish-based carrier even painted one of its 737-800s in the colours of local football team, 1. FC Nürnberg, who currently lie fifth in Germany's second division, just two points off second place. Some way behind Corendon were Ryanair, SunExpress and Eurowings with Turkish Airlines, the airport's leading flag-carrier in fifth place. Other flag-carriers present (shown in red) include Air France, KLM, Lufthansa and SWISS.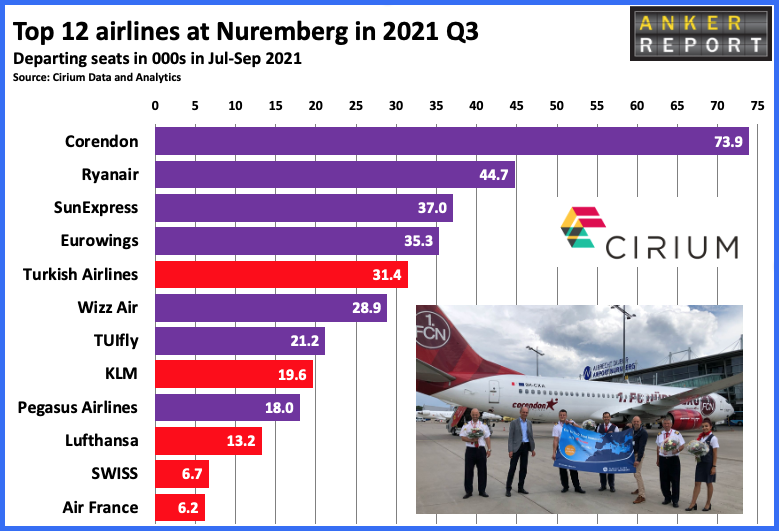 Ryanair's 13 new routes and six resumed routes
The full list of Ryanair's new routes (as well as their launch dates and planned weekly frequencies) are as follows:
Banja Luka: 2-weekly from 31 March
Cagliari: 2-weekly from 1 April
Chania: 2-weekly from 4 June
Dublin: 4-weekly from 30 March
Faro: 3-weekly from 30 March
Funchal: 2-weekly from 29 March
Girona: 3-weekly from 28 March
Ibiza: 2-weekly from 4 June
Lviv: 2-weekly from 30 March
Sofia: 2-weekly from 1 April
Tallinn: 2-weekly from 1 April
Valencia: 2-weekly from 31 March
Venice VCE: 2-weekly from 29 March
In addition, several routes are being resumed that were served prior to the start of the pandemic, but did not operate this summer. These are:
Bari: 2-weekly from 29 March
Krakow: 3-weekly from 29 March
Malaga: 2-weekly from 29 March
Naples: 2-weekly from 29 March
Porto: 2-weekly from 30 March
Zadar: 2-weekly from 29 March
As a result, Ryanair will be offering flights to 27 destinations from Nuremberg next summer, likely making it by far the airport's biggest airline. However, it is worth noting which routes Ryanair has previously served from Nuremberg and which will not be part of the airline's flying programme next summer. These include Athens, Copenhagen, Kaunas, Kiev KBP, Madrid, Malta, Manchester, Marrakech, Milan BGY, Pisa, Rome CIA, Tel Aviv, Verona and Vilnius.