Oakland to welcome three airlines in six moths; Southwest leading carrier; Las Vegas top destination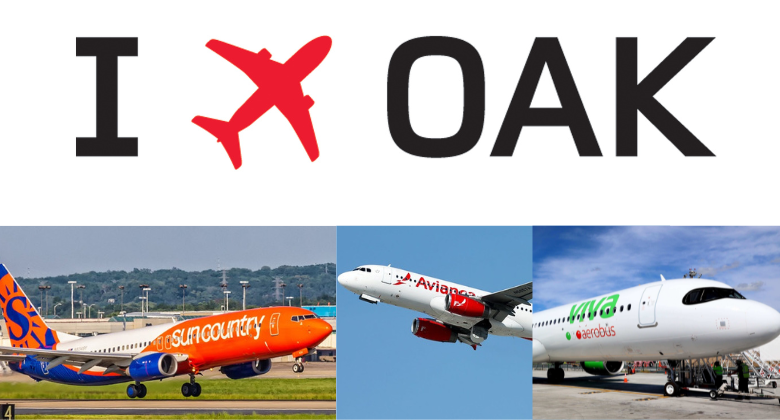 Oakland is a busy airport serving the highly populous and vibrant San Francisco Bay area. It welcomed nearly 7.5 million passengers in the first eight months of 2023, according to the airport's own statistics. While that was down by about 16% versus the same period in 2019, it was up by only 3% versus 2022 because of a traffic slowdown in the summer months from June onwards.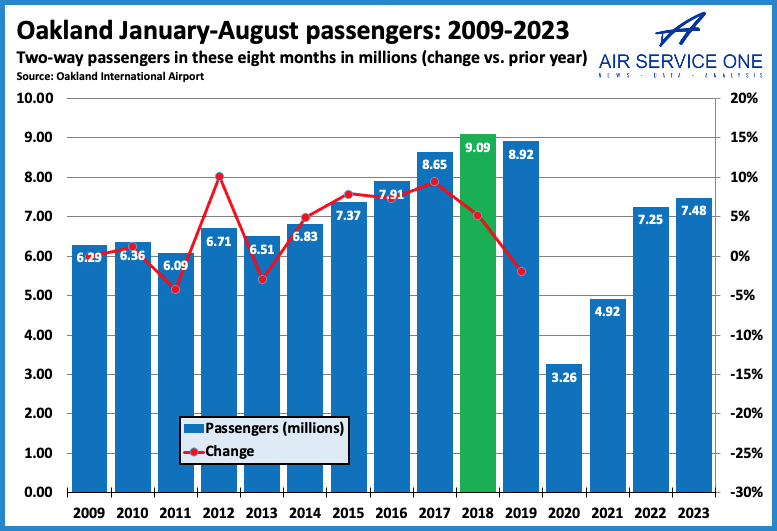 Gains three new carriers in six months
Oakland will benefit from the arrival of Avianca El Salvador in December, together with Sun Country and Viva Aerobus next year. It will be the first time these carriers have served the airport.
11 December 2023: Avianca El Salvador, San Salvador (4-weekly)
23 May 2024: Sun Country, Minneapolis (2-weekly)
1 June 2024: Viva Aerobus, Monterrey (2-weekly)
While Monterrey is brand-new to Oakland's network, the others are not. Avianca will coexist with Volaris El Salvador from San Salvador, which launched the 4,200-kilometre route on 26 March 2023. According to Cirium schedules information, it had not been served since 2008. Meanwhile, Minneapolis was last served by Southwest between 2018 and 2020.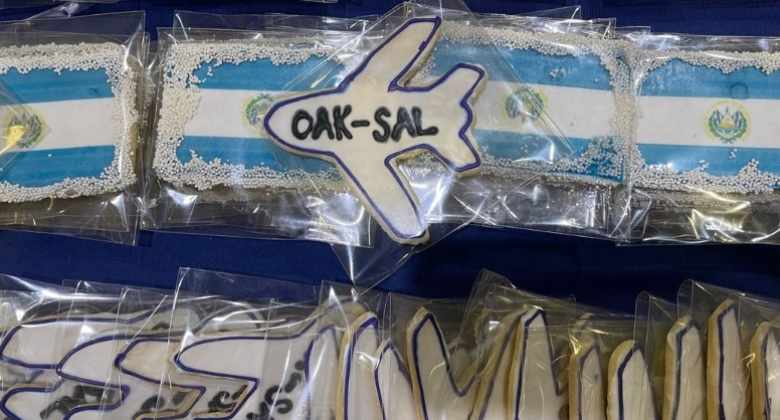 Southwest has 82% of Oakland seats
Using Cirium to examine the Californian airport's October-December 2023 (Q4) capacity reveals that, to no one's surprise, Southwest is firmly the leading carrier. It is about 13 times larger than number two, ULCC Spirit. When all (U)LCCs are considered, they have about 92 in 100 Oakland seats.
Southwest has served Oakland since 1989 – when it eschewed major airports – and was the 28th airport to join its network. Some 35 years on, Oakland is the LCC's 13th-busiest airport in these three months. Capacity is down by about 3% (versus +17% for Southwest as a whole and +1% for California) and it has fallen four places versus Q4 2019. Southwest has 34 routes, including one international to Los Cabos, with about 40% of capacity deployed to Southern California.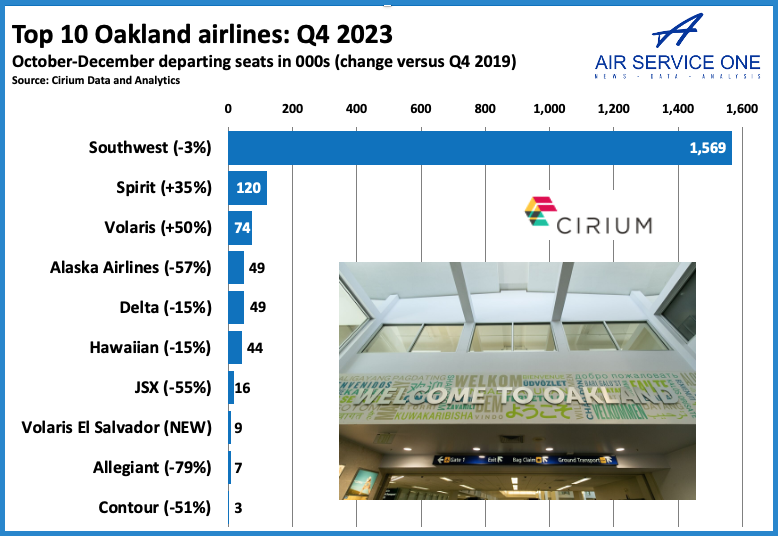 Las Vegas remains the leading destination
Cirium tells that Oakland has non-stop flights to 43 destinations in 17 US states this quarter, with 38 in 100 seats within California, the same as in 2019. Unlike in Q4 2019, Dallas DFW, Newark, Palm Springs, and – as mentioned above – San Salvador are now served.
Six destinations are international: Guadalajara, Leon, Los Cabos, Mexico City, Morelia and San Salvador. They do not include Terceira, Oakland's only long-haul route, which operated in the peak summer between June and September.
With 230,000 departing seats and 109-weekly flights in the first seven days of November, Las Vegas is Oakland's top destination. It is served by Southwest (77-weekly), Spirit (21), JSX (9) and Allegiant (2).