October passenger recovery rate at major European airports compared; Paris ORY traffic up almost 7%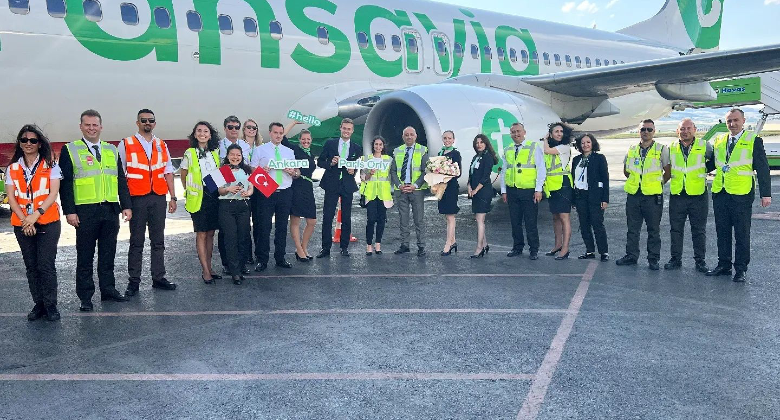 Air Service One has collected October passenger figures for almost 250 airports across Europe, including the vast majority of major airports. These can be found in our free to download EATS (European Airport Traffic Statistics) file on the Air Service One homepage. We have identified all major airports reporting over one million passengers in October but limited each country to no more than two airports to focus on those countries' main hub airports.
Using these criteria, we have compared the recovery rate of 24 major airports across Europe. In other words, how does demand in October 2022 compare with that in October 2019. Only one airport, Paris ORY, is currently welcoming more passengers than three years ago with Athens and Lisbon almost there.
Orly has seen Transavia France more than double in size at the airport since 2019 and overtake Air France as the leading carrier. Vueling has also helped the airport rebound back faster than other major European airports by establishing a base there.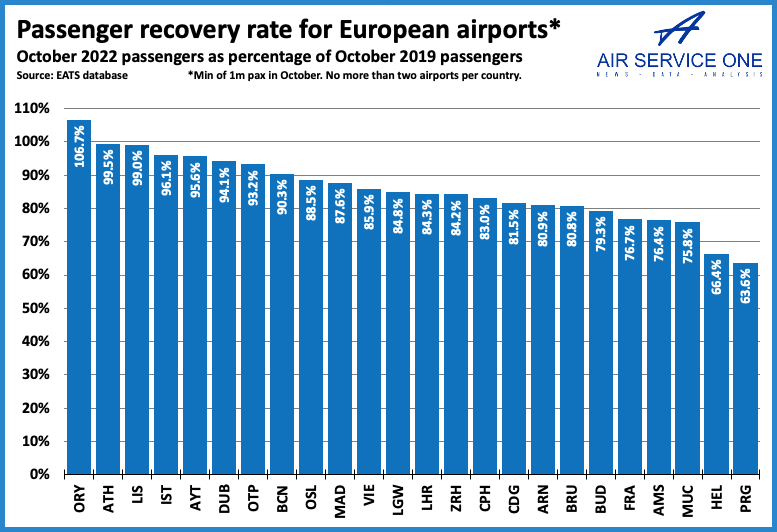 The airports that are missing from our analysis include Milan MXP, Rome FCO and Warsaw WAW all of which handled in excess of one million passengers in September, but for which we do not yet have October figures.
If we had allowed three airports from each country then Palma de Mallorca would have ranked second behind Orly with a recovery rate of 104.8% (and just over three million passengers). As our database shows there are other airports where traffic levels are now higher than three years ago, but these are mostly smaller airports.
Helsinki and Prague traffic still down more than 30%
At the other end of the rankings, despite handling over one million passengers in October, both Helsinki and Prague have yet to reach 70% of their pre-pandemic demand levels. The Finnish capital has seen traffic drop by 33% while in the Czech Republic passenger numbers are still down 36%.
Istanbul IST still busier than Heathrow
Looking purely at passenger demand, Istanbul IST is still leading the way this year though Heathrow is closing the gap. The Turkish hub handled 5.97 million passengers last month compared with 5.89 million for the UK hub. Third was Paris CDG with 5.41 million with Frankfurt (4.94m) and Amsterdam (4.91m) rounding out the top five. Filling the remaining places in the top 10 are Madrid, Barcelona, Antalya, Munich and London LGW.