Olbia welcomes new carriers including flydubai and Aegean; easyJet still top; Milan MXP leading route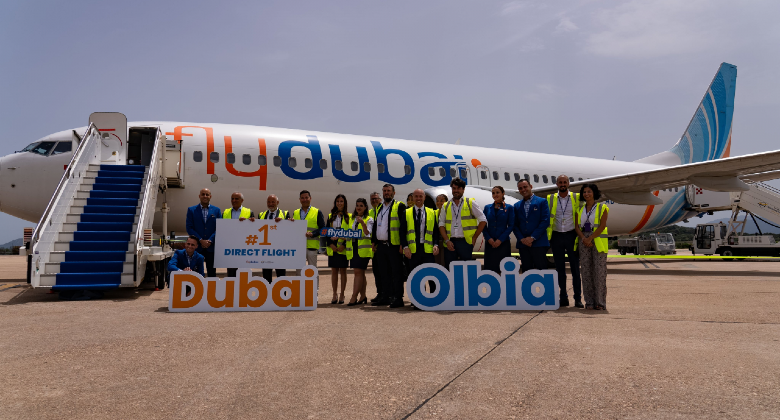 Situated in northwest Sardinia, Olbia is the island's fourth-largest city area and an important tourist gateway. The airport welcomed 3.16 million passengers in 2022, exceeding its 2019 figures by a healthy 7.12%. Olbia's growth far outpaced that of Italy as a whole (-15.00%) and was the country's seventh-fastest-growth airport. It was Italy's 15th busiest airport and ranked second in Sardinia, behind Cagliari (4.39 million, 12th) but ahead of Alghero (1.53 million, 21st). Olbia's performance was despite not being served by Ryanair.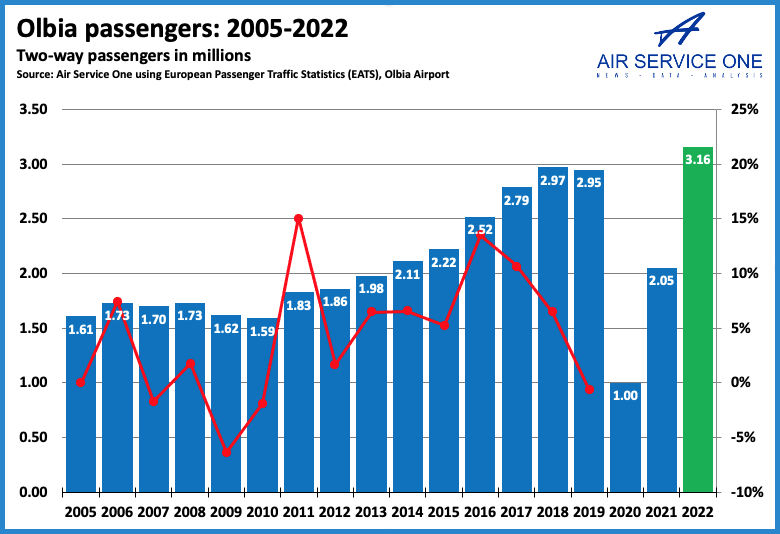 Olbia welcomes multiple new airlines in 2023
Building on the arrival of Aeroitalia earlier in the year, Olbia welcomed Aer Lingus from Dublin – a brand-new route – on 2 May (2-weekly) followed by Marabu from Munich on 14 May (weekly).
On 22 June, Olbia became connected to Dubai, with flydubai's 3-weekly service operating non-stop in both directions. According to Cirium schedules information, it is the first time that Olbia has had Middle East flights since Tel Aviv ended in 2015. It was followed on 28 June by the start of Aegean from Athens (2-weekly), another city previously without Olbia flights. It appears that Alpavia will begin Parma-Olbia on 15 July (2-weekly).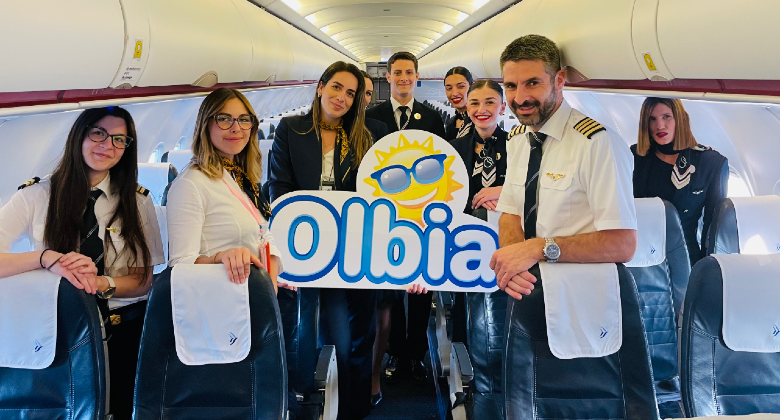 easyJet remains Olbia's leading airline
This August, more than six in ten flights are by two airlines: easyJet and Volotea. Having served the airport since 2005, easyJet has grown to become its leading operator. With a third of Olbia's flights, easyJet serves 19 destinations, of which Milan MXP is by far numero uno.
Olbia joined Volotea's network in June 2012 and it ranks as its most-served airport in August 2023. The LCC has doubled flights versus August 2019 and has consequently narrowed the gap with easyJet. It has 28 routes – the most of any airline – including to Rome FCO, one of 14 Italian airports it serves from Olbia.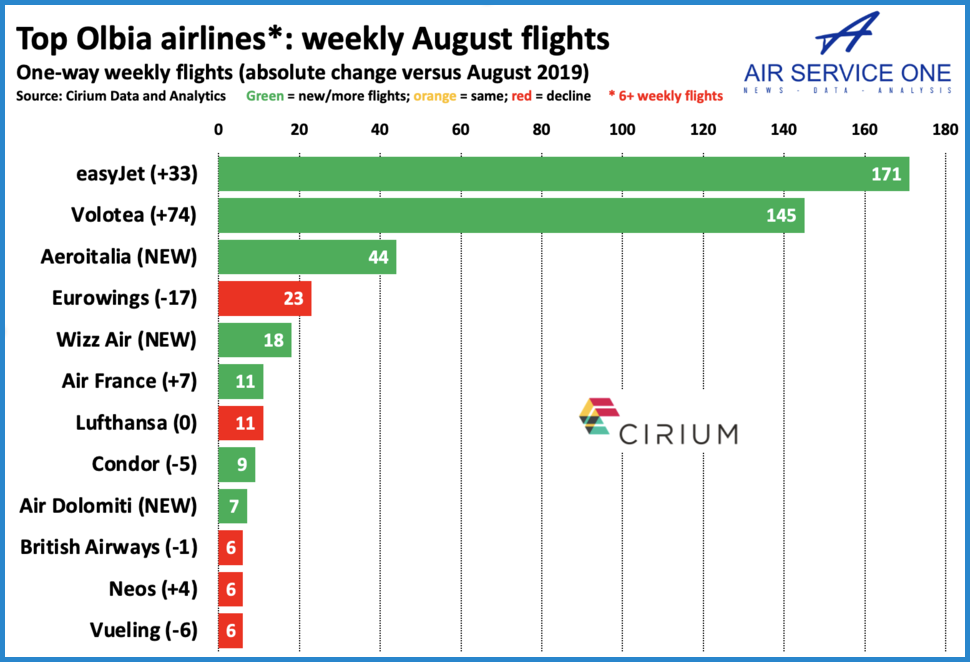 Massively seasonal
As it relies so heavily on inbound tourists, it is not surprising that Olbia very much relies on the peak summer. In 2019, its top month (August) had 12x as many passengers as its quietest (February). The peak-to-trough rose to 20x in 2022 due to the below-2019 traffic in the early stages of the year.
Surprisingly, passenger traffic in several of the last few months of 2023 have been lower than in 2022/2019 – even if only slightly – including May. Using Cirium to compare flights in August 2023 shows that they have reduced by 3.70% year-on-year. This is notable given this one month typically accounts for more than one in five passengers. The exit of Air Italy and Alitalia did not help, with ITA Airways – Alitalia's predecessor – having a much smaller Olbia operation.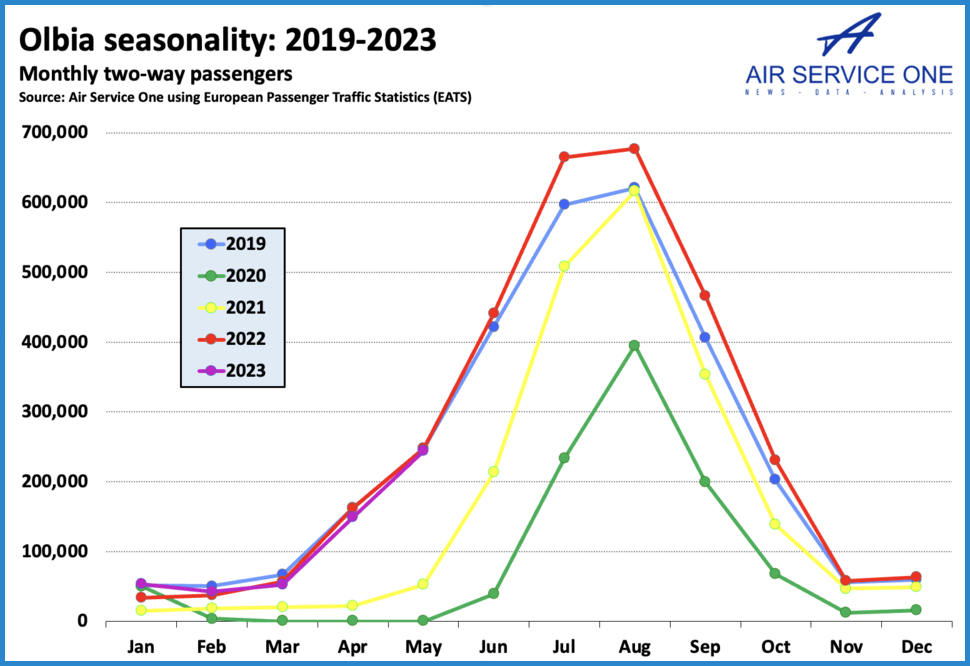 Milan MXP is the top route
Olbia has flights to around 70 destinations in August, with Milan MXP the most served. The 58-weekly services are by easyJet (47), Wizz Air (9) – which first served Olbia in 2021 – and Neos (2). The 58-weekly services are by easyJet (47), Wizz Air (9) and Neos (2). Domestic flights account for about half of Olbia's August total, as reflected by eight of its top 10 routes all being within Italy. These include Milan LIN which, despite normally being served, had no flights in August 2019.