Once Europe's busiest airport, London Heathrow set to rank just 17th in May for passengers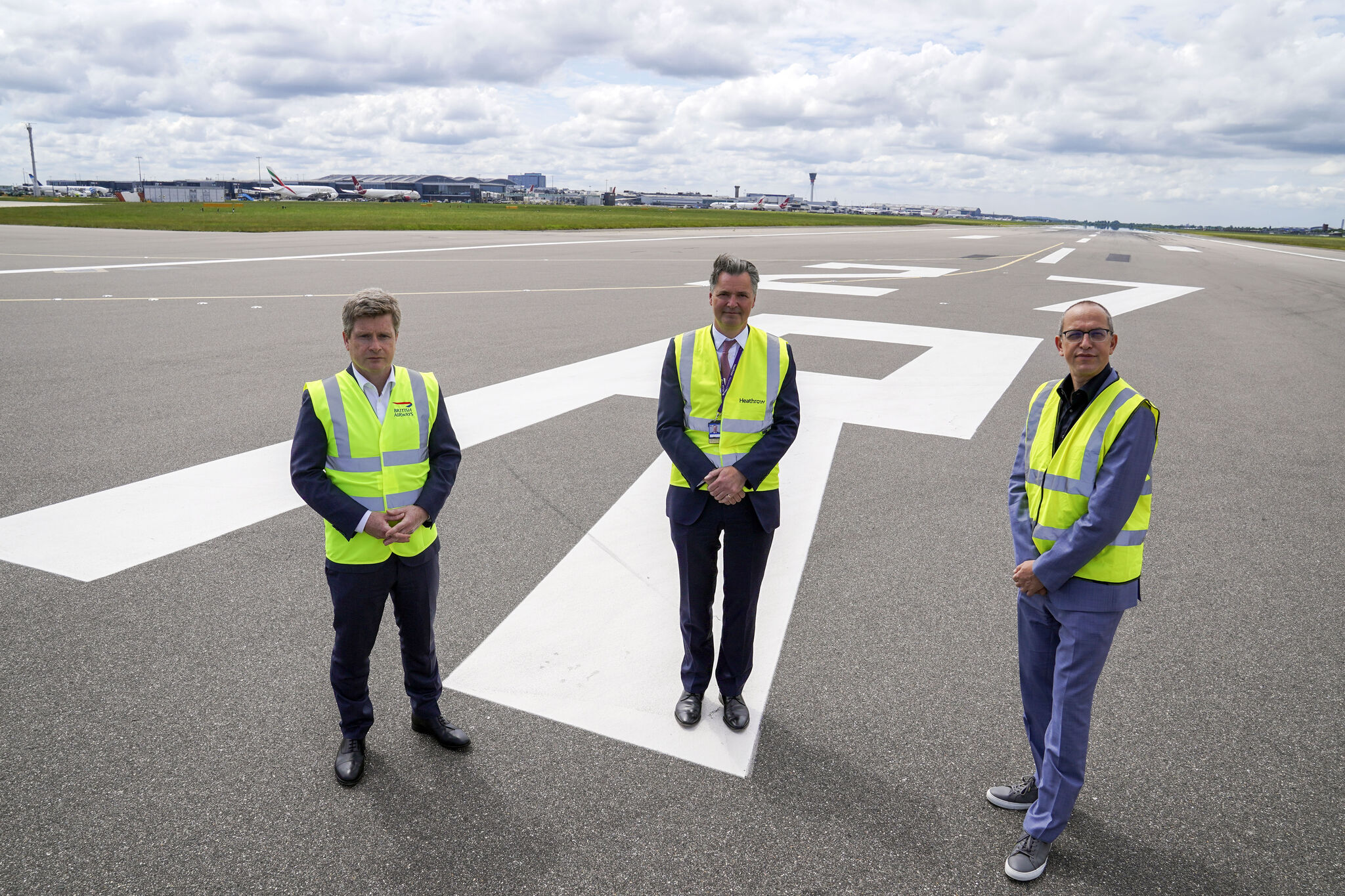 Analysis of UK CAA passenger data for the country's airports in April, confirms that London LHR accounted for almost 45% of the 1.2 million passengers that passed through all airports. Heathrow's 536,000 passengers ranked it just 14th among all airports in Europe, having ranked sixth in December, 12th in January and 13th in both February and March. The April figure represents a drop of 92% compared with April 2019. This compares with a demand drop of 95% when looking across all UK airports. Looked at another way, Heathrow's traffic was at just 8% of the level it was two years earlier.
Heathrow retains just 8% of 2019 traffic
If Heathrow's decline in its European rankings is alarming, spare a thought for most of the other airports in the UK. While Heathrow retained almost 8% of its 2019 traffic, most UK airports performed significantly worse. The notable exceptions were Aberdeen (which acts as the key airport for delivering UK-based workers to North Sea oil rigs) and the two airports in Belfast, which are, of course, separated from the UK mainland by water. In fact, in April, Aberdeen was busier than London LGW and the fifth busiest UK airport for passengers after Heathrow, Luton, Stansted and Manchester. Gatwick ranked just seventh, behind Belfast BFS.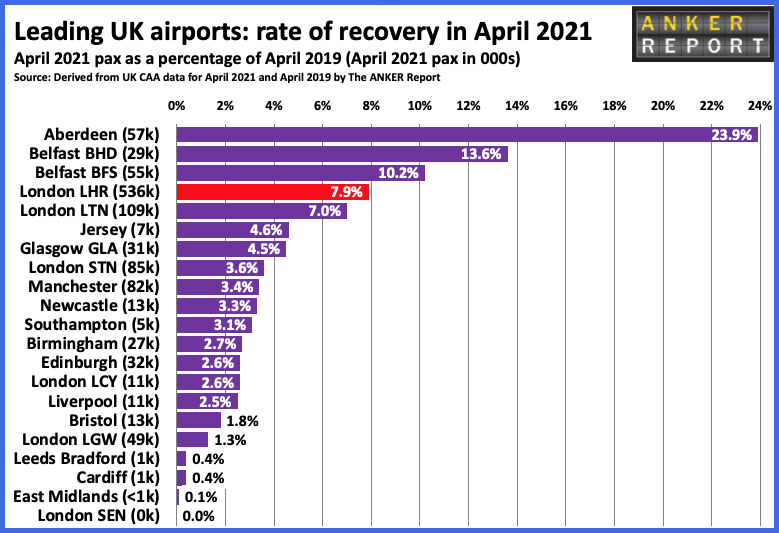 In terms of traffic retention, Heathrow's 7.9% ranked it fourth in the UK, just ahead of Luton at 7.0%. Stansted and Manchester both recorded retention percentages of just over 3%, while Birmingham and Edinburgh were just under 3%. Bristol was at just under 2%.
Gatwick retains less than 2% of 2019 traffic, now ranked 106th in Europe
Gatwick, previously easily the UK's second busiest airport, was at just 1.3%. In other words, traffic was down 98.7%. Of course, the airport has seen the relocation of almost all British Airways services to Heathrow, with Virgin doing likewise. According to Cirium Data and Analytics, the leading airlines at Gatwick in late June are expected to be easyJet (140 scheduled departures), TUI Airways (124) followed by Vueling (21), Wizz Air (19) and Ryanair (16). Another carrier which previously had a significant presence at Gatwick is Norwegian. It is currently set to resume 4-weekly service from Oslo on 28 June. In 2019, Gatwick was Europe's 10th busiest airport, handling 46.6m passengers. In April 2021 it ranked 106th according to ACI Europe figures.
Of the UK's 21 busiest airports in 2019, four are currently retaining less than 1% of their traffic; Leeds Bradford and Cardiff were both at 0.4% in April, East Midlands at 0.1% while London SEN was at 0%. Wizz Air's service from Southend to Bucharest is currently operating from Luton, while Ryanair's services from the airport resumed right at the end of May.
Heathrow set to slip to at least 17th in Europe in May
Having slipped to 14th in April, Heathrow looks set to fall several more places in the European rankings in May. Latest available passenger figures confirm that Barcelona, Palma de Mallorca and Paris ORY have all leap-frogged the UK's busiest airport last month, meaning that Heathrow will rank no higher than 17th when passenger data for all airports is finally collated.