Only slight improvement in European flights recovery during last week of July
Analysis of the latest Eurocontrol movement data shows that during the last week Europe's largest airlines showed, on the whole, only modest improvements compared with the previous week. In fact, of the 12 airlines in our main sample, six showed an improvement in their recovery rate (versus 2019) while six showed a small decline. The only change in the rankings is that Air France has moved ahead of Vueling into fifth place.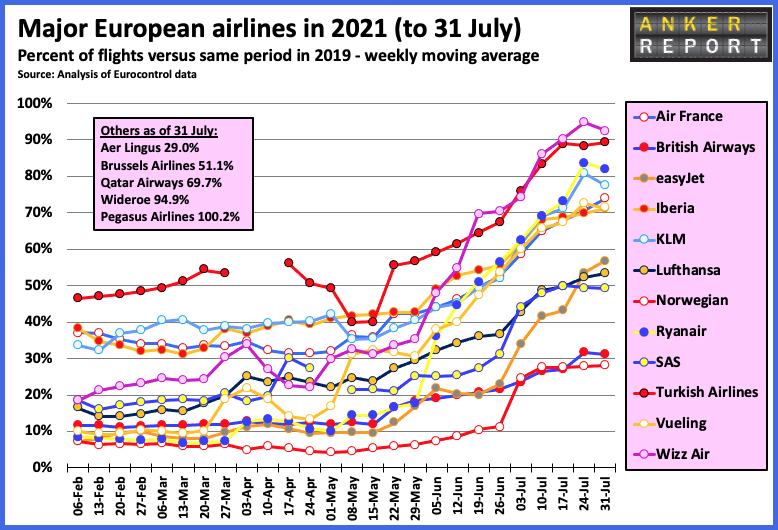 British Airways, which is at only just over 30% of its 2019 figure, may see an improvement this coming week as the UK relaxes some of its strict travel restrictions, which have seen the UK's busiest airport,
London Heathrow, slump to 17th in the European airport rankings in June
. Apart from Pegasus Airlines and Widerøe, another airline now operating at pretty much the same level as in 2019 is Volotea, the low-cost carrier that's big in France, Italy and Spain.
Ryanair busiest airline in Europe on Sunday 1 August
As measured by actual flights operated, Eurocontrol data shows that Ryanair was by far the busiest airline in terms of flights operated on Sunday 1 August. The carrier had 2,445 flights, well ahead of Turkish Airlines (1,368), easyJet (1,256), Air France (987) and Lufthansa (936). Rounding out the top 10 airlines for flights were KLM, Wizz Air, Vueling, Pegasus Airlines and SAS. British Airways ranked just 14
th
(with 351 flights) behind Eurowings, SWISS and Aegean Airlines.