Ottawa regains European service with Air France; Porter passes WestJet to become #2 after Air Canada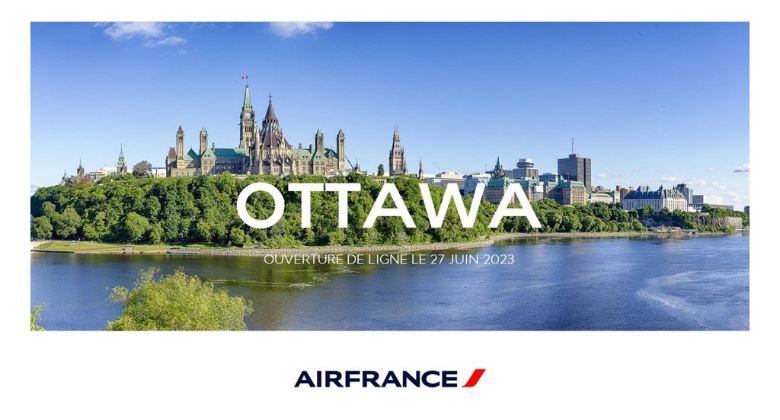 Ottawa ended 2022 with just shy of three million passengers, according to the airport's own statistics. Traffic at Canada's capital airport was 41% lower than in 2019, with US and non-US international down by 72% and 79% respectively. It was not helped by the exit of American and Delta, nor the loss of eight US, Caribbean, and European routes. No more is Ottawa connected to Detroit, Frankfurt, London LHR, Melbourne (Florida), Miami, New York LGA, Philadelphia or Samana. However, from the end of June it will be connected once more with a European city, Paris, when Air France launches its service from the French capital.
The domestic market was stronger
As you would expect, the domestic market fared better, down as it was by 32%. It benefited from the new entry of Swoop to Edmonton, Halifax, and Winnipeg – all of which have since ended – together with new Flair routes to Victoria and Charlottetown. However, flights from Ottawa to London (Ontario), Mont-Tremblant, Regina, St John and St John's have finished. Ottawa's recovery continues – with new routes coming, including a new airline and the return of European flights.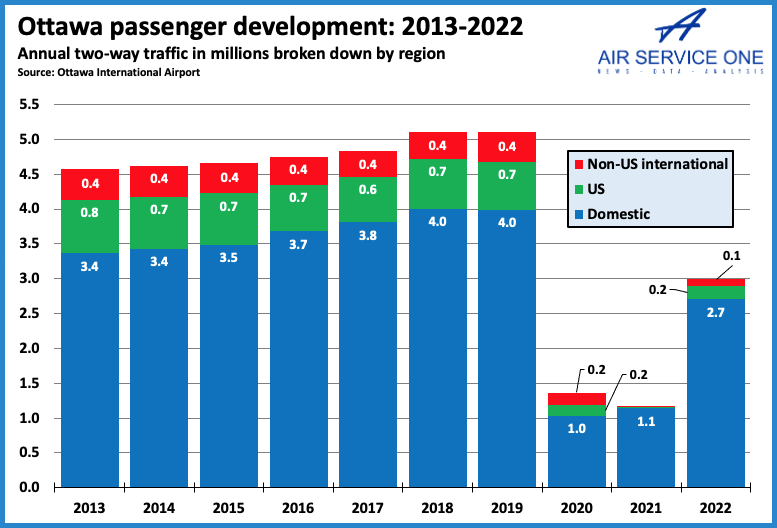 Travel restrictions in Canada meant that Canadian air travel recovered significantly more slowly than in either Mexico of the US. In 2018 and 2019 the airport was typically handling just over 400,000 passengers per month, with demand very evenly distributed across the year. It took until July 2021 to get back to welcoming at least 100,000 passengers in a month, while 200,000-plus monthly passengers only became a regular occurrence from April 2022.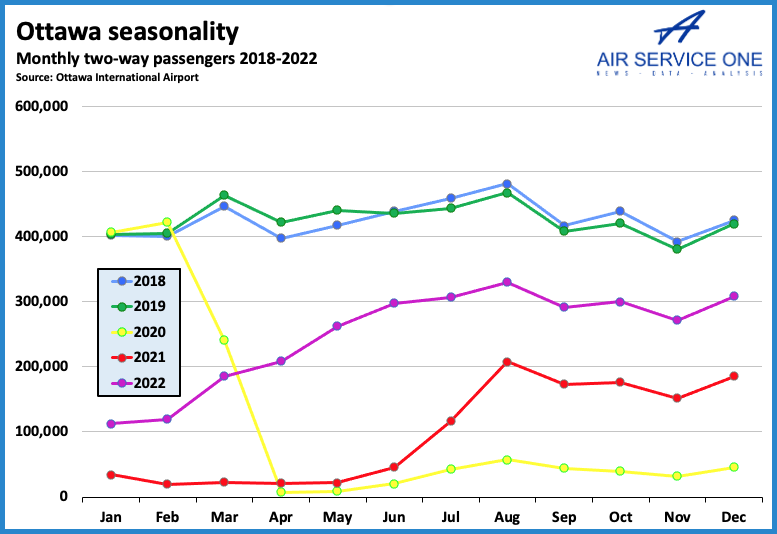 Six routes confirmed to start this year
Five of the six routes are by Porter, which include Thunder Bay – not linked to Ottawa since 2010. While Porter has served Ottawa ever since the carrier's creation in 2006, it has never had so many seats at the airport. In Q2 2023, it has 187,000 one-way seats, according to Cirium schedules information data. That is 29% more than in the previous highest April-June quarter. With more than a quarter of Ottawa's capacity, Porter is now the airport's second-biggest operator, overtaking WestJet. Its dominance will grow further, as three more routes – Calgary, Edmonton and Vancouver – are set to be announced shortly.
1 February 2023: Porter, Toronto YYZ (4-daily)
27 March 2023: Porter, Boston (daily)
27 March 2023: Porter, Newark (2-daily)
27 March 2023: Porter, Quebec City (daily)
27 March 2023: Porter, Thunder Bay (2-daily)
27 June 2023: Air France, Paris CDG (5-weekly)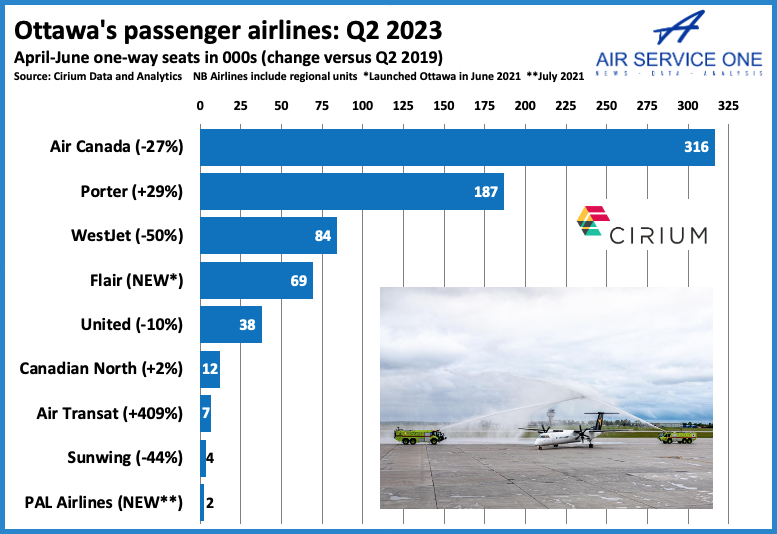 Boston is back, as Newark exceeds its previous best
The 500-kilometre route to Boston has been served from Ottawa for a long time. Between 1992 and 1996, Business Express operated it using Saab 340s and B1900s, while it was with Air Canada between 2001 and 2020. Having been unserved since March 2020, it will return with Porter. However, the regional carrier's daily operation is in stark contrast to the up to 13-weekly by Air Canada in 2019, although Porter will use bigger aircraft.
It couldn't be more different to Newark, with Porter becoming the third airline. It will join Star Alliance partners Air Canada and United, exceeding the previous record of two. While 2023 schedules are far from finalised and caution must be given, there are presently 149,000 one-way seats planned. That is 60% greater than against the previous busiest year of 2018. Later this year, eight daily Ottawa-Newark flights are expected.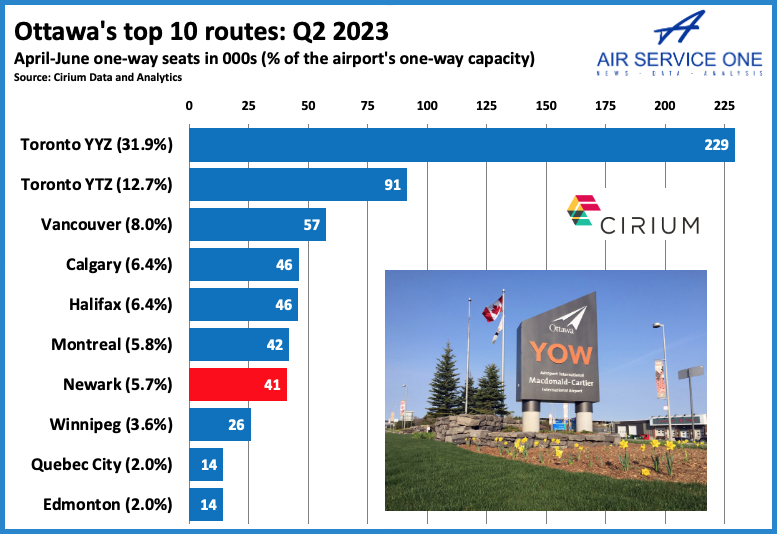 Ottawa prepares to welcome Air France
Considering that Ottawa is Canada's capital, it has not had a huge number of long-haul operations to get excited about. In the past 20 years, Ottawa's long-haul network has comprised:
Frankfurt (Air Canada, June 2008-September 2019).
London LHR (Air Canada, for many years until March 2020)
Paris CDG (Air Transat, June 2006-September 2008)
After a near 15-year absence, Ottawa will again be connected to Paris, this time by a 5-weekly Air France service, with all the Europe-plus connectivity that enables.