Over 300 new routes are set to launch during the first week of the summer 2022 season in Europe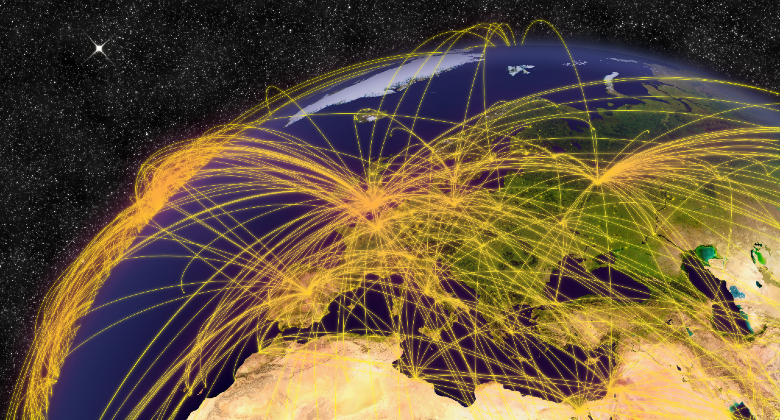 Depending on how you define a new airline route*, Air Service One is currently estimating that airlines will be launching around 330 new routes involving European airports during the first week of the summer 2022 (S22) season, which starts on Sunday 27 March. This is a clear sign that the airline industry is heading back towards some kind of normality as this is traditionally the busiest time of the year for route launches. In 2021, because of travel restrictions and the roll out of the various vaccines, the peak period for new route launches was June and July.
Ryanair launching nearly half of all new routes
Since the routes have not yet actually launched, it is possible that there may be some late changes to the route launch dates, especially given the somewhat uncertain times we continue to live in. Apart from the ongoing issues regarding COVID, we now have the consequences of the Russian invasion of Ukraine, as well as surging fuel prices giving some airlines additional issues to contend with.
However, what is beyond doubt is that, once again, Ryanair is Europe's new route champion. We believe it is set to launch over 150 new routes next week, accounting for almost half of all routes being launched. Next comes Wizz Air with just under 50. Between them, Eurowings and Eurowings Discover are set to introduce around 25 new routes, though in the case of the latter carrier, some of its new services are simply replacing its parent company Lufthansa on leisure routes from Frankfurt. easyJet is currently set for 15 new routes next week, with no other carrier into double figures. The leading legacy carrier appears to be SWISS with four new routes starting from its Zurich hub.
In total, almost 40 airlines will be celebrating route launches in Europe next week involving over 200 airports. The average weekly frequency of the new routes is just over three flights per week.
Gatwick and Venice Marco Polo lead the way for new services
At an airport level, London LGW, Venice VCE and Rome FCO are all set to welcome at least 20 new services next week. Gatwick just leads the way thanks mainly to Wizz Air and Vueling. Although British Airways is returning to the airport with its new EuroFlyer brand, nearly all of the airline's routes were operated by the airline in 2019 so do not count as new routes by our definition. In Venice the new services are mostly coming from Ryanair, while in Rome the new routes will mostly be flown by either Ryanair or Wizz Air.
Other airports which should be welcoming at least 10 new services next week include Antalya, Billund, Brussels CRL, Frankfurt FRA, Funchal, Newcastle, Nuremberg, Palma de Mallorca and Stockholm ARN.
Italy is top country for new airline routes
Looking at the leading countries for new routes, Italy comes out on top with its airports welcoming over 100 new airline services next week, with Ryanair and Wizz Air accounting for the vast majority. Next comes the UK, followed by Spain, Germany and France. Just outside the top 15 countries are the Netherlands, Switzerland and the US (each with nine new routes) and Norway (with eight).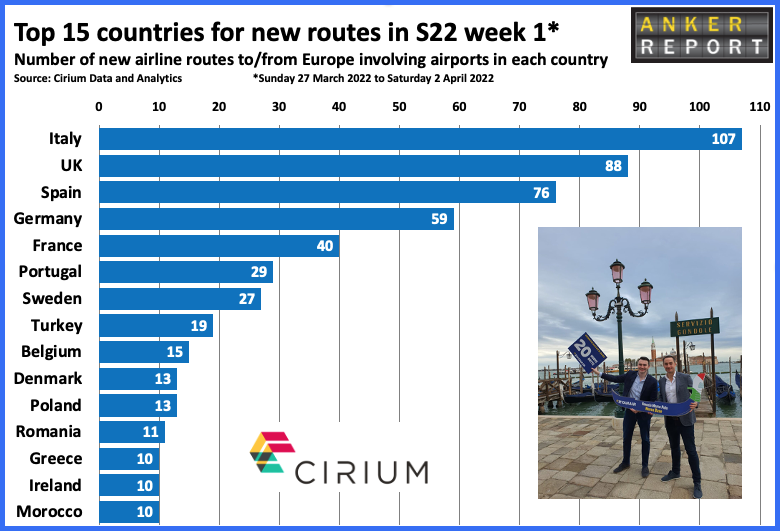 Some random facts regarding the new routes for next week:
There should be not one, but two new Swedish airlines starting. Skåneflyg and Västflyg are both operating a single route to Stockholm ARN using Saab 340s operated by NyxAir.
There are 17 long-haul routes with the longest being Lufthansa's Munich to San Diego route at just under 9,700 kilometres. Nine routes involve flights to the US of which five are to destinations in Florida.
The shortest new route is with Ryanair between Stockholm ARN and Visby at 224 kilometres.
Although many airlines choose to start their new services at the beginning of the summer season, Air Service One's research suggests that at least another 150 routes are likely to start in Europe in the four weeks between 3 April and 30 April. Although the data looking further ahead is less reliable, it seems likely that May and June will also both see around 200 new routes launched across Europe.
*Air Service One defines a new route as one that was not operated at any point in 2019 but is being operated now. If it was not operated in 2020 or 2021 but was flown in 2019 then that is considered a post-pandemic resumption and therefore not new. However, if the route was operated in 2018 (or earlier) but not since, then this IS considered a new route? Also, newcomer Emerald Airlines starting flights on behalf of Aer Lingus Regional (using the Aer Lingus IATA code of EI) from Belfast BHD and Dublin are not considered new services as these were previously operating by Stobart Air also using the EI code. Therefore, these are considered resumptions, even though the actual operating airline has changed.