Palermo welcomes Turkish Airlines, one of three new airlines this summer; has gained 13+ new routes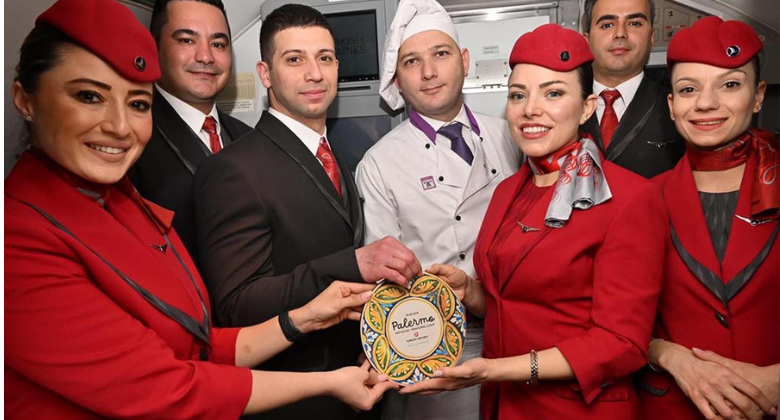 Palermo is among the better recovered of Italy's busier airports. According to the airport's figures, it welcomed 7.12 million passengers in 2022, up by 1.4% versus 2019. In the first quarter of 2023, it had 1.31 million, an increase of 5.3% versus the same three months in the pre-pandemic 2019.
July-September 2023 seats are up by a fifth
Sicily's most populus city, Palermo revolves around summer demand. In all-important July-September 2023, Cirium schedules information shows that airlines have filled 19.8% more seats than they did in 2019.
The growth is especially because of Palermo's already numero uno carrier, Ryanair, whose capacity has risen by more than half versus Q3 2019 (+55.6%). Its route network totals 40 in these three months, up from 26. Ryanair has virtually half of Palmero's capacity, with more than three quarters of its available seats deployed domestically on a 20-strong network.
easyJet has expanded strongly too (seats +63.5%), with its network up from eight to 12 routes. It has overtaken Volotea (-30.2%) for third place. Wizz Air launched Palermo in 2020. It opened a two-aircraft base in 2021 but closed it the following year. Because of this, its Q3 2023 capacity is half what it was. It now ranks below Aeroitalia, one of three new operators at Palermo this summer.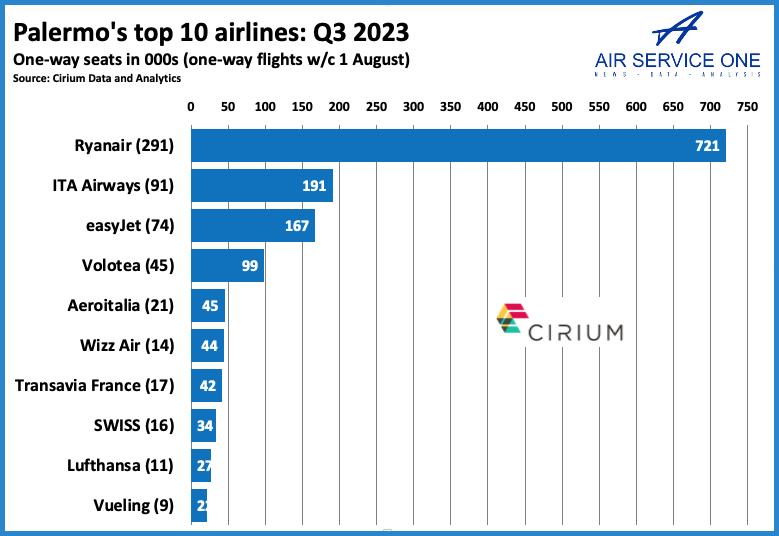 Turkish Airlines arrives as two more airlines launch soon
Turkish Airlines, Air Serbia, and Aeroitalia are all new to Palermo's airline portfolio, the first of which – Turkish Airlines – launched on 5 May. According to Cirium, it is the first time Palermo has had Istanbul flights. More than this, it appears to be the Sicily's first scheduled Türkiye route, providing huge onward connectivity across Turkish Airlines' global network. It comes nine years after the carrier started Catania.
Like Istanbul, Belgrade has also never been served from Palermo, at least not in the past two decades, with Air Serbia launching in June. Aeroitalia will also make its Palermo debut in June. It will begin Rome FCO (21-weekly), very much Palermo's leading destination, as shown below. The top 10 are all domestic, with Paris ORY the leading international destination (in 11th). Rome has more capacity than all three Milan-area airports combined.
Aeroitalia will become the third carrier on the 440-kilometre market over the Tyrrhenian Sea to Rome FCO. It joins ITA Airways (56-weekly in the first week of August) and Ryanair (45-weekly). Aeroitalia seems to be aiming to fill the gap left by the exit of Vueling in September 2019, with flights about back to what they were.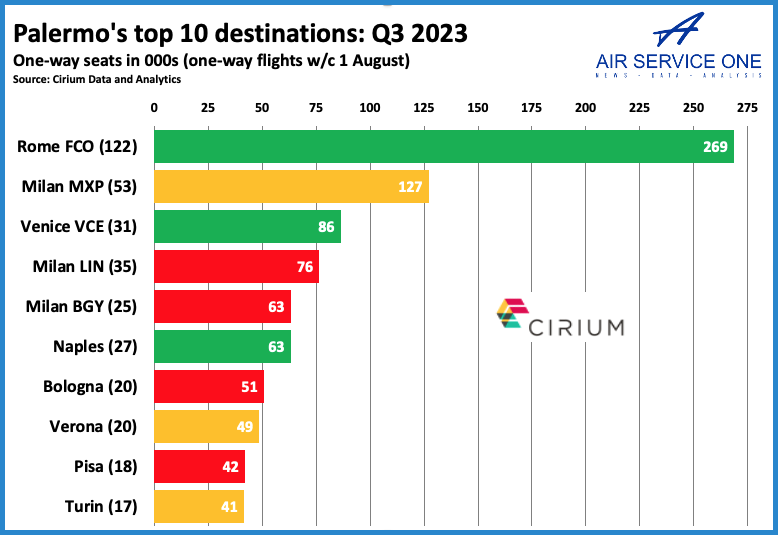 Istanbul is of one of 13+ new routes since 2022
Palermo has seen multiple new routes in the past year or so involving many different airlines. Those that have remained, or are yet to launch, are shown below. Cirium informs that, alongside Istanbul and Belgrade, it is the first time Karlsruhe, Lourdes and Porto been served with scheduled flights, and the first time for regular service from Deauville. (Frequencies are for the first week of August 2023.)
29 March 2022: Ryanair, Karlsruhe (2-weekly)
15 April 2022: Volotea, Deauville (weekly)
7 May 2022: Norwegian, Stockholm ARN (2-weekly)
27 May 2022: Volotea, Lille (2-weekly)
2 July 2022: Volotea, Lourdes (2-weekly)
3 September 2022: Ryanair, Forli (4-weekly)
1 November 2022: easyJet, Paris CDG (3-weekly)
26 March 2023: Ryanair, Parma (3-weekly)
5 May 2023: Turkish Airlines, Istanbul (4-weekly)
1 June 2023: Aeroitalia, Rome FCO (21-weekly)
14 June 2023: Air Serbia, Belgrade (2-weekly)
23 June 2023: Norwegian, Copenhagen (2-weekly)
1 July 2023: easyJet, Porto (weekly)