Palm Springs' record growth continues as Avelo set to become Californian airport's 12th carrier
Renowned as a warm weather resort destination for golf, other outdoor activities, and more, Palm Springs is on a roll. Between March and September this year, the California airport welcomed 1.56 million passengers, the airport's statistics show. That was 20% more than the same period in 2019, 317% more than 2020, and 40% more than last year.
All seven months had more passenger traffic this year than in the past three years, especially the peak summer months, a period not necessarily so associated with Palm Springs. Passenger traffic increased by between 33% (August) and 53% (September) over 2019. It continues to push ahead.
Big developments
The California airport's growth is both from the arrival of new airlines and multiple new routes. Most significantly, it welcomed Southwest in November 2020. According to data experts Cirium, Southwest was the largest carrier by seats between March and September this year, although second to Alaska Airlines when flights are considered because of the big use of Alaska Horizon's Embraer 175s.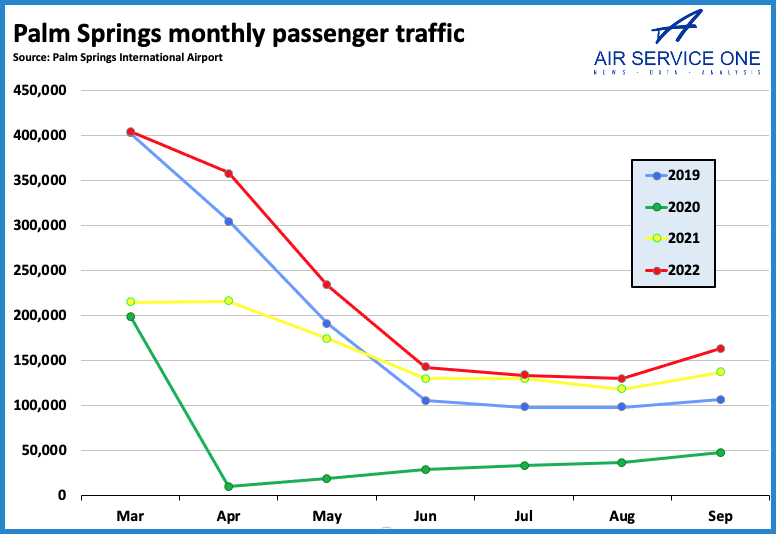 Palm Springs' route network jumped from 35 in the seven-month period in 2019 to 46 three years later. In this period, Southwest linked the airport from Chicago MDW, Dallas DAL, Denver, Las Vegas, Oakland, Phoenix, Portland PDX and Sacramento. Other good change was seen by:
Alaska: which introduced Austin, Boise, Everett, and San Jose
Allegiant: which added Boise, Des Moines, Eugene, Indianapolis, Nashville, Provo (some of which have since ended)
Flair: which launched Toronto and Vancouver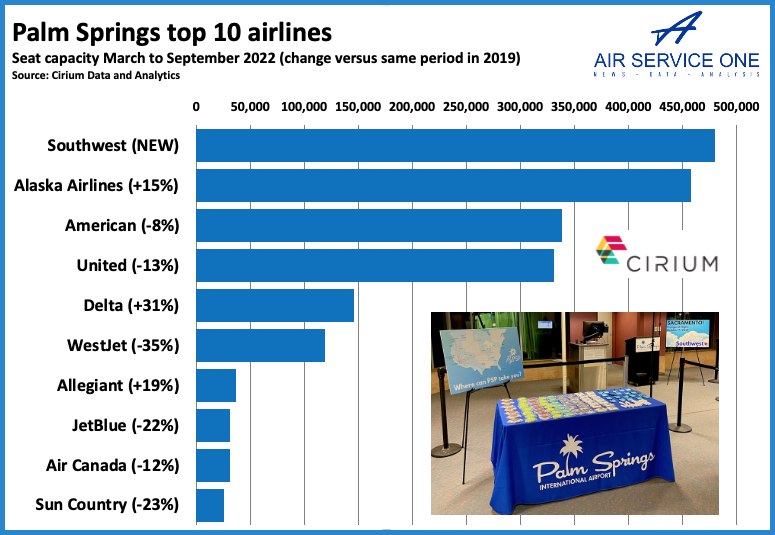 Avelo is coming
On 11/12 November, Avelo, a new airline for Palm Springs, will begin three routes. One of them is Eugene in Oregon, served by Allegiant until May this year; it's great to see it come back. The other two, Redmond and Santa Rosa, have never had Palm Springs flights before. They are well-timed for long weekend breaks.
Avelo: Redmond/Bend, starts 11 November, operates Mondays and Fridays
Avelo: Santa Rosa/Sonoma, starts 11 November, operates Mondays and Fridays
Avelo: Eugene, starts 12 November, operates Wednesdays and Saturdays
Two other new routes
Two other routes are also starting this month. Southwest joins Alaska to San Jose, California, with the pair having up to two daily flights, although San Jose is only Palm Springs' seventeenth most served destination. There's also American from Palm Springs from Austin, replacing Alaska, which ends the route a week after American starts it.
Southwest: San Jose, starts 6 November, operates six weekly to once daily
American: Austin, starts 17 November, once daily