Paris Beauvais finally welcomes easyJet; carrier now serves record 22 airports in France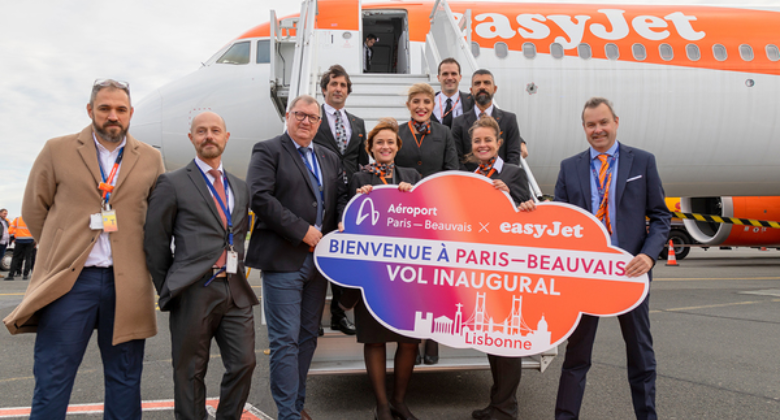 France has always been a large and critical market for easyJet. This year, the country has 21.2 million easyJet seats, making it second only to the UK by capacity, according to Cirium schedule data. With the change to winter schedules has come another new airport for easyJet in France. It started service to Paris BVA, long renowned as a Ryanair and Wizz Air airport, 75 kilometres from central Paris. The airline is a big development for Beauvais, and it means that easyJet is now the only carrier to serve three Paris airports: CDG, Orly and Beauvais.
easyJet begins Beauvais
The LCC's first and for now only Beauvais route – to Lisbon – started on 1 November. It uses 235-seat A321neos on the 3-weekly service. Speaking of easyJet, Michel Peiffer, president of SAGEB, which manages and operates Beauvais, said:
"The arrival of easyJet proves the attractiveness of our airport and of our territory in a phase of strong recovery of air traffic."
Beauvais' Commercial Director, Edo Friart, said that there were 230 passengers on the first inbound flight (98% load factor) and 200 on the first departure (85%). easyJet competes against Ryanair's 10-weekly Lisbon operation, its biggest schedule since it launched the route in 2013, according to Cirium, entirely because of easyJet. On Tuesdays, Thursdays and Saturdays, there are now three daily Lisbon flights, more than at any other time.
Serving 22 airports in France
The addition of Beauvais means that 22 airports comprise easyJet's French network this year, as shown in the graph below. With 2.8 million departing seats, Paris CDG is easyJet's leading airport in the country from which it has 48 routes. CDG is easyJet's fifth-largest airport network-wide by seat capacity this year, behind only London LGW, Geneva, Milan MXP and London LTN.
Aside from Beauvais, two other new airports have joined easyJet's French route map recently. In May this year, it started Limoges, which is served summer-seasonally from London LGW. In June last year, it opened Toulon, which has flights from Orly (year-round), CDG (summer seasonal) and Gatwick (summer seasonal).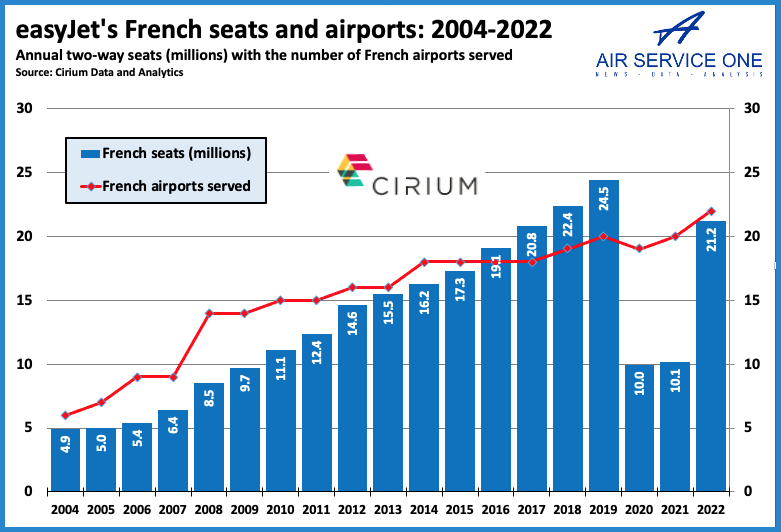 easyJet's top French routes this year
Across 2022, easyJet had 261 French routes on a network involving 79 airports and 18 countries. The domestic market had a quarter of seats and remains vital in the most-served routes list, thanks to high frequencies.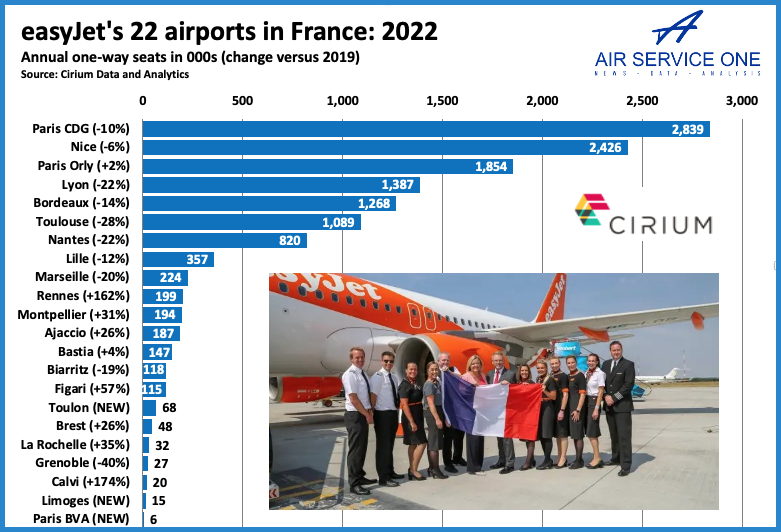 Paris ORY-Nice: 773,556 two-way seats
Paris ORY-Toulouse: 631,632
Nice to Geneva: 505,200
CDG-Milan MXP: 491,524
Nice-London LGW: 461,756
Paris CDG-London LGW: 398,750
Bordeaux-Lyon: 350,976
Paris CDG-Nice: 349,040
Paris ORY-Naples: 339,744
Paris ORY-Venice MCO: 325,176