PDC AviationSuite – Connecting Aviation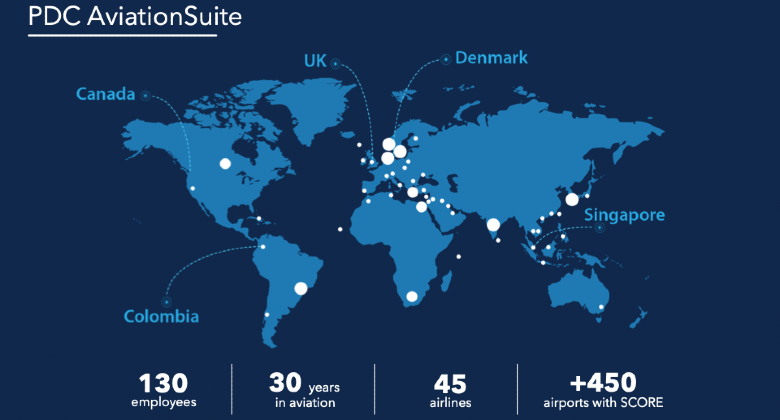 Based near Copenhagen Denmark, with offices located in Canada, Colombia, UK, and Singapore, PDC is the provider of PDC SCORE, the world leading solution for Airport Slot Coordination.
With clients in 50+ countries and being used in 450+ airports worldwide, comprehensive knowledge has been built up, which ensures optimal communication between airlines and Slot Coordinators.
On the airline side, with our PDC AirlineSuite, PDC has achieved substantial expertise as well. The PDC AirlineSuite is a fully integrated solution using one common database. This ensures seamless and instantly shared data flow without redundancy.
More than 40 international airlines use PDC AirlineSuite to support the workflow of Airline Schedules Planning, Operations Control and Crew Management, and more. Long lasting collaborations have been built with a great number of international airlines, airports and coordinating authorities. These alliances ensure that PDC has the necessary expertise.
The PDC Community
The PDC AirlineSuite is customer driven. At our annual User Group Meetings in Europe and Asia in September and October, a record number of customers and partners met with the PDC Airline team.
We consider our airline colleagues and partners our knowledge base. The input and wishes we get are evaluated and considered when developing the system, ensuring that PDC is aligned and close with the aviation industry now and in the future.
It was our great pleasure to present several new modules, a new app, and numerous new features for all applications in the PDC AirlineSuite for the User Group Meeting community on this year's events – all of which are based on customer feedback.
What is in the immediate pipeline? On popular demand, even more optimisers in all applications and the slot related Web Connect to the OCS portal, enabling airlines to see live slot availability when shifting flights.
The collaboration and close partnerships between our dedicated customers and the PDC AirlineSuite team keep pushing the boundaries to enhance the PDC AirlineSuite even more – to the benefit of all PDC AirlineSuite users worldwide.