Pegasus Airlines carried 30 million passengers in 2019; serving almost 90 destinations from Istanbul SAW; domestic load factor over 80%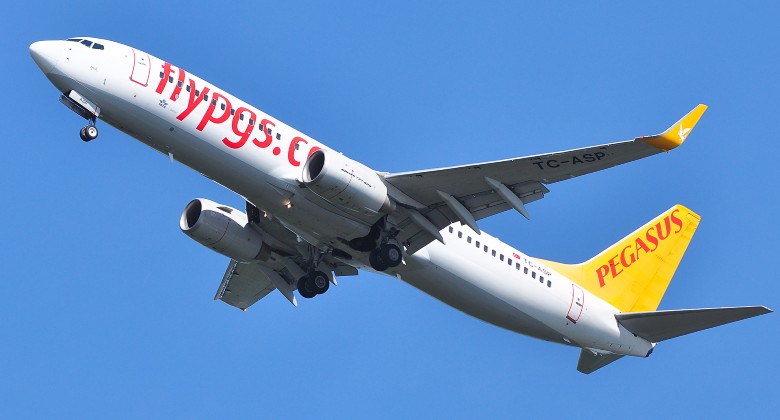 As has been noted before, within Europe only two countries have seen much in the way of traffic recovery since the start of the pandemic; Russia and Turkey. While Turkish Airlines is rightly perceived as one of the world's great global carriers, and in the first quarter of 2021 looks set to be Europe's busiest carrier in terms of passenger numbers, the success of its local LCC rival Pegasus Airlines should not be overlooked.
Pegasus Fleet creeping up towards 100 aircraft
The airline, whose biggest base is at Istanbul SAW, currently has a fleet of 91 aircraft according to planespotters.net, comprising 29 737-800s, 55 A320s and seven A321s. Pegasus has transitioned from being an all-Boeing operator to having two-thirds of its fleet now produced by the European manufacturer. At present around 20% of the fleet is parked.
Over 30 million passengers in 2019
In 2019, Pegasus carried over 30 million passengers, almost equally split between domestic and international, having seen passenger numbers more than double in the previous seven years. Last year, traffic fell by just over 50% to just under 15 million passengers, with domestic demand now making up almost two-thirds of the total.
The airline's domestic recovery was impressive with over one million domestic passenger bookings in August, September and October. Domestic load factors have returned to around the 80% mark, whereas before the pandemic the monthly load factor was usually in the low 90s. Similarly, the load factor on international flights, which used to be typically in the mid-80s is now around the 70% mark.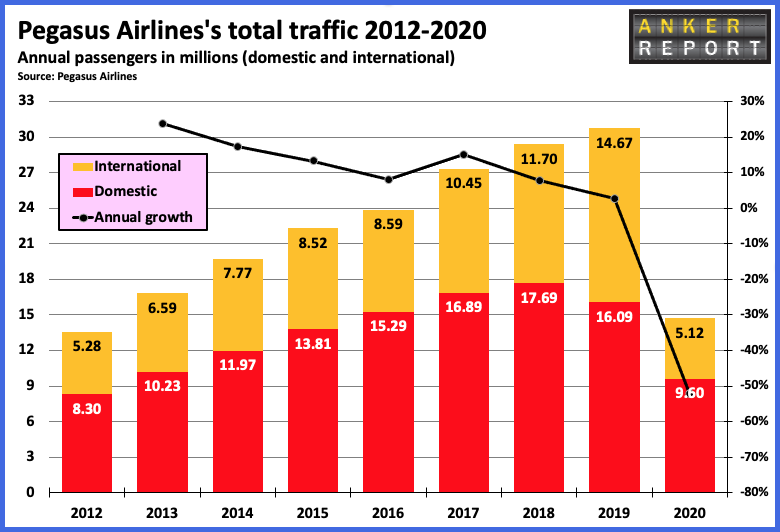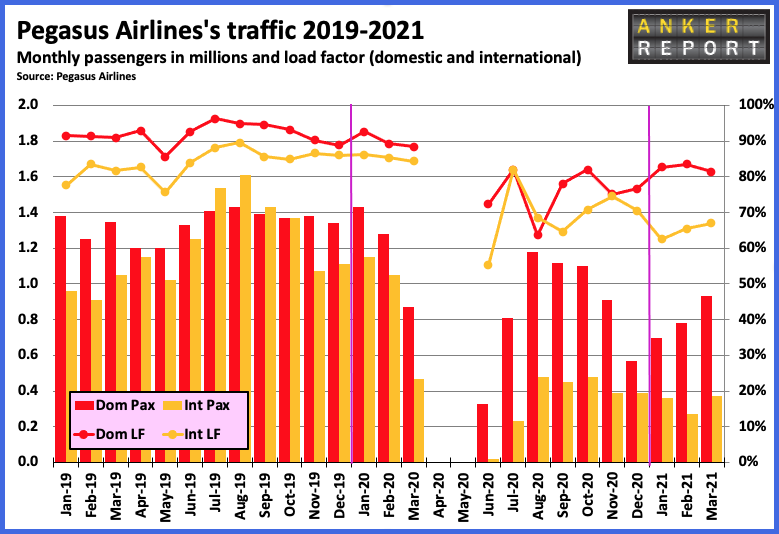 88 routes from Istanbul SAW in April
According to Cirium Data and Analytics information, Pegasus is flying to 88 destinations from Istanbul SAW this month, of which 31 are domestic. The longest routes are to Karachi (3,919 kilometres), Bishkek (3,719 kilometres) and Casablanca (3,357 kilometres).
In April 2019 Pegasus was serving 95 destinations. It is currently not flying to Abu Dhabi, Almaty, Amasya, Bahrain, Bologna, Budapest, Dammam, Doha, Jeddah, Muscat, Rotterdam and Sinop. However, it has launched service during the last two years to Agri (in Turkey), Casablanca (July 2019), Karachi (September 2020), Manchester (July 2019) and, most recently, Odessa.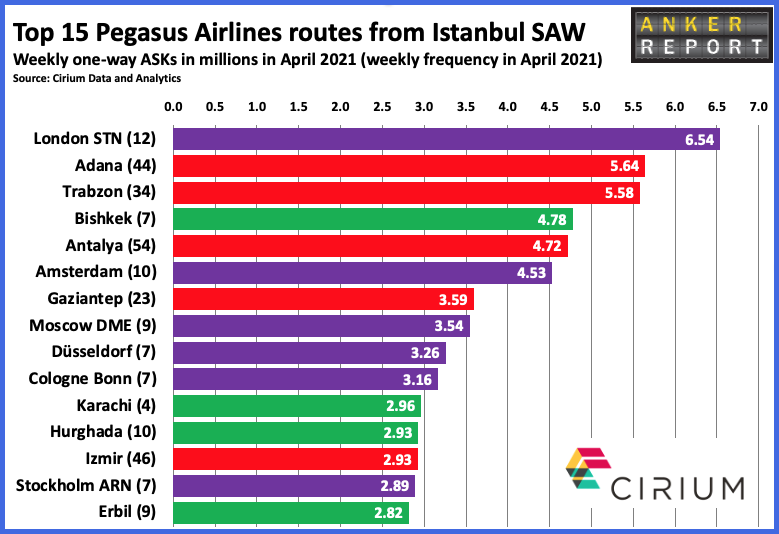 London STN is still top route by ASKs
When analysed by ASKs (Available Seat kilometres) which factors in aircraft size, sector length and weekly frequency), the top 15 routes for Pegasus are a healthy mix of five domestic (in red), six European (purple) and four non-European (green). London STN still comes out top, as it did when we last analysed the airline back in September 2019.
The leading international routes are spread across many different countries with only Germany having two routes in the top 15. The new route to Karachi makes the top 15 as well but maybe the biggest surprise is the high ranking of Bishkek, the capital of Kyrgyzstan, in fourth place.
Ankara base has shrunk significantly
Back in S18, Pegasus was serving over 20 destinations from the capital Ankara, including eight outside of Turkey. However, operations there had been reduced even before the pandemic hit. The 11 remaining routes are mostly domestic (including recently resumed services to Diyarbakir, Trabzon and Van), though there are daily flights to Kiev KBP, as well as 5-weekly flights to Amman in Jordan and 3-weekly service to Erbil in Iraq.