Pegasus has 111 routes from Istanbul SAW; Antalya more than doubled in size; big focus on international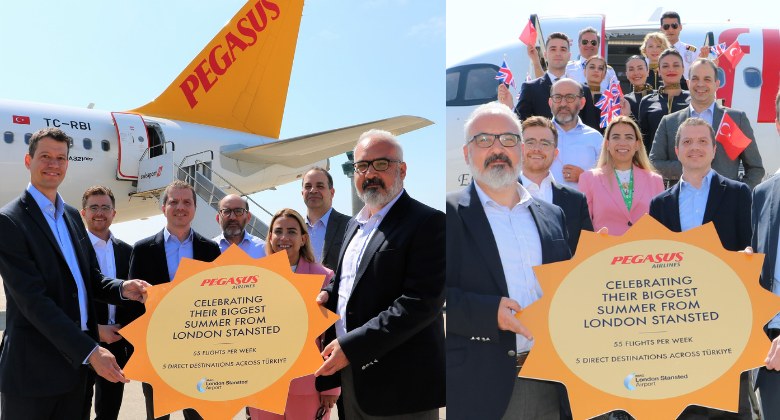 Pegasus calls itself a 'network LCC'. This is because it carries transfer passengers, mainly over its main airport at Istanbul SAW, as well as point-to-point traffic. With 100 aircraft, its fleet comprises 54 A320ceos/neos, 31 A321neos and 15 Boeing 737-800s. It expects 103 aircraft by the end of 2023. In the first three months of this year, it provided more than one in five of the country's domestic and international passengers (20.9%), not quite surpassing its pre-pandemic share.
Over six million passengers in Q1 2023
This January-March, which is generally a seasonally weak quarter, Pegasus transported 6.3 million passengers. According to the carrier, this was down by nearly a tenth on Q1 2019 (-8.7%) but up by more than a quarter above 2022 (+28.6%).
International passengers totalled 3.7 million of the 6.3 million and grew strongly versus 2019 to a record level for these three months. Pegasus attributes this to the "contributed momentum in leisure demand" and "continuing strategic focus on international business". However, the huge domestic market – which was previously Pegasus' largest market – remained down. It had 2.6 million passengers, 35.0% lower than in 2019.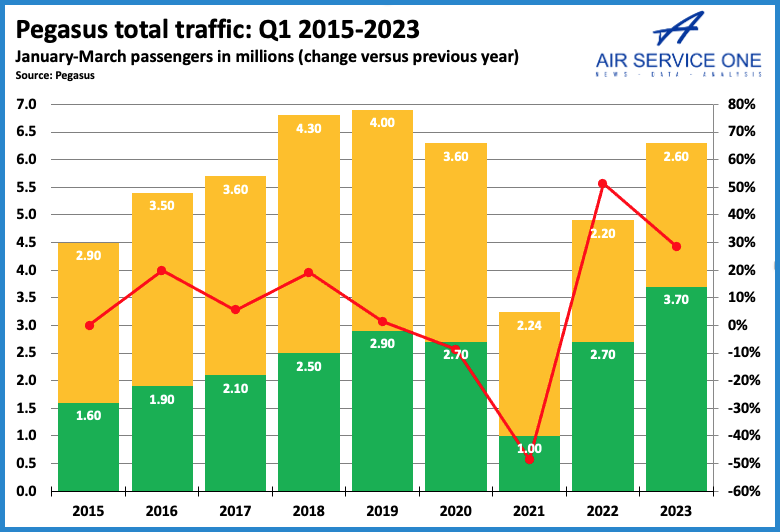 111 routes from Istanbul SAW in July
Pegasus serves 128 airports this July-September: 37 in Turkiye and 91 elsewhere. Situated on the Asian side of the enormous city, Istanbul SAW is by far the LCC's leading airport. This examination uses available seat kilometres, which considers aircraft seats, distance and the number of flights.
According to Cirium schedules information data, it has 111 SAW routes: three in Africa, 11 in Asia (including the Caucasus), 19 in the Middle East and 78 in Europe. The latter includes Türkiye, with 33 places served. Its overall network includes various routes introduced in S23:
4 April 2023: Istanbul SAW-Adiyaman (3-weekly)
15 May 2023: Istanbul SAW-Moscow VKO (2-daily)
1 June 2023: Istanbul SAW-Rhodes (2-weekly); only in June
2 June 2023: Istanbul SAW-Amman (4-weekly)
19 June 2023: Istanbul SAW-Kazan (4-weekly)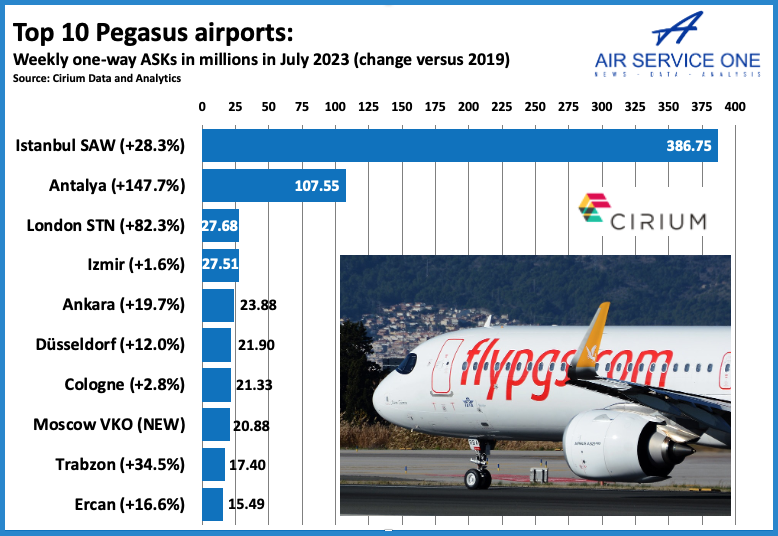 Antalya has more than doubled in size
While SAW ASKs have risen by a very strong 28.3%, even from an already high base, it is Antalya that really stands out: capacity has more than doubled (+147.7%). Pegasus is one of various Turkish leisure operators to have focused on the resort and big city recently. Antalya now provides 10.5% of Pegasus' ASKs, up from 5.5% four years ago. Cirium informs that it has 50 scheduled Antalya routes, 18 more than in 2019. These launched recently:
3 April 2023: Antalya-Shymkent (weekly)
16 April 2023: Antalya-Moscow ZIA (up to daily)
2 May 2023: Antalya-St Petersburg (up to daily)
14 May 2023: Antalya-Kazan (4-weekly)
15 May 2023: Antalya-Moscow VKO (2-daily)
16 May 2023: Antalya-Aalborg (weekly)
24 May 2023: Antalya-Norrkoping (weekly)
Istanbul SAW-London STN is still the leading route
The 2,525-kilometre route remains Pegasus's number one by ASKs, with the importance of distance, frequency and seats clear. After all, it has 30 weekly one-way flights and an average of 225 seats per departure, helped by mainly using 239-seat A321neos. Perhaps the biggest surprise is Bishkek, Kyrgyzstan's capital, which is now second. Or that the first domestic route is now only in seventh.