PLAY's four US routes still represent 30% of its total summer seats; comparison with Icelandair and WOW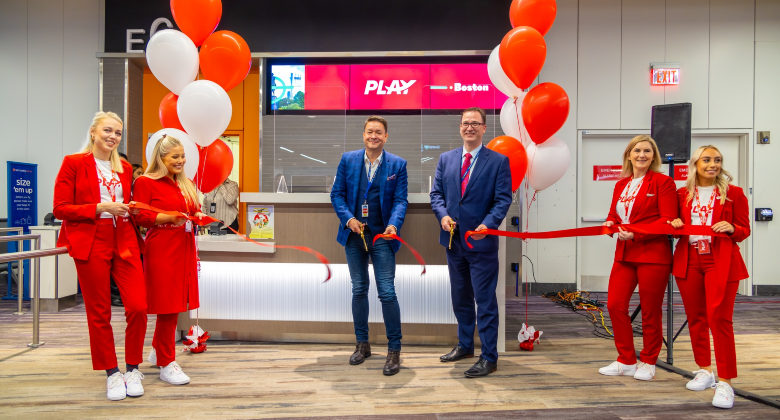 Iceland's PLAY recently announced four new routes from Reykjavik starting this summer. Three are in Denmark (Aalborg, Aarhus and Billund) and one is in Germany (Düsseldorf). This brings to 11 the number of new routes the airline currently plans to launch in 2023. The complete list is (weekly frequency at launch in brackets):
Geneva on 21 January (2, winter-only route)
Stockholm ARN on 31 March (4)
Warsaw WAW on 3 April (2)
Porto on 6 April (2)
Washington IAD on 26 April (7)
Hamburg on 16 May (3)
Athens on 2 June (2)
Düsseldorf on 8 June (3)
Aalborg on 10 June (2)
Aarhus on 12 June (2)
Billund on 15 June (2)
Only one of these 11 new routes is to North America. Washington IAD will be PLAY's fourth US route after Baltimore/Washington, Boston and New York SWF. During the peak summer period these are all set to operate daily. Despite PLAY only offering flights to four US destinations (compared with 25 destinations in Europe), the higher average weekly frequency and use of its larger A321s on the US routes, means that US routes will account for between 28% and 33% of the airline's monthly seat capacity this coming summer. If measured by ASKs (Available Seat Kilometres), US routes represent 40% of PLAY's capacity, due to average longer sector length than its European routes.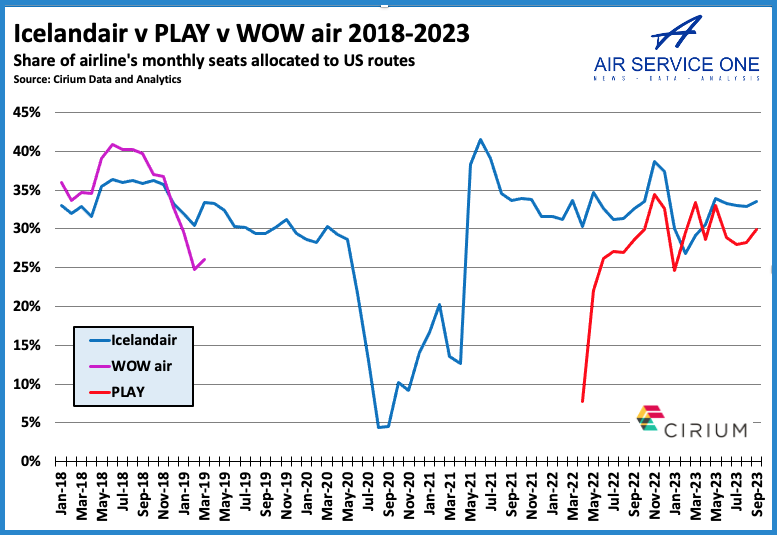 Icelandair has 12 US routes in S23
If we compare PLAY with Icelandair, the flag-carrier has allocated, on average, 33% of its S23 seat capacity to US routes. It will be serving 12 US destinations with non-stop flights this summer. Ranked in terms of weekly frequency (in August 2023) these are:
21: Boston
17: New York JFK
14: Chicago ORD, Seattle, Washington IAD
11: Denver
7: Baltimore/Washington, Minneapolis/St. Paul, New York EWR
6: Portland
5: Raleigh-Durham
4: Detroit (new for S23)
WOW air had 13 US routes in the summer of 2018
Looking back to 2018 when WOW air was still operating, it allocated around 40% of its Reykjavik capacity to US routes during the summer period. In August 2018 it was serving 13 US destinations with non-stop flights; Baltimore/Washington, Boston, Chicago ORD, Cincinnati, Cleveland, Dallas/Fort Worth, Detroit, Los Angeles, New York EWR, New York JFK, Pittsburgh, San Francisco and St. Louis. It also served Montreal and Toronto YYZ. In total it was offering 99 weekly flights across these routes.
As a result, its 15 North American routes accounted for 65% of the airline's total ASKs. This high value may have been a contributing factor to the airline's demise. PLAY's more cautious approach to the North American market suggests it may have learnt some lessons from its predecessor's experience.
*** Breaking news *** (10 January 2023):
PLAY has announced Hamilton near Toronto as its first Canadian route. Daily service is set to start on 22 June.