Polish recovery driven by (U)LCCs who now have 60% of capacity; Warsaw Radom to re-open next summer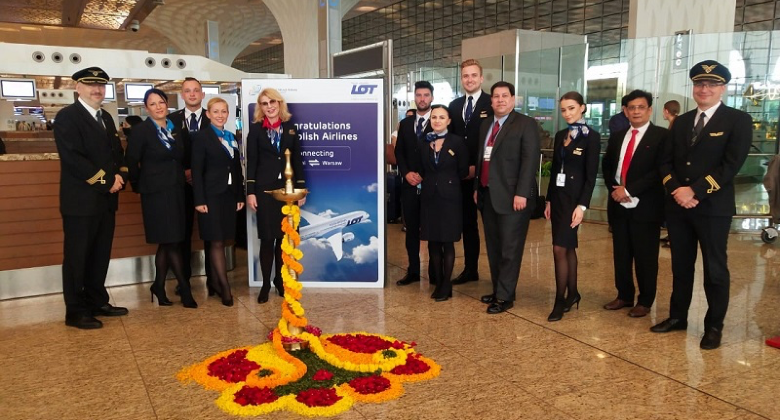 Excluding the Russian domestic market, Poland had more passengers this summer than any other country across Central and Eastern Europe (CEE). Airport data collected by Air Service One for April-September shows that 11 of Poland's busiest airports had 25.0 million passengers, down 12% versus 2019. Poland's traffic was double that of Romania, the CEE's second-largest market, whose 10 main airports had 12.4 million passengers.
Modlin grows quickly, unlike Chopin
Warsaw WAW was firmly Poland's busiest airport with a third of total April-September passengers. However, traffic was down 19%, primarily because of LOT Polish Airlines – very much the airport's biggest operator – whose capacity was a quarter lower than previously. That's despite introducing various new routes, including Baku (29 May), Sarajevo (30 May) and Mumbai (31 May).
Unlike Chopin, several other airports grew, including Warsaw's second airport, Modlin (+9.3%). With almost 1.9 million passengers, Warsaw WMI was Poland's fifth-busiest airport. It recorded greater than pre-coronavirus figures in June (+8.3%), July (+16%), August (+7.3%) and September (+14%), and it was even better in October (+27.1%).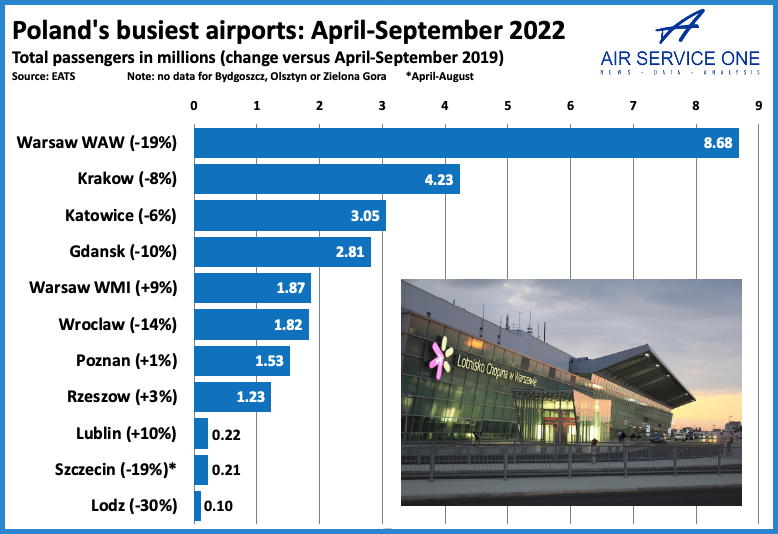 Ryanair is Modlin's only airline
About 40 kilometres from central Warsaw, Modlin is served practically exclusively by Ryanair, one of 12 Polish airports in its network. According to Cirium schedules information data, the ULCC launched Modlin flights in 2012 and it now has seven aircraft based there.
Its two-way seat capacity rose by 21% in April-September versus 2019, with its network growing to 57 routes. Despite this, Modlin isn't Ryanair's top Polish airport: Krakow is. In fact, Krakow is Ryanair's leading airport in CEE, helped by having strong inbound tourism.
(U)LCCs have 60% of the Polish market
In the same six months, six in ten Polish seats were by (U)LCCs, among the highest proportions in Europe, and an 11-percentage point increase versus 2019. Analysis of Cirium data tells that while it was mainly because of (U)LCC expansion (+8%), cuts by others plainly helped.
With over a third of Poland's capacity, Poland is Ryanair land. It has added almost two million seats since 2019, with the country jumping to its seventh biggest, up one place. In comparison, Wizz Air was down by 202,000, although it remains ahead of LOT. Wizz Air will stay down through the winter, even with starting flights from Bydgoszcz, its 12th airport, on 14 December.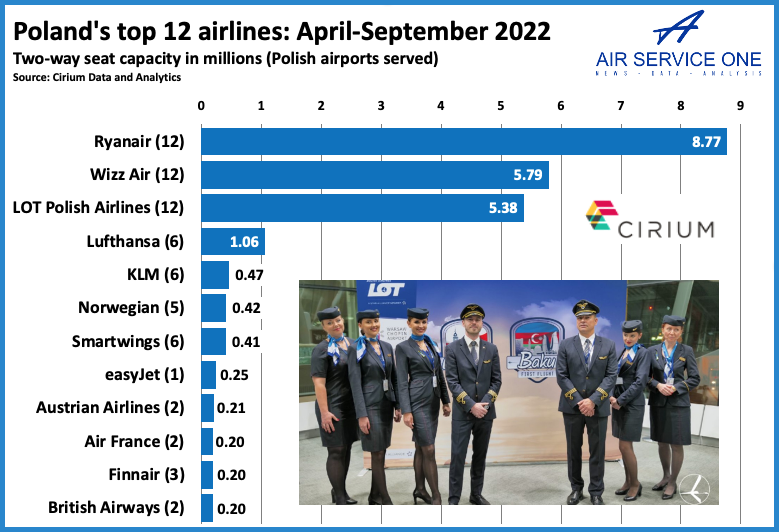 Radom flights return next year
There are currently 14 airports in Poland that have passenger flights. They'll be joined by a 15th next year – the highest number to date – when flights return to Radom. Officially called 'Warsaw Radom', the airport, which has much new infrastructure, is 110 kilometres from central Warsaw and hasn't had commercial flights since 2017. Along with charter services, three scheduled routes will begin, with numbers in brackets denoting weekly frequencies:
27 April: LOT, Paris CDG (3)
28 April: LOT, Rome FCO (3)
28 April: LOT, Copenhagen (3)