Porter uses new Embraer E195-E2 jets to launch first ever services from Toronto Pearson to six airports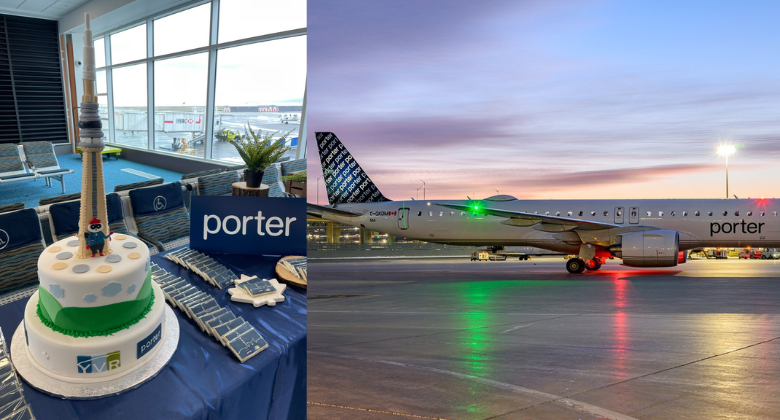 Renowned for being a Dash-8-Q400 operator from Toronto YTZ, the close-to-downtown Billy Bishop Toronto City Airport, Porter has now entered a new era of growth and network change. On 1 February, the carrier introduced its first jet service with its new Porter Airlines (Canada) Limited AOC. Using the Embraer E195-E2, it started two routes: Toronto YYZ to Montreal and Ottawa. Billy Bishop's very short runway, just 1,216m, means that it operates from Toronto YYZ, Canada's busiest airport, for the first time. Porter now has six 132-seat E195-E2s and expects to have 12 in H1 2023 and up to 50 by the end of 2024, in less than two years' time. It really has entered a new chapter.
Porter has added 10 new routes so far this year
Porter's jets are directly responsible for six of the 10 new routes, as illustrated below with an asterisk. All six markets are heavily served: Toronto YYZ-Vancouver now has six airlines; Montreal, Edmonton, Calgary and Halifax have five each; and Ottawa three, the latter ending the long-held duopoly on the airport pair. Canada's multiple new entrants recently means that all except Montreal and Ottawa have seen an explosion of capacity versus the pre-pandemic period. For example, Toronto YYZ-Vancouver flights in Q2 2023 have risen by a fifth versus Q2 2018, the previous highest April-June quarter. It is thanks to the entry of Lynx Air last April, Canada Jetlines in December – and now Porter.
1 February: Toronto YYZ-Montreal* (28-weekly)
1 February: Toronto YYZ-Ottawa* (28)
7 February: Toronto YYZ-Vancouver* (14; 21 from end March)
14 February: Toronto YYZ-Edmonton* (14; 21 from end April)
22 February: Toronto YYZ-Calgary* (14; 21 from end May)
23 February: Toronto YYZ-Halifax* (14)
27 March: Ottawa-Boston (7)
27 March: Ottawa-Newark (13)
27 March: Ottawa-Quebec City (7)
27 March: Ottawa-Thunder Bay (13)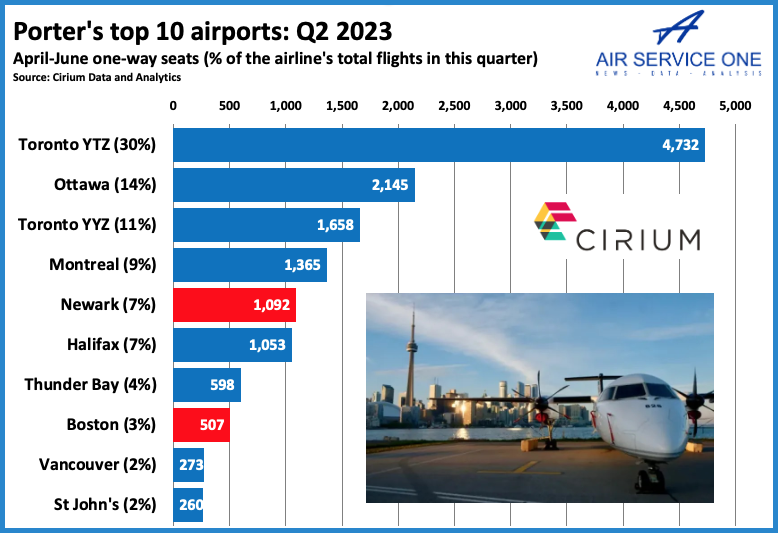 More routes are coming, especially with its jets
Late last year, Porter said that the E195-E2, through its new AOC, will enable it to expand "well beyond the geographic range of the airline [the existing Porter AOC]… putting the entire continental US in reach." Indeed, the 3,355-kilometre Toronto YYZ-Vancouver route is more than five times Porter's average sector distance of 618 kilometres this January, before its Embraer flights began. According to a late-January filing with the US DOT, Porter expects to begin more US flying this year, including to San Francisco, Los Angeles, Las Vegas, Orlando and Fort Lauderdale. Separately, Porter has also disclosed that it has permission to serve Regina, St John's, Saskatoon and Victoria in Canada.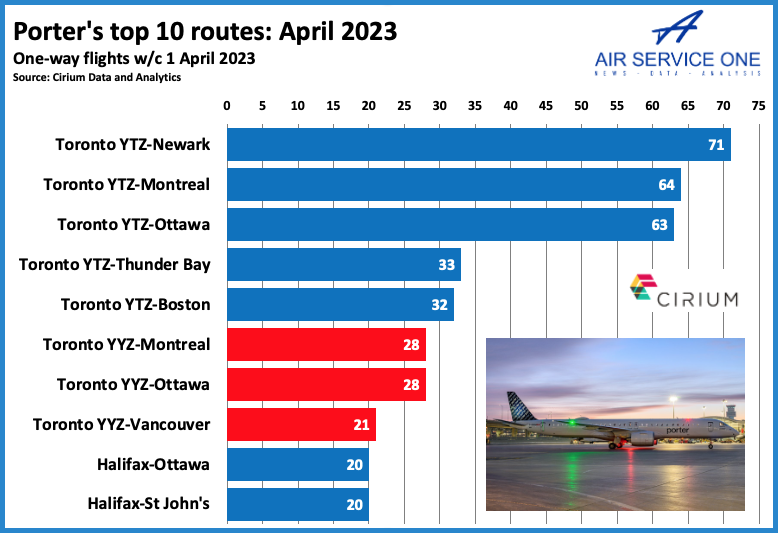 Half of routes remain from Billy Bishop
Analysis of Porter's Q2 full schedule using Cirium reveals that it has 30 routes, of which six are international. Its network encompasses 21 airports. Toronto YYZ is already the third most served thanks to Porter's multi-city, high frequency approach from the start (it would be second if seats were considered instead). Three Toronto YYZ routes already feature in Porter's top ten, and the airport is bound to overtake Ottawa – served by Porter since the airline's 2006 launch – by flights relatively soon. Yet with 30% of services and half of the routes, Billy Bishop is predictably still number one, although its domination will reduce further. Porter has 81% of the downtown airport's flights in Q2, although that will fall as start-up Connect launches service.