Portland in Maine welcomes six new United routes, Frontier grows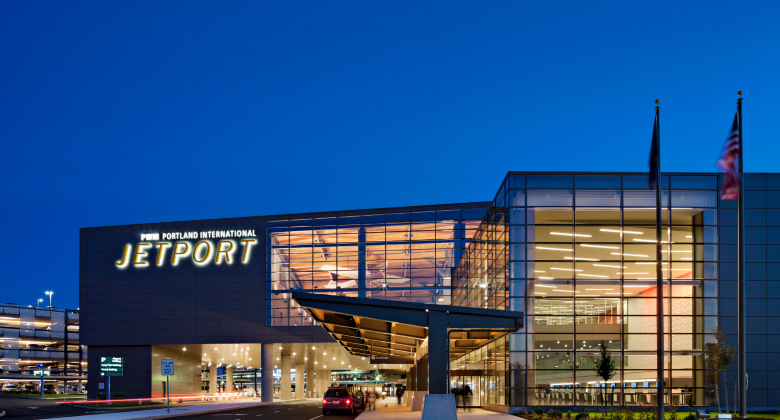 Portland International Jetport (IATA code PWM) in Maine on the US east coast is not to be confused with Portland International Airport (IATA code PDX) in Oregon on the US west coast. The airport lies just three kilometres west of downtown Portland. Maine is the easternmost state in the US and PWM is the state's busiest airport, well ahead of Bangor. However, neither of those places is the state capital. That honour falls to Augusta.
Traffic surge in 2018
Between 2008 and 2016 passenger numbers were remarkably stable at between 1.65 and 1.80 million passengers. In 2018 passenger numbers surged by almost 15% as Frontier began serving the airport with five routes and American, Delta and United all chose to increase capacity at the airport by between 10% and 20%. Apart from Frontier's new routes (to Denver, Fort Myers, Orlando, Raleigh/Durham and Tampa), American added service to Chicago ORD and New York LGA, and Southwest started service to Chicago MDW.
Last year, despite the pandemic new routes were launched by American (to Dallas/Fort Worth and Miami), and Sun Country (to Minneapolis/St. Paul). In 2021, Frontier has added new links to Atlanta, Myrtle Beach and Philadelphia. The biggest development has come from United, which launched new routes to PWM from six airports; Cincinnati, Cleveland, Columbus, Indianapolis, Milwaukee and Pittsburgh. These were all launched at the end of May. In addition, Delta started serving Minneapolis/St. Paul from 5 June, competing with Sun Country.
Baltimore/Washington is busiest route
This July, American is the leading carrier by weekly departing flights (97) and weekly departing seats (8,648) according to Cirium Data and Analytics schedule information. However, that only represents 27% of all flights and 25% of seats. United with 89 weekly flights, Delta with 76 and Southwest with 42 all have a significant presence at the airport. A total of nine airlines currently operate scheduled services at PWM, the others being Cape Air, Elite Air, Frontier, JetBlue and Sun Country.
In terms of routes, the leading destination by seats is Baltimore/Washington which is served 5-daily by Southwest. Then comes Chicago ORD, which has fewer seats but more flights as both American and United offer 3-daily service to their Illinois hub. The 440-kilometre route to New York JFK is also served 5-daily by a mix of Delta (4-daily) and JetBlue (daily). A total of 29 domestic destinations are currently served non-stop compared with just 17 in July 2019, suggesting a positive future for the airport.
The latest passenger figures from the airport (for April 2021) show 102,710 passengers. That compares with 158,725 in April 2019. The 2021 figure is at 65% of the 2019 figure, a figure which is likely to have risen further in May and June. Looking ahead, JetBlue plans to start service to New York LGA, but not until summer 2022.