Prague gains Taipei route, one of 14 from Taiwan to Europe; 66-weekly flights; EVA Air top carrier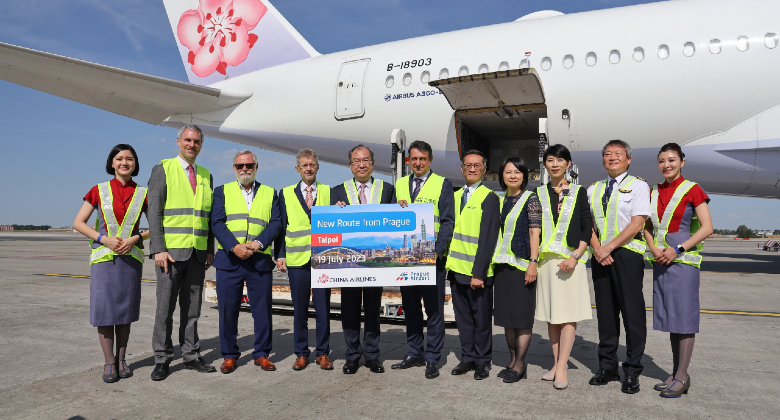 Taiwan to Europe is a sizeable market. In the pre-pandemic 2019, it had around 1.8 million passengers, nearly 5,000 a day. However, two-thirds were indirect, reflecting a relative lack of non-stop flights. According to Cirium data, there are 14 routes in August 2023. All but two are by Taiwanese carriers, with the Asian country the market's primary point-of-sale.
In all, Taiwan-Europe has 66 departing flights a week this summer month, just one more than in 2019 due to three new routes. It is the highest level to date. That is quite an achievement given the coronavirus, the inability of European carriers to fly over Russian airspace and the inability of Taiwanese operators to fly over Russia and China.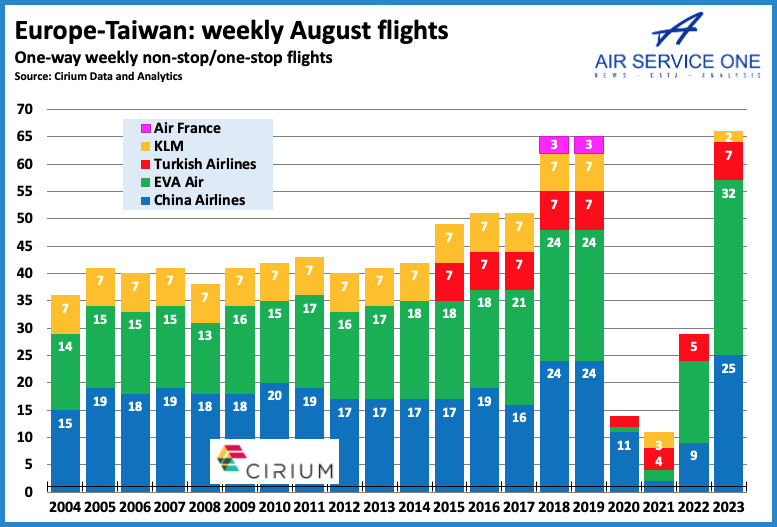 Prague gains Taipei flights
Less than a year after EVA Air began Milan and Munich, China Airlines – Taiwan's second-largest carrier by international flights – has inaugurated Taipei to Prague. Launched on 18 July, there are 2-weekly flights using the A350-900. It is the first time the two capitals have been connected.
Excluding the Middle East, the Caucasus and the geographically Asian areas of Russia, Taipei is one of two Asia routes from Prague, alongside Seoul ICN. Cirium tells that it has, in the past 10 years, also had flights to Almaty, Beijing PEK, Chengdu, Colombo, Hanoi, Nur-Sultan, Shanghai PVG, Tashkent and Xian.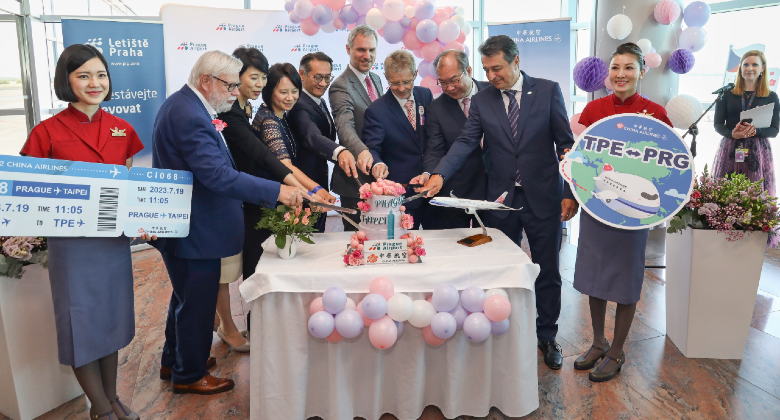 14 routes; three started in less than a year
While EVA Air and China Airlines both serve six European destinations, EVA Air is the largest operator by flights. However, half of its routes are fully or partly via Bangkok, each with fifth freedom traffic rights, while all of China Airlines' services are non-stop. Notice that three carriers serve Amsterdam, an important SkyTeam hub. Even Star Alliance's EVA Air does; presumably freight is significant.
EVA Air: 32-weekly August flights to Amsterdam (3-weekly; via Bangkok), London LHR (7; via Bangkok), Milan MXP (4), Munich (4), Paris CDG (7), Vienna (7; non-stop and via Bangkok).
China Airlines: 25-weekly flights to Amsterdam (4), Frankfurt (7), London LHR (5; switched from LGW in 2020), Prague (2), Vienna (4), Rome FCO (3)
Turkish Airlines: from Istanbul IST (7)
KLM: from Amsterdam (2-weekly via Seoul ICN); rises to 3-weekly in September and 4-weekly in W23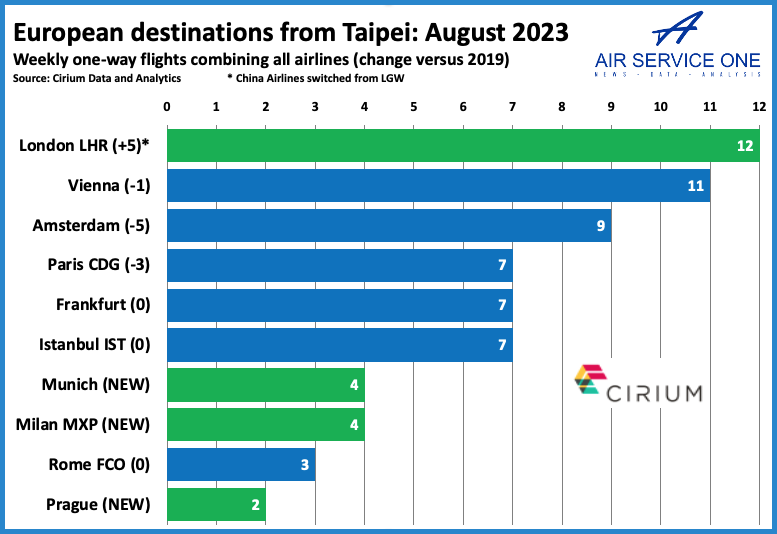 Air France operated until 2020
In the past decade, the only other significant operator between Europe and Taiwan was Air France. It began non-stop Paris CDG-Taipei flights in April 2018, and they continued until March 2020.