Prague now dominated by (U)LCCs following CSA's massive downsizing; Ryanair and UK lead rankings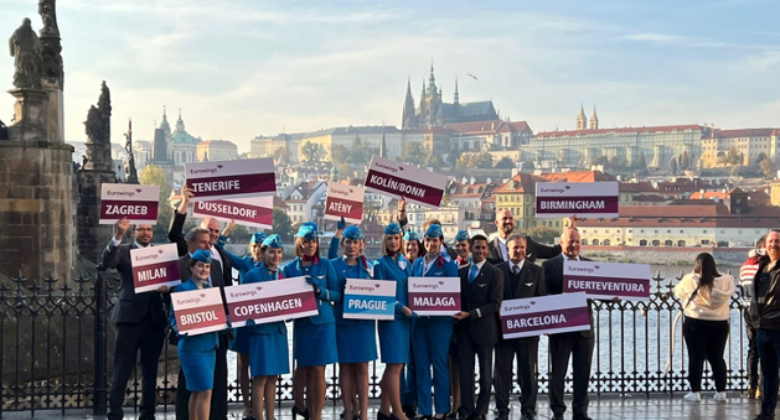 Among Central Europe's four biggest airports (those serving the capitals of Bulgaria, Czech Republic, Poland and Romania), Prague Airport has seen the slowest recovery post-pandemic. Bucharest, despite the collapse of Blue Air, has fully recovered, Warsaw WAW is at 95% recovery and Budapest is at around 90%. However, Prague is at just 75% according to the airport's latest traffic figures for April 2023. While these airports have seen the loss of all flights to Russia and Ukraine, Prague has faced the additional challenge of the virtual demise of its historic flag-carrier, CSA Czech Airlines.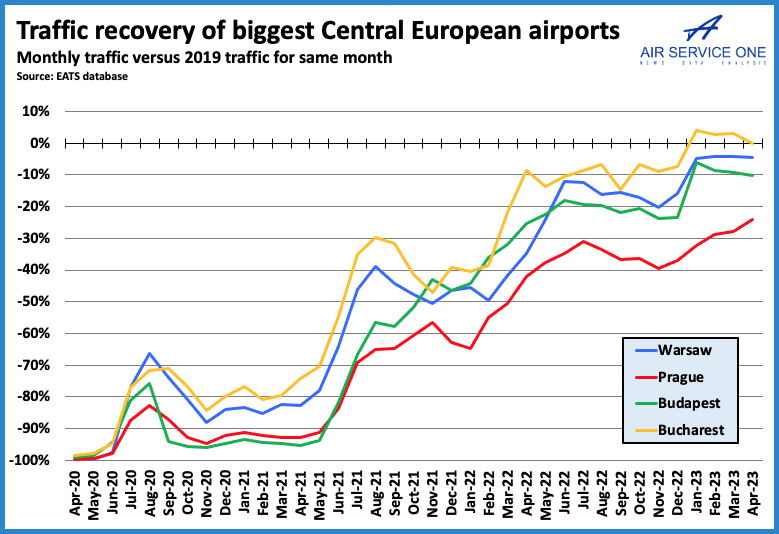 Set to celebrate its 100th birthday in October, the carrier was acquired in 2018 by privately-owned, local carrier SmartWings. In 2019 it was Prague's biggest carrier with 1.7 million departing seats according to Cirium data, ahead of SmartWings (1.3m) and Ryanair (1.2m). Post-pandemic the airline filed for bankruptcy in 2021 and was restructured in 2022. It is now owned by Prague City Air (70%) and SmartWings (30%). According to planespotters.net it currently has just two A320s (registration OK-HEU and OK-IOO). Data from flightradar24.com indicates that the latter aircraft is being used to operate the airline's only scheduled service to Paris CDG as well as flights to Egypt on behalf of SmartWings. The other aircraft is operating flights on behalf of Israir from Tel Aviv.
Almost 18 million passengers in 2019
The Czech Republic was one of 10 countries to join the EU on 1 May 2004 (along with Hungary and Poland among others). However, it had already embraced some of the EU's open-skies policies before that date. Prague saw passenger numbers more than double in just six years from under five million in 1999 to over 10 million in 2005. Between 2005 and 2015 passenger numbers fluctuated between 10.8m (2012) and 12.6m (in 2008).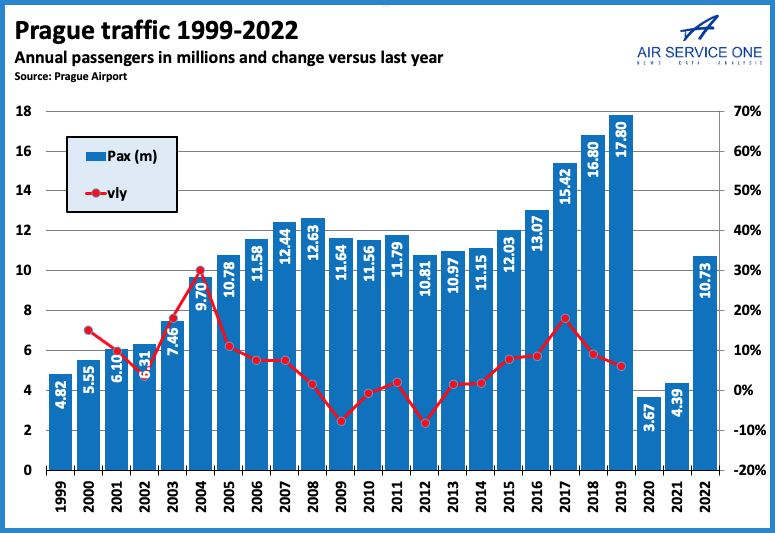 In the four years from 2015 to 2019 demand surged once again, increasing by almost 50% to 17.8 million in 2019. This chapter of the airport's growth was driven by Ryanair, SmartWings and Czech Airlines, who, between them, accounted for around two-thirds of seat growth. During that period the airport also welcomed many new airlines including Air Arabia, Air Canada, American, China Eastern, Croatia Airlines, Cyprus Airways, Luxair, Qatar Airways, Sichuan Airlines and United.
Demand typically peaks in July and August with passenger numbers during those two months usually around twice as high as in January and February. In the first four months of 2023 the airport has welcomed 3.3 million passengers. Compared with 2019 traffic was down 32% in January, 29% in February, 28% in March and 24% in April. Things are clearly heading in the right direction.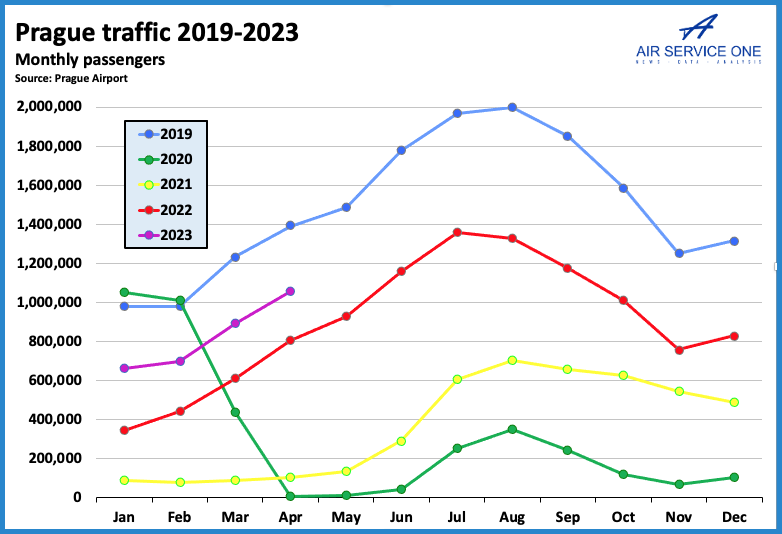 Ryanair now #1 airline
Analysis of Cirium schedule data for Q2 shows that Ryanair is now clearly Prague's leading airline, well ahead of SmartWings. Overall scheduled seat capacity is set to be down 30% in Q2 (versus 2019) with much of that attributable to the massive downsizing of Czech Airlines. Of the current top 15 carriers, eight have increased capacity since 2019.
The top five airlines are all (U)LCCs, with Eurowings having made Prague a base in W21/22. This summer the Lufthansa subsidiary is offering flights to 18 destinations, up from 14 last summer having added three destinations in Greece (Corfu, Rhodes and Zakynthos) and Geneva. Wizz Air's capacity has increased fivefold and the carrier currently offers 11 routes from Prague with London LGW set to be added at the start of the W23/24 season. Ryanair is serving 33 destinations this summer, a new record for the carrier at the airport.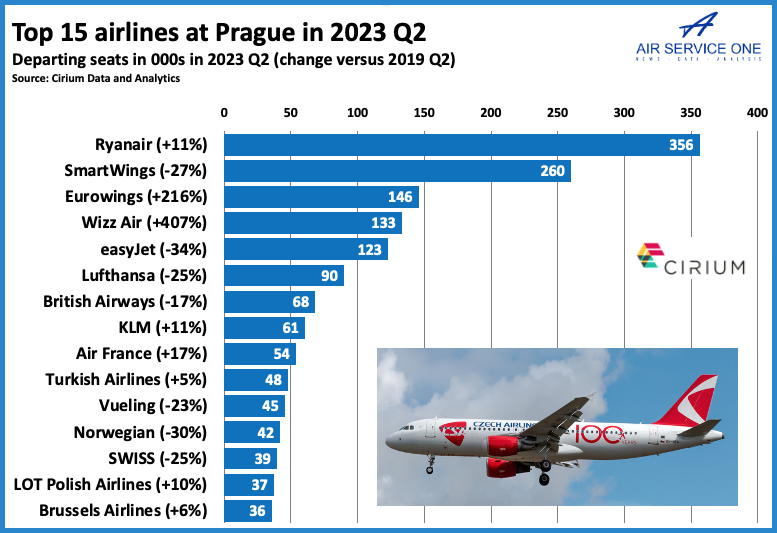 The next five biggest carriers are all flag-carriers, led by Lufthansa and British Airways. Thanks in part to the popularity of Prague as a city-break destination, over 30 flag-carriers are serving the Czech capital this summer. However, compared with 2019 a number of airlines have disappeared from the airport's departure boards. These include Adria Airways, Air Canada, Alitalia, American, Belavia, United, several Chinese and all Russian carriers.
New airlines welcomed at the airport since 2019 include flynas (from Riyadh), Iceland's PLAY (which began service in May 2022), Jazeera Airways (from Kuwait in June 2022), SalamAir (from Muscat and Salalah in October 2022) and Air Moldova (from Chisinau in October 2022).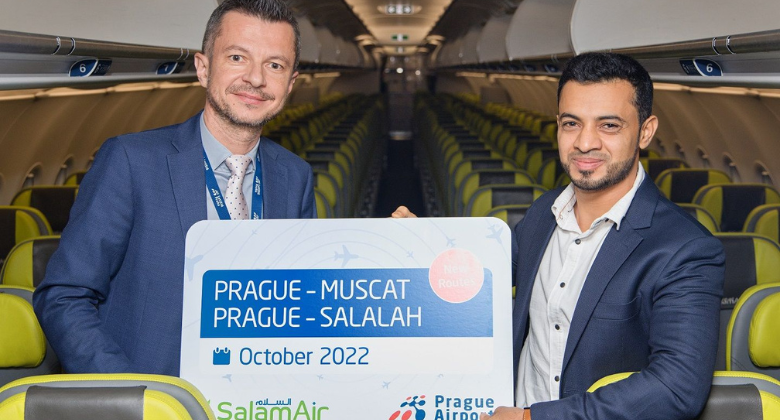 UK is still #1 country market but Italy gaining fast
Despite seat capacity being 30% down in Q2 compared with 2019, two of the airport's top 15 country markets (Italy and Türkiye) are registering capacity growth compared with four years ago. The UK remains Prague's biggest country market despite a 24% reduction in seats. A total of 12 UK airports have direct flights to Prague this summer, four fewer than in 2019. Bournemouth, East Midlands, Liverpool and London SEN have all lost their Prague services, at least for now.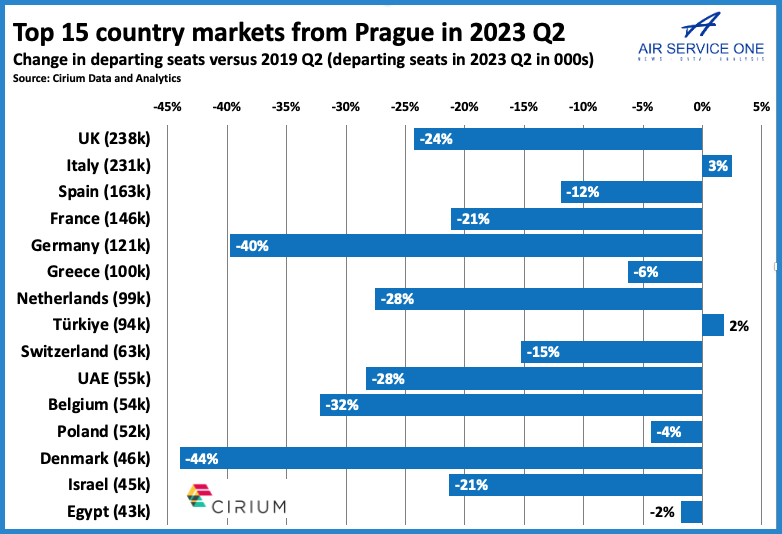 Italy, where capacity is up 2.5% (though flights are down 16%), now has 16 airports with non-stop service to Prague. This is the same as in 2019 but Rimini and Turin have replaced Rome CIA and Trapani. Russia was the third biggest country market in 2019 Q2, only just behind Italy.
Despite having lost all flights (for now) to Belarus, Canada, China, Estonia, Jordan, Kazakhstan, Lebanon, Morocco, Russia, Slovenia and Ukraine, Prague now has non-stop service to Armenia, Kuwait, Moldova, Montenegro, Oman and Saudi Arabia, which was not the case in 2019.