Prioritising the guest experience at New Orleans Airport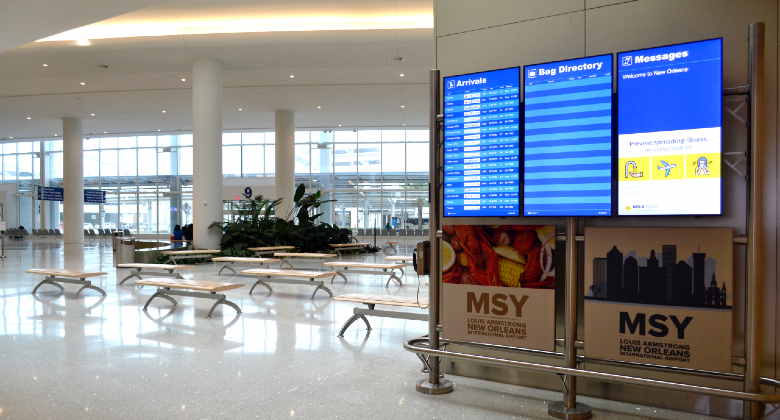 A boarding pass is no longer necessary to enjoy the guest experience at Louis Armstrong New Orleans International (MSY).
The airport's MSY Guest Pass allows non-ticketed visitors to explore the more than 40 shops and restaurants that lie beyond security.
It's one of many innovations designed to enhance the visitor experience at MSY, which continues to build upon award-winning practices to ensure a smooth visit.
Interactive maps with blue dot capabilities have recently been installed to assist passengers in navigating the terminal facility. The maps can be used to search for any point of interest, and also provide walking directions and distances.
That's not all. Mobile ordering and scan-and-go technology is now available in some restaurants and shops, shortening waiting times and allowing passengers to quickly get what they need.
Also helping smooth the flow is the airport's remote baggage check service, which is available in the Park MSY Express Economy Garage. It allows American, Delta, Spirit and United Airlines passengers to check bags, hop on a shuttle luggage-free and proceed directly to the security checkpoint when they reach the terminal.
Visitors are also being encouraged to offer feedback to help improve the experience. The 'restroom alert' initiative allows passengers to notify staff when restrooms need some extra attention in between scheduled cleanings. Customers can send anonymous feedback via simple text messages so staff can keep restrooms clean, well-stocked and fully functional.
Little wonder then that the airport has been scooping so many awards. In 2021 it was crowned "Best Airport in North America" (5-15 million passengers per year) by Airports Council International (ACI).
The ACI also judged it to have the "Best Hygiene Measures in North America" in 2020 and 2021, while the Air Transit Research Society crowned it the "Most Efficient Airport in North America" (5-15 million passengers per year).
With its growing emphasis on the passenger experience, expect more awards to follow for MSY.