Q1 was bad, but COVID data trends suggest Q2 may not be much better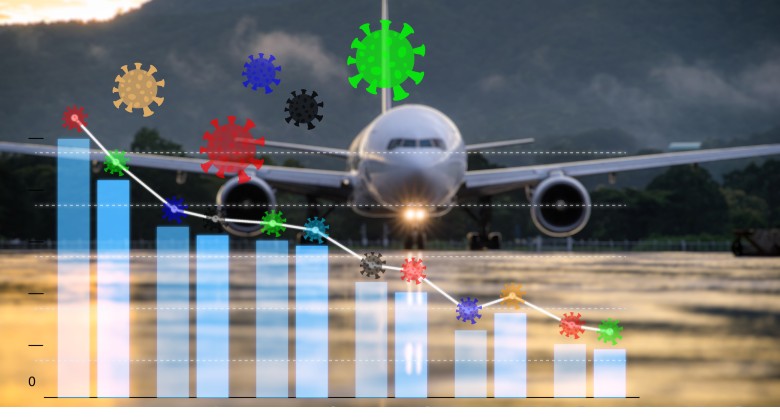 With a fairly disastrous Q1 out of the way, Europe's airlines and airports are now facing up to the fact that Q2 is not going to be much better. The vaccine roll out across Europe has not gone as quickly, or as smoothly, as hoped, with doubts being cast on the safety of at least one of the vaccines, resulting in it being withdrawn from some countries or from some age groups.
UK leads way but May travel resumption still not confirmed
Somewhat unexpectedly, the UK appears to have benefitted from leaving the EU in this regard and is leading the way in vaccinations. Last week saw the country reach its target of offering a first jab to everyone over 50 and all those in high-risk categories. Despite falling case numbers and a rapid drop in COVID related fatalities, the UK government recently chose not to confirm the planned resumption of international leisure travel from 17 May, saying only that the UK was 'on track'. This uncertainty has led leading UK leisure airline Jet2.com to push back the planned resumption of its services to 24 June. Adding to the uncertainty in the UK is the lack of clarity over what tests will be required on departure and on return and how this will depend on which country is visited. The government seems to be planning a so-called 'traffic light' system, whereby countries are placed into one of three categories with different rules for each. However, the rules for each colour and which countries will be in which category have yet to be confirmed. Meanwhile, case numbers and deaths are rising alarmingly in some parts of Europe, leading even the ever-optimistic CEO of Wizz Air to question whether this summer will provide the hoped for recovery that was still being envisaged just a few months ago.
Traffic data for 200 airports in March paints a bleak picture
The ANKER Report has already collected March passenger data for over 200 airports across Europe and the picture is still alarmingly bleak. Many major airports, including Brussels BRU, Budapest, Copenhagen, Dublin, Helsinki, London LHR, Munich, Prague, Vienna and Zurich saw passenger numbers that were down more than 90% compared with March 2019. Most other major airports saw traffic down at least 80%, including Amsterdam, Athens, Barcelona, Madrid, Oslo and both main Paris airports. One year on from the start of the pandemic it is doubtful whether any airlines or airports in western Europe had envisaged such an extreme scenario. The exceptions, as might be expected, were airports in Russia, Turkey and Ukraine. Figures for Moscow's main airports are not yet available. However, in February, Sheremetyevo was at 40% of its 2020 demand, Vnukuvo was at over 70% and Domodedovo was at 80%. Thanks to a surge in Russian domestic tourism, Sochi/Adler on the Black Sea even reported an amazing 40% increase in passengers compared with 2020. From March onwards comparisons with 2020 data are meaningless when it comes to measuring the rate of recovery, as March 2020 saw the pandemic starting to affect demand with airlines rapidly grounding flights. So for the rest of the year comparisons will be made primarily with the last pre-pandemic year of 2019 instead. This applies to airlines as well as airports.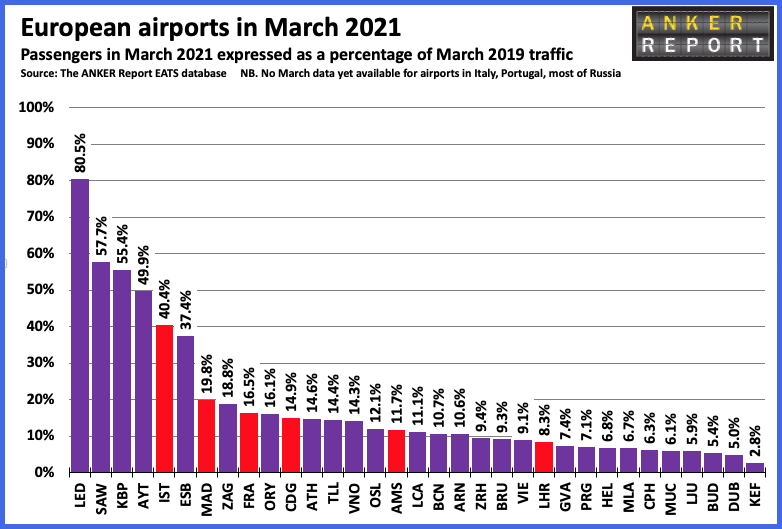 International traffic struggling globally
Analysis of global data shows that Europe is lagging behind most other regions of the world. This is because Europe has few large domestic markets and is far more reliant on international demand for passenger volume. While domestic demand has remained relatively healthy in many parts of Asia, it is worth noting that international traffic for the 40 member airlines of the Association of Asia Pacific Airlines (AAPA) was down 93.7% in February, with airlines reporting an average load factor of just 24.8% on such flights. As China had already started cancelling international flights last February, the January figures may be a better guide. International traffic for the first month of this year was down 96.1% and passenger load factor was 27.0%. While China's international air traffic may still be only at around 2% of what it used to be, it had seen domestic demand recover to over 90% of previous levels in the last quarter of 2020. As can be seen in the graphs below the only notable uptick in the data so far available for March is regarding international travel at Turkish airports, which jumped from 30% in February (compared with February 2020) to almost 50% in March (compared with March 2019).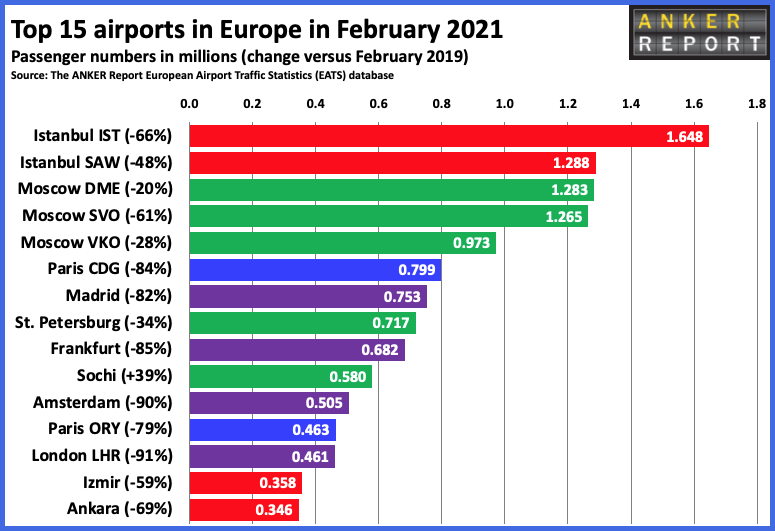 However, April and May may not be so good, as Russia, a major source of international tourists, introduced travel restrictions to Turkey. This was supposedly due to concerns about Turkey's increasing virus numbers but came just a few days after the Turkish government voiced its support for Ukraine in its border conflicts with Russia.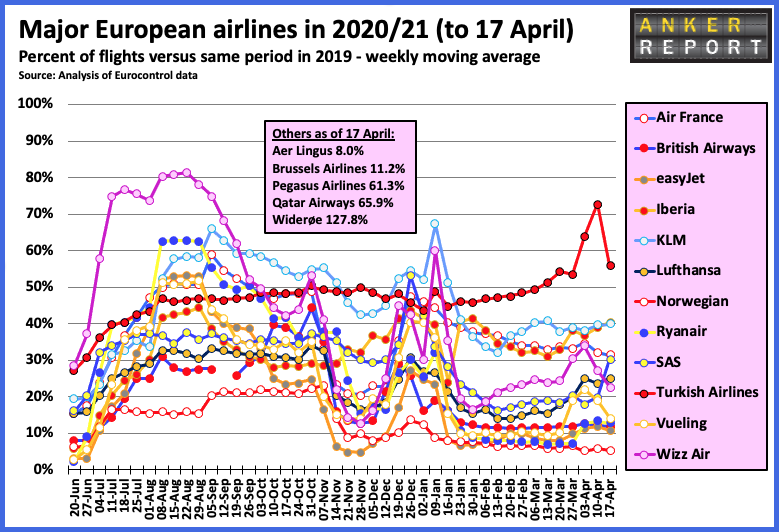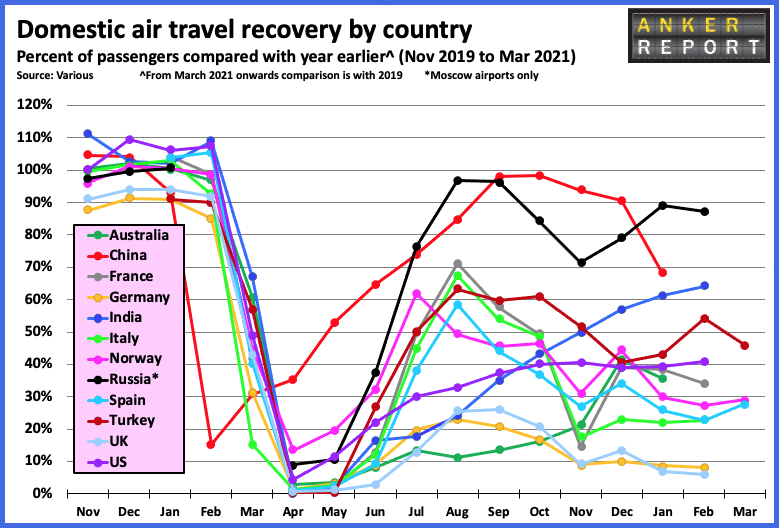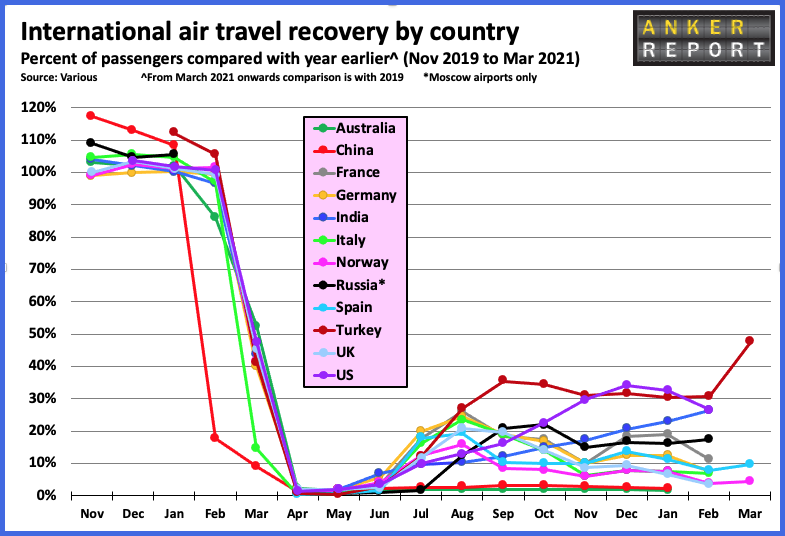 US domestic traffic has been growing steadily and passed 60% of its 2019 figure during the long Easter weekend in early April. The US even celebrated a new airline launch (Avelo Airlines) earlier this month, and many airlines have announced new routes starting soon. South of the border, Mexico's domestic market recovered relativelystrongly last summer, but has seen something of a downward trend in the first quarter of 2021, as the latest wave of the pandemic impacts the country. To the north of the US in Canada, traffic has been much slower to recover and the situation is still looking quite worrying. As in Europe, Canada looks like it might not see much of a proper recovery until Q3 at the earliest.