Q2 global seat capacity down just 2% versus pre-pandemic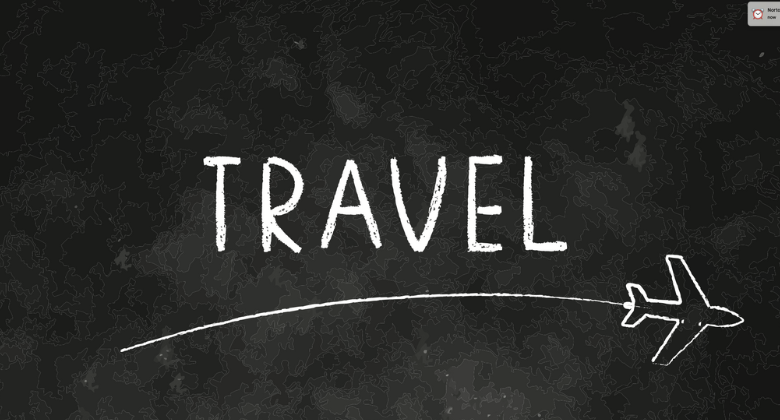 Analysis by Air Service One of Cirium schedules data for 2023 Q2 reveals that global seat capacity is just 1.7% below the levels reported in 2019 Q2. However, the number of planned flights is still over 7% down versus four years ago. While this suggests that normality in terms of capacity has in some sense returned, the reality is that results vary significantly by country, airline and airport.
China sees biggest increase in seats
Maybe surprisingly, given its strict travel restrictions on international flights, China's air travel market has seen the biggest increase in seat capacity. This highlights how dominant the domestic market remains in China. In total capacity has increased by almost 23 million seats between 2019 Q2 and 2023 Q2. However, it still lags significantly behind the US, though the gap is closing. The next biggest increases in seat capacity have been achieved by India, Mexico and Türkiye. Among the top 16 country markets, Mexico has also achieved the highest percentage growth of just under 19%. Countries in the top 50 that have achieved capacity growth rates of 20% or more include Romania (+20%) and Egypt (+31%) while among smaller countries there has been impressive growth in Albania (+173%) and Tajikistan (+122%).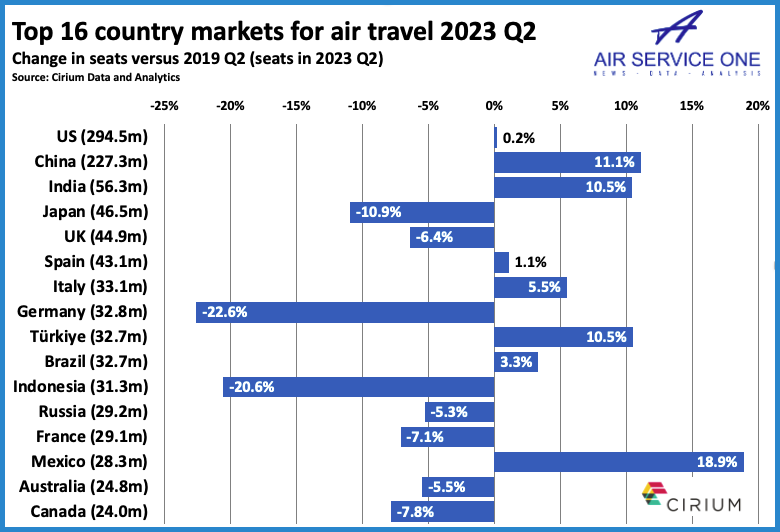 Exactly half of the top 16 country markets are fully recovered, which means that half are not. Germany (-23%) and Indonesia (-21%) have struggled significantly to get back to pre-pandemic levels. These are also the two countries with the biggest volume reduction in quarterly seats, 9.6 million fewer in the case of Germany and 8.1 million in the case of Indonesia. Japan (-11%), Thailand (-28%) and Hong Kong (-49%) have also all seen capacity reductions of more than five million quarterly seats.
American still #1 global carrier
Looking at airlines, the top three are the same as they were pre-pandemic with American stretching its lead over Delta, but Southwest now virtually tied with its Atlanta-based rival. Of the top 16 airlines, nine have increased their capacity versus 2019 Q2 while seven are still in recovery mode.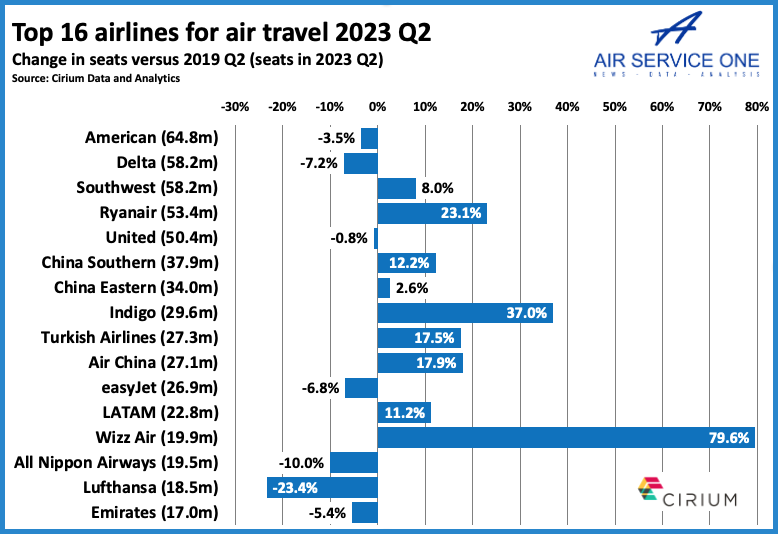 The carriers that have added the most seats during the last four years are Ryanair (an additional 10.0m seats), Wizz Air (an additional 8.8m seats) and Indigo (an additional 8.0m seats). Air China, China Southern, Southwest and Turkish Airlines have all added between four and 4.5 million seats.
At the other end of the scale, the airlines that have seen the biggest reduction in seat capacity are Lufthansa (down 5.7 million seats) and Aeroflot (down 5.2 million). Then comes Mexico's Interjet (down 4.7 million as it no longer operates), Delta (down 4.5 million) and Indonesia's Garuda (down 4.2 million). Other airlines with over two million seats in 2019 Q2 that are no longer operating include Flybe, Thomas Cook Airlines and Ukraine International Airlines. The latter will hopefully take to the skies once more in the not too distant future.
It is worth noting that if ASKs were used as the measure of capacity, then Emirates would jump to fourth (behind United, American and Delta), Qatar Airways would be eighth and British Airways tenth.